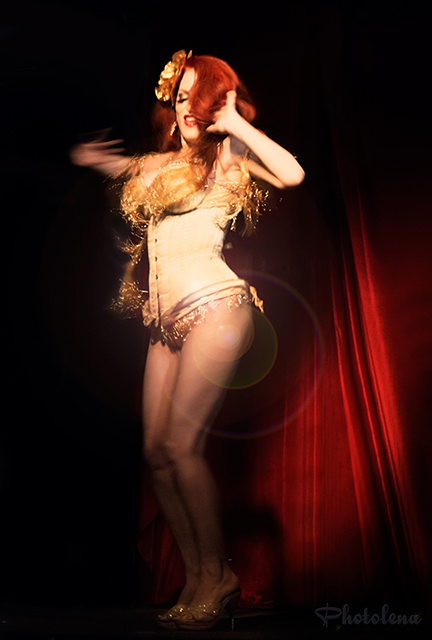 By Photolena
Friday, January 25, 2013
El Mocambo , Toronto, Ontario
For the past three years I've had the extreme luck of having my birthday fall on the same weekend as Toronto's annual winter burlesque mega-showcase—Girlesque. This year brought two awesome experiences—getting to shoot the opening night show at the legendary El Mocambo Tavern and meeting superstar burlesque legend Tempest Storm.
I'm always amazed that although I've lived most of my life in this great city, I've never been to a show at the El Mo. Known for its iconic neon palm tree sign which has been beckoning nightcrawlers to its dark rooms since 1946, it was one of the first establishments in Toronto to get a liquor license, and the bands soon followed. Acts like The Ramones, Elvis Costello, U2, Blondie, and even the Rolling Stones appeared at the club, with the Stones recording their show pseudonymously as The Cockroaches. Hot damn! If you have a chance, go check out their Wall of Fame—the photos there are a Who's Who of legendary rock icons.
With it being such an intimate space, the evening was more of a meet-n-greet with performers and guests mingling about, chatting, buying merch, and getting photos autographed by Tempest Storm. The emcee for the evening was Jonny Porkpie from NYC. Wearing a shiny golden suit, he poked fun at Canadia…Canadiana…er…Canada in between performances and had the audience groaning at all the US vs Canada jokes. Oy, my side.
There were several performers from out of town that had great acts. Scarlett Letter, a Los Angeles native, blew everyone away when she unwound her 4-foot long gorgeous red locks from atop her head. Her hair covered her right down past her hips! I cannot even imagine how much time she spends brushing all that hair to keep it shiny and healthy.
Jo "Boobs" Weldon, headmistress of the New York School of Burlesque, showed everyone how it's done with her golden fringe routine. She seemed to be covered in fine gold fringe that moved this way and that with her hippy shake. Part of her costume even turned into gold fringe whips that she expertly brandished and spun on the small stage. It actually was all fun and games, and nobody lost an eye. [This is Jo's classic tribute number to Gypsy Rose Lee. -ED]
Not only did our emcee, Jonny Porkpie, do a fantastic job introducing the performers, he entertained us with a little striptease of his own. Sporting a shiny black "half" suit (shorts, not pants) that showed off his sexy sock garters, and with "Porkpie" emblazoned on the back of the jacket in white lettering, he performed a truly manly man routine, right down to an amazing over the shoulder stocking pull with his calf-length men's socks. Now that takes talent! And a little bit of acrobatics.
I have to give big kudos to local lovely Belles Jumelles. This blonde beauty put together a fantastic Faustian Madonna mashup routine, selling her soul to a very sexy Satan to become a gorgeous Madame Ciccone a la '80s with studded bra. So many great songs to sing along with—it made shooting the act just a little harder with my feet tapping to the beat.
I love a well done feather fan dance and the lovely Maria Juana from The Harlettes blew me away with her performance. She had a set of large gorgeous pink fans and it was as if they were just floating through the air. There were no uneasy pauses, awkward poses, or jerks and jabs like you sometimes see from beginners. Maria's motions were so smooth and silky as if the fans were an extension of her hands, the feathers just the tips of her fingers. So natural and beautiful!
How do you explain a 6' tall sexy burlesque frog? When James & The Giant Pasty came hopping onto the stage in his head to toe shiny green frog outfit—complete with green foot flippers—I had no idea what to expect. I mean, I don't usually find frogs sexy in any way. Slimy and icky maybe. But this was James, so you knew it was going to be different. Seeing a frog/man strip is actually pretty much like watching a regular man strip—just green. What you don't expect is what's underneath all that green skin. Our green frog didn't need the kiss of a princess to turn into Prince. You heard me—not "turn into a prince" but "turn into Prince," as in "the artist formerly known as." How could I tell the difference? Let's just say I saw a purple sign on a silver shaft of sparkles…
Kudos go out to those that made the Festival such a big success: Mysterion and the Great Canadian Burlesque and the other performers whom I didn't have a chance to mention here (but may be chatting about in Girlesque Day 2 & 3): Bambi LaFleur, Dee Dee Starr, Esther DeVille, Genie Emerald, and our music for the night provided by The Sara & Jeff Show.
Olena Sullivan (Photolena) is a Toronto-based model and performance photographer who specializes in onstage burlesque photography. All photos ©Olena Sullivan-Photolena and used here with permission by Burlesque Beat. Performers may use shots for promotional purposes, but please credit properly with photographer's full name and a link to this piece.