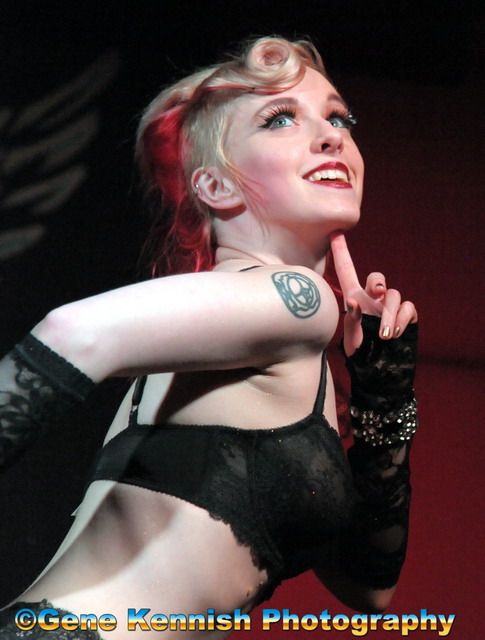 A Sideshow Photo Gallery by Gene Kennish
March 8, 2013
RBar, Lower East Side, Manhattan, New York
A Time Out New York Critic's Pick several times over, Joe the Shark has been bringing us the Sharkbite Sideshow twice a month featuring some of the finest storytellers, burlesque performers, sideshow artists and pole dancers in New York City. From the show's facebook page:
"Joe has finally found a way to merge his love of sharks and his love for the NYC burlesque and variety arts scene and has created a show with a very unique mission statement. Part of the proceeds from every Sharkbite Sideshow will be donated to shark conservation. You read that right, Joe the Shark takes his love of sharks very seriously and will continue to donate to the Fox Shark Research Foundationv, founded by shark attack survivor Rodney Fox. After having dived with Rodney Fox and his son Andrew, Joe the Shark is committed to the safety and preservation of these majestic, and often misunderstood, animals. For every human killed by a shark, humans kill two million sharks. Sad, but true."
We are very excited to share this gallery of gorgeous photos with our fans.
Check out one of their future shows:
Every second and fourth Friday of each month
R-Bar 218 Bowery (between Prince and Spring)
8pm // tickets $10 (at the door)
Advanced tickets will be available at www.rbarnyc.com
Do you have a shark tattoo? Are you a certified scuba diver? You can get into the show for half price! Just show Joe the Shark at the door your tat or scuba card for the discount. Sorry, one (1) discount per costumer.
Gene Kennish is an avid photographer of many different genres including but not limited to performance art, sports, portraits and landscapes. Originally from Brooklyn he currently resides in Staten Island, NY with his wife and three sons. All photos ©Gene Kennish, and used here with express permission for Burlesque Beat. Please respect photography copyrights and do not use images without obtaining explicit permission.
This edition of the Sharkbite Sideshow featured the following fabulous performers:
Italian Burlesque Sensation, ALBADORO GALA!
One part of what used to make Original Cyn so hot, APATHY ANGEL!
The lady who started Hotsy Totsy Burlesque, CHERRY PITZ!
Dragging herself all the way from Coney Island, KRYSSY KOCKTAIL!
The lady who started Original Cyn Burlesque, MISS MARY CYN!
A twisty and gorgeous contortionist, NATASHA KING!
The firetastic SASHA THE FIRE GYPSY!
Hosted by frequent Moth host and GRANDSLAM Moth winner, HANDSOME BRAD LAWRENCE.
With gogo by the blonde amazon, SHAINA CRUEA!
With kitten ZEE VALENTEEN!