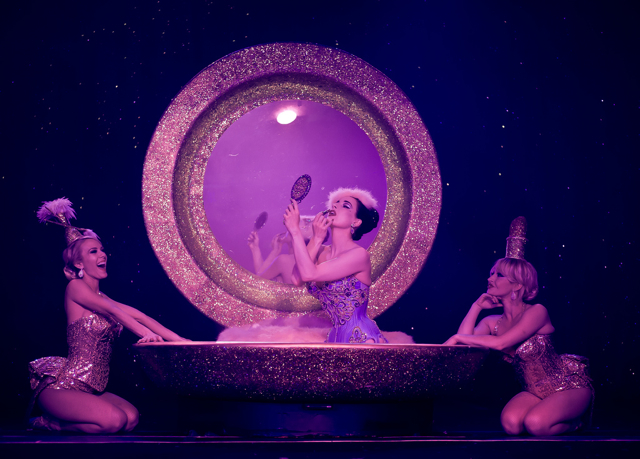 by J.D. Oxblood
Thursday, March 7, 2013
I've said this a hundred times before, but most people have no idea that burlesque still exists. Grab a random stranger on the street, ask about burlesque, and chances are you'll get a blank stare. Of few who can actually name a single person associated with burlesque, 90% will name Christina Aguilera, 9% will name Gypsy Rose Lee, and .9% will name Dita Von Teese. (The other .1% is everyone reading these words.) Love her or loathe her, Dita Von Teese is hands-down the most famous person currently performing burlesque. And for that reason, even if for no other, I was absolutely psyched to see her in Strip Strip Hooray! at the Gramercy Theatre last October. Which didn't happen, because there was no power in Gramercy in October for a week after hurricane Sandy. Thanks to the producers for the March do-over.
Getting into the Gramercy Theatre is a little like going through an airport—IDs, security checks—and then we entered the hall itself. My first thought was the crowd, more mixed than the average burlesque crowd, with wider age ranges, some truly pretty girls, and a medium-high d-bag quotient. The space was designed for music shows, with a raised thrust stage, an STO pit, and then raked seating, some of which was available for VIP purchase, but most of which (according to the staff) was reserved by the artist for her friends and family. This meant that most of the paying audience were clustered in the pit between the stage and the risers.
Murray Hill, in a tux, started the show with a song—still can't sing, no longer trying—and quickly warmed up the crowd and introduced Dita. She strut out in a top hat, smoking, with two backup girls with blunt blonde bangs flanking a large martini glass-shaped tub. One removed Dita's jacket, reaching her hands over her shoulders, and Dita popped buttons to reveal her corset. The girls—the Vontourage—unlaced the corset, and I was impressed to see Dita pass the string out to an audience member. Cue skilled backbend stocking peel. Then she sat across her martini tub, struck a pose, then slid down into the tub and kicked up her legs. The disco ball kicked on and started spinning, and Dita found a jumbo sponge to squeeze water over her luscious body, sitting in the tub and doing cute little-girl spins, as Christina implored that we "be the guy who takes his time."
First impressions: Wow, she really is fucking gorgeous. Very sexy. And people are going apeshit for her. And that's awesome, on many heavy feminist levels, considering she's 40.
But the REAL first impression is that the venue is far from ideal for burlesque. We couldn't see anything. I could write a long-form piece about the back of a guy's head. An entire group of people in front of me, even shorter than I am, literally saw nothing—except, of course, the show happening at the bar, where an inappropriately-young girl was giving a private show for a 40-something goomba in a suit, with lap dances, face licking, and bumping other people in the crowd gratis. Sure, anyone could have shelled out more for VIP seats, but since some of those seats were essentially in the wings, some of those people couldn't see, either. The STO seats were $40, which translates into $52.50 after all the fees. Now we all know that Cointreau's gotta make theirs, but shouldn't $52.50 give you SOME idea of what's happening onstage?
Though we have to give credit for someone—anyone—raising the bar for burlesque ticket prices. And all these people paid. Where Cointreau really deserves the credit is keeping a lid on Dita's image—the crew at the venue were savage about photographs, not just busting people but making them delete the photos before they'd leave them alone. Truly impressive.
Dirty Martini took the stage to mad whoops, and I stood on tiptoe, saw the silver sparkly dress, heard the slow drums, and fortunately knew what act she was doing. No one does a super-slow glove bite like Dirty. But as the music changed, the midstage curtain opened, and she twirled upstage—and disappeared. I was disappointed. When the sightlines are that bad, you gotta keep an eye out for the bulk of your crowd so they can enjoy what you're doing.
Far worse for us was Lada Nikolska, who, I suspect, did some floor work, which was completely lost on us in the cheap (non)seats. She had a decent opening, in a black fetish mask and a latex dress, getting down on her knees with a riding crop in her mouth near the lip of the stage, but then it was easier to watch the goomba and the chippie house right. A shame, too, because I'm into a cruel, brunette, small-breasted Russian.
Catherine D'Lish did her web act as smoke filled the audience—a wonderfully constructed act in which she literally climbs a web, striking poses and stretching herself out for our delight. I love this act, and the web got her high enough off the stage that we could actually see some of it—I was excited to see it again. It gets juicy, as she reveals that the seams at the back of her stockings are perfectly straight, slowly slips from one pose to another, gets on all threes and bends a leg back behind her head, hangs completely upside down, and works up a beyond-180 degree splits. Catharine is the Queen of the look back over her shoulder.
Dita wrapped up the first act in a bespangled cowboy hat and glitter guns to a cheezed-up version of "Hey, Good Lookin'." She bops around, does a nice pistol hat tip, and moved to the apron long enough for us to admire her waspish waist. Tipping the hat over her face, to a cover of Patsy Cline's "I Go Out Walking," she tipped the hat over her face and moved to the mechanical bull, mounting it slowly, as her leg goes straight up, the better to admire her glittery boots. As the bull leans forward, she goes back; as it pulls back, she's forward on her belly, holding our gaze as the bull turns around. Now we're into a full turn and tip, and she spins her body quickly to keep it in our full view. Very slow, very hot, very commanding.
For the second act, we went downstairs by the merch table and watched on the monitors. You couldn't hear the audience, and everything was pretty washed out, but at least we could see tiny Selene Luna on her mini-motorbike, raising devil horns and rocking the fuck out. We could still hear well enough to know that the crowd—predictably—flipped out when they saw some man meat, in this case the French Monsieur Romeo, who barely moved, standing and slowly removing his jacket and revealing his cut abs (dude is rail-thin) and popping off his pants at the end to reveal thigh-high stockings. I truly enjoyed Dita's compact act—the kittens open a giant gold compact, and there she is, rising up out of it, reflected in the mirror, flaunting a skirt like a powder puff, and moving onstage en pointe. Later she finds a jumbo-sized powder puff and strips behind it, using it to powder her body, and makes a slow strut towards downstage, legs coming up high, all en pointe. That shit ain't easy, and was my favorite Dita move of the night.
Most of what Dita did at the show wasn't exactly dancing. She moves, she walks, she struts—she poses. My wife called it "pin-up in motion," and it really is. Dita is more aware of being looked at than most performers, and is very good at being looked at. If you've ever tried to catch a girl's eye in a public place, you know how important—and how sexy—it can be when a woman knows that you're looking. Dita knows, and she does more with just a look than many performers can do with a wink and a bump and a grind.
In the days following my Dita experience, I kept running into others who had had their own. Responses were mixed, as were the responses from people who hadn't actually attended. When you're as big as Dita, everyone has a fucking opinion. In one such conversation, one burlesque performer was excited to discuss the show, while another (names withheld) rolled her eyes and said something about not being willing to be so bored. The performers I saw at the show were over the moon—excited, even thrilled. But my favorite response was from a guy I just happened to meet at a party that weekend, who was in his mid-20s, gay, and said he was a dancer. He adored Dita. He loved the show, every minute of it. He had complimentary things to say about most of the performers, but Dita, to him, embodied grace and beauty. I played devil's advocate, and asked him, "But, she doesn't really dance, does she?" "No," he said, brushing my question off, "but she doesn't need to. Sometimes you don't need all that. Like you watch 'So You Think You Can Dance?' and everyone's trying to do everything. Dita doesn't need to." Basically, less is more. Fewer moves, more glamor.
Very few make a living at performing burlesque.  Most performers also do something else, whether it's a muggle job, producing, making costumes, or being a brand ambassador for Cointreau. Dita almost certainly makes far less from performing live shows than she does from her more commercial endeavors, but performing live keeps the legend alive. Sure, she has a lot of detractors—but the recent backlash against Anne Hathaway should really tell us, once and for all, that haters be haters, because people love to hate. And we love to hate the successful.
A friend who's been on the burlesque scene far longer than I have recently told me that there was a pinpoint moment when Dita changed her performance style, and that it was a deliberate choice. Even years back, when photographers were allowed to shoot shows in which Dita was merely a performer, the photographers would pick their best shots of the evening—and they would be of Dita. Other performers would be blurry, moving too quickly in a dark room, and then there's Dita: blammo. Perfectly posed, perfectly poised, perfectly photographed. A pinup. It's a style—pinup in motion—and it's not for everyone. But it is for photographers. And for all the people who have never seen Dita perform live, they've seen her photographs. And she always looks amazing.
Feel free to hate her—what would be the point of being rich and famous if people didn't hate you?—but hate her for the right reason. Hate her because she's a fucking genius.
Kiss kiss,
JDX
P.S. Check out Dirty Martini's diary from her tour with Dita Von Teese.
J.D. Oxblood is co-founder and Editor-in-Tease of BurlesqueBeat, and an occasional contributor. His burlesque writing has also been seen in Burlesque Magazine, 21st Century Burlesque and Zelda. His academic work has been seen in Borrowers & Lenders.
All photographs ©Kaylin Idora and used her with express permission by Burlesque Beat. Please do not use photographs in any way without obtaining explicit permission.