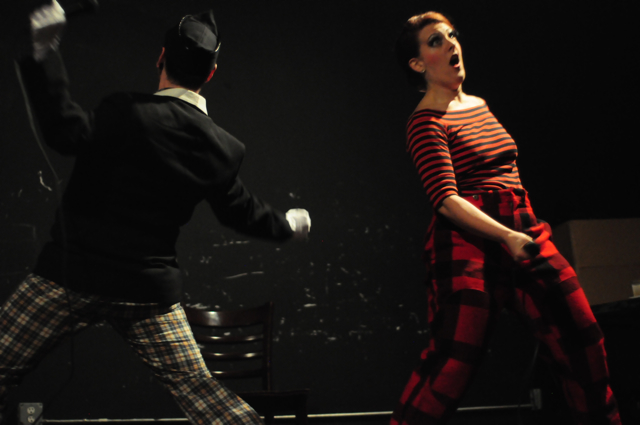 by J.D. Oxblood
Bushwick Burlesque, February 19, 2013
Picasso Machinery, February 22, 2013
Brooklyn, New York
I.
I live in Williamsburg, yet am still disoriented by the wilds of Bushwick, ten years behind Williamsburg in the gentrification process. The industrial grit of the 'hood feels like Williamsburg of 1999, when the corner of too-cool-for-school and too-dumb-to-get-a-job had yet to grow like a blight that eventually covered all of Northside Williamsburg, and will eventually overtake the Southside, Greenpoint, and, yes, Bushwick itself. But for now, Bushwick is still gritty—artists' lofts and galleries, cafe startups and gray views of the elevated JMZ—and that's just the way Bushwickers like it.
The venue was a large, open wooden room, filled with benches, with a raised stage, clip lights on a front-of-house pipe, and a makeshift bar in the back. I'll return to that. Our host, Scary Ben, partner and co-founder of Bushwick Burlesque with New York legend Darlinda Just Darlinda, gave us some background.  As of 2013, Bushwick Burlesque would be formulated as a "modern burlesque show," a place for incubation, and not just for strip tease. A place where classic performers can do their "zany shit they can't do anywhere else."
Bushwick Burlesque has been rolling for a year and a half, quietly building a crowd, which Ben estimates now consists of 80% returnees, and only 10 to 20% performers. And yes, the house felt like that—a gang of people who know each other, and know what they're in for. It was most certainly a grayscale venue—and by that I mean anything that is less than 100% legitimate. Several legitimate venues in New York toy with the letter of the law—most notably with regard to cabaret licensing—but if more, um, basic concerns, such as fire codes, health codes, liquor, um, thingies… well, let's just call it grayscale. Not necessarily illegal, not necessarily kosher for Passover.
And it went something like this:
Scary Ben and Darlinda Just Darlinda jerk off their mics to "Thus Spake Zarathustra." Ben and Darlinda have an easy manner, a mutual interrupting and one-upmanship that comes off as a perverse George and Gracie—fun and ridiculous.  Ben is in clown face, plaid pants, the whole bit, and doing a borscht belt-y voice that's a cross between The Evil Hate Monkey and Mel Frye. (No one in New York seems to be pulling this voice off.)
Phara Way, the stage kitten, opens the show with a simple strip, and shows us the fantastically low-budget door on the back of the stage—I love shit like that. DJD comes out in a trench coat, hat, and valise, and to Billie Holiday's "My Man," with the line, "He beats me, too," removes her sunglasses to display a wicked shiner. The move is completely arresting, and frames the entire act.
Scary Ben takes the stage and delivers a haiku as Cherry Typhoon—the Japanese badass visiting by way of Montreal—comes on posing, glaring, pulls a sword, and stabs Ben as the blackout sweeps the stage clean.
The raffle is a giant bag of stuff, which SB and DJD spend so much time describing it becomes a hilarious act of litany and used-car salesmanship. Scary Ben does a clown/mime call-and-response act, teaching the audience a complicated series of snaps and claps; Bambi Galore finds a "Dear John" letter and puts all her clothes in a remembrance box, including her Nuva Ring; Amber Ray does her bunny act to Bjork's "Quiet;" and Cherry Typhoon does a patented Cherry Typhoon act to end the show.
But in the middle, you had the really weird shit, starting with "Scary Typhoon," the performance art duo of Scary Ben and Cherry Typhoon, to a recording of vocal snippets, like a DJ scratch record, with SB at the mike reciting like a witness on trial, which denigrates into a song set to "Mary Had a Little Lamb," while CT asks accusatory questions and sings fragments of Morrison's "Whiskey Bar," infusing all with major Japanese melodrama.
And, to truly please the crowd, a New Orleans-style booty shake contest, where the audience members had a chance to get nekkid, and a SB & DJD dual lap dance for a birthday girl in the crowd, which was hilarious and borderline destructive.
II.
Supposedly grounded on the other end of the artistic spectrum, and yet adding more complement than counterpoint, the week of Bushwick I attended another grayscale show in Williamsburg. Picasso Machinery is an off-the-grid monthly semi-public salon held in a private home near the Williamsburg Bridge, that presents music and literary readings, and some more "avant-garde" (see below) performance art. This part of the neighborhood has turned into a kind of riviera, with gorgeous restaurants popping up on the water, dissolving those late-night memories of stumbling out of Bembe at 4am into an empty industrial wasteland under the bridge.
A motley assortment of chairs was set up under a shattered tin ceiling and string lighting, facing an empty space that would serve as a stage, with a—ahem—makeshift bar set up in the back, and a college dorm aroma. The crowd seemed loose and comfortable, with many people greeting each other, and a few—like me—who seemed a little lost.
The first act was Kaila and the Kid,  billed as "beat rhymers," which Kaila described as a combination of "beat box, spoken word, and rhyming," at which I promptly rolled my eyes. But I was mistaken. The kid started out with a simple beatbox kick and snare, and laid rhymes on top of it, doing a simple rap and beatbox simultaneously, something I haven't seen done since I saw The Roots at a second stage at Lollapalooza back in the early '90s. After half a minute, he laid out, and Kaila—a skinny little blonde white girl—did the same trick, beatboxing while adding a simple rap. And then… they started in together. They beatboxed together, taking turns with the lead on the rap. It was fucking sick. After a few minutes, or what any former DJ would recognize as the time to change it up, the Kid turned to a mad bass breakdown over Kaila's kicks, and then the Kid took the beat while Kaila threw a nasty trumpet solo. The next track was all echo effect—just with their mouths, mind you—and a tick tock breakdown. I want to book these fucking guys—and if I were a burlesque performer looking for a new act, I'd work with them. (But as we all know, burlesque performers in New York don't really go to each other's shows, let alone see the work of other artists.)
Then we got into the readings, as Daniel Long read a story that included crank, shooting up, sheep fucking—this story has everything! Slightly better was the performer Paul Belger, who used the time and space perfectly, trying out a new monologue about growing up in New Jersey. It was a little actor-y for the space, but it was clear that he's building this as a one-man show, and I was excited to see an artist exercising his willingness to fail, with an eye on future victories.
Then the "avant garde," a dual reading with recorded noise by Tess Patalano and M.G. Martin. Just to clarify: avant garde means "cutting edge," which means doing something new, experimental, and daring. Blowing the dust off something that was exciting for five minutes thirty years ago is not avant garde, but certainly annoying to people who have studied.
My irritation was completely erased by the Apache violin work of Laura Ortman, who played along with a recorded accompaniment (also her, I suspect), a series of haunting, jerky tunes that dropped staccato accents over long, breathless phrases. She reminded me of the fantastically addictive Australian band the Dirty Three, and was a wonder. I'd like to book her for something, too—like maybe an anniversary dinner date.
To round it out we had a surprise drop-in by musician Paul Wallfisch, who sang a moving piece while plying the space's clearly-seen-better-days upright piano.  Wallfisch runs the weekly Small Beast variety show at the Delancey.  I'm ashamed to admit that I've never heard of this show. Maybe it's true about us New Yorkers–we don't notice other acts, other shows in familiar venues, or practitioners of other arts, as we well fucking should.
III.
As the world of burlesque continues to expand, successful producers look to fill bigger venues and draw bigger crowds. "Headliner" performers take their most-palatable acts on the road. It's sometimes hard to remember—watching a big name on the Vegas stage—that everyone started in a dingy downtown somewhere, and that the place to experiment, take risks, and generally fuck shit up is not going to be on a big stage where an audience of strangers paid a couple Jacksons to get in and the cocktails are a Hamilton apiece.
For artists, there is a need for failure. If you don't understand the value of failure, then you've never created anything, played sports, or tried to get a date. Failure is the world's great educator—it not only shows us what not to do, but it purges us of the need to do it.
And if you're going to take a bold risk, in any art form, it helps to do it in a friendly room. A local salon—be it a local burlesque show that caters to the taste of a specific neighborhood, or a cloistered literary/performance show-and-tell that caters to the whims of an eclectic group of dedicated attendees—allows for both soaring success and abysmal failure. The audience is having a good time anyway.
At Picasso, the crowd was chummy and familiar, and there was a shared vibe of closeness mixed with a fair aroma of exclusivity that was nevertheless un-snobby. You could make a similar claim about Bushwick—just being there, enduring the cold and the hard benches, was a point of pride in and of itself. How were the acts, at either show? Well, the acts were hit-or-miss, but that's the wrong question. The acts were supposed to be hit-or-miss. Some are ready for mass consumption, and some are still being workshopped. That's what a workshop is for—working on stuff. And sometimes you just need an audience to show up with only one expectation: to have a good time.
Those outside of New York don't realize how shitty everything can be here—that the glory of Broadway rests on the shoulders of the dingiest, most ill-equipped theaters in the country. Having worked off- and off-off-Broadway, I can attest to the awful conditions, archaic equipment, and bad pay. The challenge of forging good art out of next to nothing is the true alchemy of the New York spirit, and what gives us our currency. "If I can make it here, I'll make it anywhere"—because anywhere is easier than here. From the Living Theater to the abstract expressionists to punk rock to the Beats—and yes, whatever you've read, the Beats started here, not on the left coast—the big waves that put New York on the map always rely on a battered survivalism, a minimalist "make it work" aesthetic, and the kind of shit now discardedly referred to as D.I.Y.  Which is why the grayscale venue is making a comeback. Sure, it might be borderline (or blatently) illegal, but isn't it sometimes easier to do it yourself than to try to get into someone else's show?
Sometimes, the conversation among artists leans too heavily on "how can we make more money?" or "how can we put on a bigger show?" I dig it. We all have big dreams. But we all want to—or should want to—create good work. And sometimes, just sometimes, a smaller  show is the way to go.
Bushwick Burlesque has a new venue, Bizarre.
Picasso Machinery is an invitation-only event. Check out Picasso Machinery is Curating for the Curious, by Jason Orlovich, for BKLYN
J.D. Oxblood is co-founder and Editor-in-Tease of BurlesqueBeat.com. His burlesque writing has also been seen in Burlesque Magazine, 21st Century Burlesque and Zelda. His academic work has been seen in Borrowers & Lenders. Follow J.D. Oxblood on twitter.
All photos ©2013 Melody Mudd for Burlesque Beat. Performers may use shots for promotional purposes, but please credit properly with photographer's full name and a link to this piece in all instances. Performers who would like hi-rez images, get in touch. All others: Please respect photography copyrights and do not use images without obtaining explicit permission.