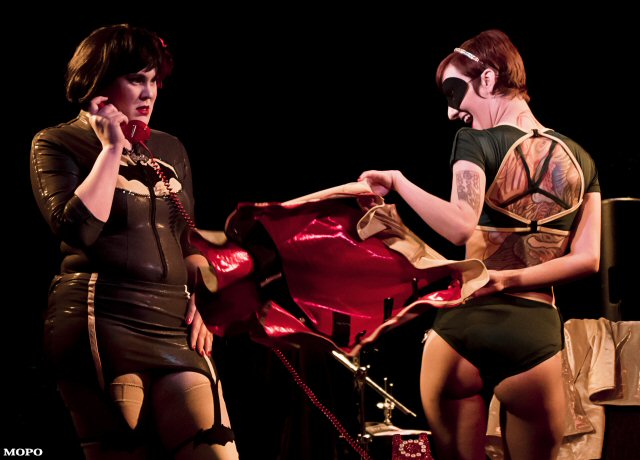 By Photolena
Thursday, March 28, 2013
Lee's Palace, Toronto, Ontario
Nerd Girl Burlesque's very own Bella Fox—super sexy in a Nightmare Moon costume and an extremely talented handbell diva—hit a landmark age at the end of March. Thirty, the big 3-0, the new 20, the best, and hopefully most debaucherous, years of her life, and so on. So how does a nerd girl celebrate this important time in her life? The only way she knows how—by inviting everyone she knows to a nerdy burlesque show of epic proportions at Toronto's Lee's Palace and entertaining the guests with not only burly acts but local rock girl outfit High Heels Lo Fi, The Cocksure Lads, and Bella's own Pavlov's Dogs Handbell Ensemble.
This isn't the first time lovely Ms. Fox has invited the multitudes to partake in her birthday celebrations. The Dirty Thirty Dancy Party was the fourth in an annual event that's been getting bigger and better every year. How many times do you get invited to a birthday party where the hostess entertains you with nerdy-themed burlesque acts and gets right down to her pasties?
You can imagine how thrilled I was to be invited to the party. I'm extremely fond of the ladies of Nerd Girl Burlesque and love their cheeky takes on cosplay themes both on the stage and when I can drag them under the glamorous lights of the studio. As luck would have it, it was the day of the big shindig and I was just going into what is now referred to as The Grand Debilitating Flu of 2013.
So how to let you know about this absolutely delicious event? That's where my colleague comes in. There are several talented photographers in Toronto that follow the burlesque scene and MOPO is not only one of the most talented but also one of the most devoted. He attends all the local shows and those close-by and everyone knows him by name, from performer to stage manager. And most importantly, he was happy to oblige when asked to cover the event and provide photos for your enjoyment.
Please enjoy the gallery, courtesy of photographer MOPO with the Nerd Girl Burlesque troupe as the Spice Girls, Ruby Pixel in her Batman pasties, Loretta Jean as a truly sexy devil, Loretta Jean and Delicia Pastiche as Batman and Robin, Delicia Pastiche as Superman, Bella as a foxy fox, Toronto's own Lucky Fremont, and Detroit's Ginger Ruby.
Sounds like this blogger had a lovely time at Nerd Girl Burlesque's Bella Fox's birthday bash.
Olena Sullivan (Photolena) is a Toronto-based model and performance photographer who specializes in onstage burlesque photography.
All photos ©MOPO and used here with permission by Burlesque Beat. Performers may use shots for promotional purposes, but please credit properly with photographer's full name and a link to this piece.