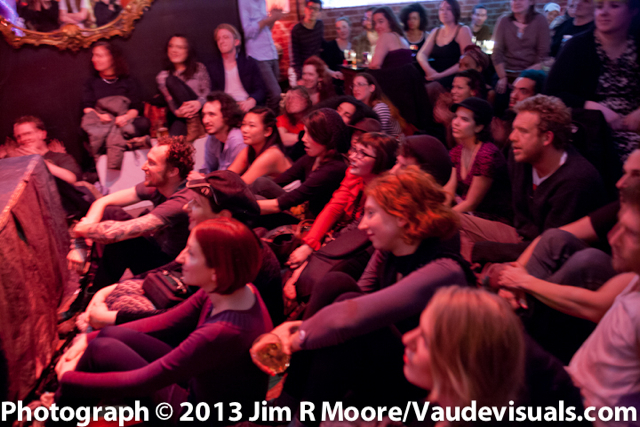 by J.D. Oxblood
Tuesday, March 19th, 2013
By happenstance I attended both the last Bushwick Burlesque in a greyscale space in Bushwick and the FIRST Bushwick Burlesque to explode in the new uber-hipster French weirdness cabaret-cum-kumquat joint Bizarre.  
And it was a monster–and yes, I mean the kind of monster that could crush Tokyo in a black-and-white movie while you toss your Raisinets. What started out as a "Why not?" venture (maybe because Darlinda Just Darlinda was sick of commuting for all her gigs) has become, thanks much to Darlinda's fearsome and hard-earned reputation, a destination gig for traveling burlesquers. Find yourself in NYC for the week? Hustling the Slipper and a Doc gig and god-knows-what? Work it to be here the week of Bushwick, coz remember, in any language but Latin, "Brooklyn" means "Cool."
On the night I was there, Lux La Croix was in from L.A. and Bella Blue was in from NOLA, and the audience itself–Bushwick fans, odds-and-ends stalwarts, freaky-deakeys from all over–was positively peppered with NYC Burlesque giltterati.   
Darlinda  did her Ronny James Dio tribute (also a tribute to Bangkok go-go bars), Matt Dallow played the accordion over a clap track and made the freaks dance, Donny Vomit turned in the tightest blockhead act I've ever offing seen (with a drill, man, with a cordless drill!), and, yes, there was some avant garde nonsense that took a half hour to set up but was thoroughly enjoyed by half the audience. (The other half was busy being annoyed by the staff members, who, I'm told, were across-the-board cranky and obnoxious, and I regret having ducked out before the worst staffer ran onto the stage–can you imagine?– and was properly booed.)
The venue itself is gorgeous, the location is totally confusing, and the show will blow your mind. Maybe more than just your mind if it's your birthday. Go see it, before Joan Acacella tells the Upper West Side about it.
xx
JDX
Bushwick Burlesque happens monthly at Bizarre, 12 Jefferson, Bushwick, Brooklyn. The next event is Tuesday, May 21, 2013.
All photos ©Jim Moore and used with explicit permission by Burlesque Beat. Jim Moore–perpetuating the mythology of eccentric variety arts utilizing photography and videography. Please respect copyrights and do not use images without obtaining explicit permission.
Check out J.D. Oxblood on Grayscale Venues, Bushwick Burlesque, and moving salon, Picasso Machinery.