HAVING A ROUGH TIME SINCE HURRICANE SANDY. PLEASE SEND SOME $ SO WE CAN MAKE IT TO MERMAID DAY. 
LOVE, CONEY ISLAND.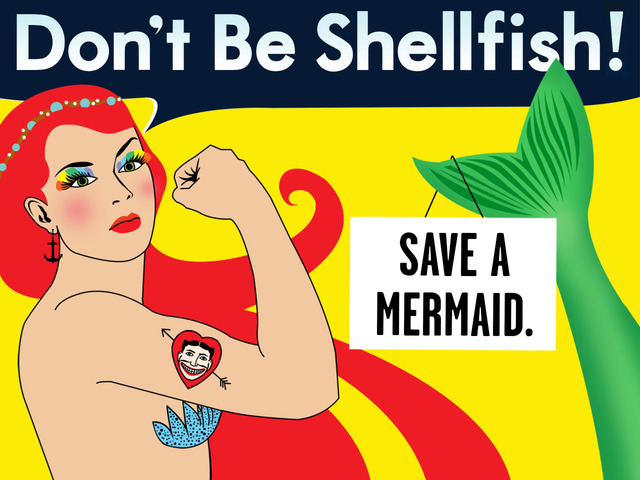 Long before I got immersed in burlesque, I loved Coney Island. I was enraptured when I first moved to New York, and yet strangely it was a couple of years before I heard about the Mermaid Parade. I fell in love at first visit.
Personally, there are two big reasons why I love the Coney Island Mermaid Parade:
1. It's a big crazy hodgepodge of good clean freakiness, sprinkled with nudity yet crawling with children, a glorious and FREE parade on the weirdest beach in Brooklyn, and what I have always told the uninitiated was "basically Mardi Gras, Brooklyn-style."
2. It's my birthday party. True story. The Mermaid Parade always falls near, and often—like this year—directly on the date of my birth. Which always gives me and my hoodlums something to do, like eat brownies on the beach, ride the cyclone, eat fried chicken, throw fruit at each other, and look at body-paint and pasties.
Plus great giveaways, like your own porta-potty (how NOLA is that?) and costumes by Mermaid legend (and "Racked" imprimatur) Kate Dale. (By the way, Kate, really sorry about that thing at that party that time.)
There is only one place—and one time—in New York where anything goes, and it's the Mermaid Parade. Let's not let it skip a year just because of a lousy hurricane.
—JDX