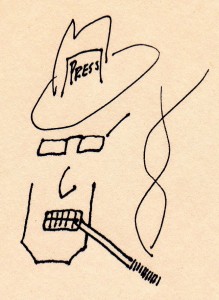 J.D. Oxblood's 2012 Vegas Brain Scramble
Talk about what to do in Vegas…
[Entries are sporadic. Time passes strangely in the casino terrarium, stranger still in the burlesque bubble. Caged from crib notes. Bits assembled per computerized randomizer. Consume at own risk.]
* * *
Wednesday, Noonish:
VEGAS!
Score a rental car, promptly get lost on the way back to the terminal. Pull over and buy a pack of Parliaments for under 5 bucks—would cost 14 in NYC. I quit a year ago, but it's Vegas, and I'm smokin'.
Swing around and find Melody, adorable in a giant black hat and bright yellow BurlesqueBeat T-shirt featuring Gal Friday. We're not selling them at the Orleans this year since we don't want to spend all weekend selling shirts, but clearly they're the softest, most comfortable T-shirts ever, coz we're wearing them ourselves all weekend. We cruise to the Orleans with the windows down and check in, making sure to "use the secret password," which gets us on the top floor, with a giant flatscreen, plus a free [redacted]. Already getting hit from all sides—can't get away from the front desk without seeing Melody Mangler and Norm—fucking love those crazy punk bastards—and a hundred other Vancouverans, who gush all over us in congratulations (we just got married), and we can't make it up to our rooms without running into legendary New York photogs Don Spiro and Allen Lee. It is ON.
* * *
Thursday Evening-ness:
Pop into Big Gay Al's (Bless you, Blanche Debris, because of you, it will now and forever be known as Big "Gay" Al's) and run into Sir Richard Longfellow from Seattle, and am proud to recognize Paul O'Connell via Facebook photos. When that CIA hitman job comes in, I'll be able to ID my targets with only an 8×10. On our way down we'd seen Shannon Doah in civvies—jeans and a vest, SO cute—and by the time we get to the Showroom she's dressed to the 9s. That's a professional quickchange.
The show is nuts and the intermission more so, natch. Finally find Tiffany Carter and hold her like life depends on it, which it might. She's so excited to go to Chicago for Windy City AND go to the Toronto festival. Kay Sera, always so glamorous, is rocking an animal print dress reminiscent of Jessica Lange from "Titus," and she's as irresistible in it as Jessica Lange in "King Kong." How is it that I've never seen this woman take her clothes off?  I multiple-hug my dear Ophelia Flame and almost attack Lola Frost. I finally find Madame Rosebud and say hi to her mom. I've had a crush on her for a solid three years, and if her being married didn't thwart me, my being married won't, either. I throw her my admiration and run into Bastard Keith, who tells me I should really wear heels because I'm so hard to spot in this crowd. Dick. Besides, I am wearing fucking heels.
* * *
Legend Night:
We were asked to wear blue in honor of Indigo, so I'm rocking my bespoke electric blue suit with a striped purple tie and blue and white lizard skin spectators. Melody is in a divine gold-beaded purple dress, a gift, and claims, "I am wearing blue. I'm wearing J.D."
* * *
Thursday, Afternoonish:
Interview New York newbie and all-around cutie—what's that David Krumholtz line from "Harold and Kumar?" "The things I would [redacted], you have no idea."—Tansy for Diane Naegel's (and Don Spiro's) Zelda magazine. Did you know that Tansy was a competitive swimmer? Ran relay in the Junior Olympics—one of her partners went to the Olympic-Olympics, won medals. She did backstroke because she hated it. She was so worried about getting freckles from facing the sun, she would launch herself and go as fast as she could. So that became her stroke. Because she didn't want freckles.
* * *
Some afterparty—Saturday/Sunday:
Run into Gin Minsky and spend a long time talking about [redacted]. See Monkey at the bar and finally say hi over the din of gigglers. Something like this: "Hey, Monkey, I've seen you from a distance but haven't had a chance to say hi all weekend." "It's already Saturday and I'm still seeing people for the first time." Suddenly Boo Boo darling is at my elbow. Me: "Omigod! I didn't know you were here!" Monkey: "See!" Totally. Five seconds later I'm greeting Rosie 151—whom I also didn't know was here—and Francine, who's snapping pix of all the New York glitterati.
I think I had it wrong—maybe this was the night we were chit chatting with all the Chicago starlets. Does it matter?
* * *
Night/Morning Vampire Hour:
It's an ungodly twilight of artificial light casinoland and I'm at a Blackjack table with Violet Femme. The dealer is this intense-looking blonde Russian woman, and she is terrifying. I thought I knew how to play Blackjack, but no. Not at this table. You can't say "hit" or tap, you have to gently stroke the table with the cards, brushing them on the felt towards you. To stand you can't say "stand," or anything else, you have to slip your cards under the chips. And in a certain way—with the top left of the cards under the chips. If you don't do it right she fixes it. There's this giant fortress of a woman next to me who's been sitting there for what looks like a decade, getting a card scratched off every time she hits a Blackjack. There is no talk at the table at all, and the "scritch scritch" of hits takes on a coded significance. Violet is on the far side of the table from me, and we stick out like mad—her colored hair, my vibrant suit—and we're raising eyebrows and pulling faces trying to communicate. But it's no use. We can't actually leave. We are all under the spell of the Russian dominatrix. We keep losing but we can't seem to leave. The free drinks—they keep coming. Ten years from now, I will still be at this table, worshipping the Russian with the cruel eyes.
* * *
Monday day:
Big lunch plans at Caesars with a big gang, but can barely get out of the Orleans with all the hugging and kissing as the exodus begins. Back afterwards trying to cage a nap. Exhaustipated. Off to Frankie's tiki bar with another gang. Meet a random stranger who's inviting us to a pin-up-inspired fashion show, and I, in full schmooze mode, am dropping business cards and inviting her to submit to our calendar. I'm on schmooze autopilot.
* * *
After the show, one of those nights:
We go up to our room for Melody's ritualistic removal of camera, removal of shoes, and addition of vodka post-show routine. On the way back down I meet a gaggle of New York newbies, and after introducing myself, one of them says, "Oh, I thought you were just some random business guy." In snakeskin spectators? Some people in this world have no concept of what real-life "squares" are like. Seriously, burlesquers, open your minds, get out there and experience some MUGGLE.
Aaaaaaaand there's Tigger surrounded by fans. I cut into the middle, give him a kiss and share my necrophilia joke (he told one at Camille 2000's fundraising show in NYC last week). I may have offended someone, but it's really hard to tell.
* * *
Saturday:
We decided that for the pageant night, we'd wear the outfits we wore for our wedding afterparty. Not the wedding, not the reception, but the afterparty, for which we needed a costume change. Melody Mudd is wearing the divine dress designed and built by Nasty Canasta, screaming plum, more red or blue depending on which angle you view it from, and custom-made dancer shoes bedazzled by a close friend (and Broadway costumer). She looks fantastic. We left the diamond earrings in New York, unfortunately. I'm wearing a tie that matches the dress EXACTLY (which took [redacted] to find), with a SuitSupply pinstripe sheen blue suit, blue with white polka dots shirt, and Paul Smith polka dot socks to match. These are the kind of clothes that make you FEEL awesome. I could save the world in this suit, provided it all depends on a dance-off and I have my Detroit-blue shoes.
* * *
Thursday, as the suggestion of darkness allows the strip's neon to light up the desert:
Ritual shower, shave, dress, make cocktails, and wait for Melody to get ready.
As we head down to the lobby we keep cracking each other up. Last year—or maybe the year before—Melody started imitating the casino noise, the din of slot machines that is all bells and whistles, especially since the actual coins of yore have been replaced by more electronics. She flings her tongue in and out of her mouth, interrupting a high-pitched tone, not unlike a noise you might hear in a Spongebob cartoon. Damn if it doesn't sound EXACTLY like walking through a casino. Bli-di-bli-di-bli-di-bli-di-bli-di-bli-di-bli-di-bli-di!!!!!!! We've been making this noise at each other for months looking forward to Vegas. Walking through the casino, we're grinning like idiots. We're home.
* * *
Tuesday, June something something something:
In spite of a 2pm flight, we barely make it out of the casino in time. I confess to making a deliberate effort not to run into anyone I know on the way out. I'm done. I'll recover in time for next year.
* * *
Saturday, Photo Safari Day:
We love Don Spiro, but we're newlyweds, so I convince Melody that she should skip the Photo Safari so we can go to lunch.
We go to that cute cafe in the Paris where you can sit outside and watch the fountains at the Belaggio across the street. Have you had the goat cheese? Floating in a pool of tomato sauce? Amazeballs. And the steak au poivre frites. Omigod omigod. We have this cocktail served in a branded St. Germain mini-beaker, and I spend a solid 15 minutes trying to convince the waitress to sell me one. Life was so much easier back in the days when I would just fucking steal something like that. I mean, how is everything NOT for sale in Las Vegas?
Fat, happy, half-drunk, we wander up to the Flamingo and talk about playing some progressive slots, decide not to bother, and cab it back to the Orleans in time for Naked Girls Reading. With an afternoon detour at our room to [this detail has been deemed inappropriate for public consumption.]
* * *
Monday?
Then there was this other party, about which I am disinclined to say any goddamn thing. Ok, I'll say one thing. At any party, there's one person who's not playing along: the one not dancing at a dance party, the one not doing Jell-O shots at a Jell-O shot party, the one not playing Pictionary at a—you get my drift. If it's gonna be THAT kind of party, whatever THAT is, play along or go home. No shame in going home. Just don't be that girl hiding under the table. Don't be that girl.
* * *
Sunday:
Oxblood suit, Iva Handfull skull tie, the legendary Hello Kitty belt, and even though they don't match, pink flamingo socks in honor of our new Queen, Imogen Kelly. Melody is looking [WOLFWHISTLE] in an eggplant Stop Staring dress, which very flatteringly showcases her womanly figure. (Gdmn.) Last year, a burly union-looking photog called her "the Lois Lane of burlesque photography." It's a good line, but as an editor, it's fewer words to just say she's "fucking hot."
* * *
Thursday morning:
Wake early and go for a long swim. Got to try to stay in shape before the cumulative hangovers become overbearing. Return the rental car. Oh crap, here it comes—nonstop stripper-schmoozing.
* * *
Sunday morning:
I'm back at the Alligator Bar sneaking a smoke and scoring a bloody mary for what feels like the tenth morning in a row. I cross the casino to grab a coffee for Melody and then it's upstairs, get the girl up and book it to the Legend Panel, a highpoint of the weekend. Then it's get it together, get over to the pool party. Ophelia Flame fills me in on the whole [redacted] story, and I get a chance to catch up with Tink. Into the pool I'm "dripping rad sauce" all over Lola and Cherry on Top, and chatting up all the Australian girls, who are over the moon. There's this redhead, Strawberry Siren, whom I have repeatedly told to stay away from me, but she keeps popping up. Look, I JUST got married, I'd like to stay that way, and you are fucking J.D. kryptonite. Bugger off.
Hang on the side getting to know Midwesterners Jeez Louise and Gina Louise, and then it's already time to make the donuts.
* * *
Was this Saturday night or Sunday night?
I can't tell any more and it really doesn't matter.
Get to chat it up with Kitty Bang Bang, who I think is awesome. More so after chatting with her. Google reveals that like 20 people are trying to use the same name, which is a bummer. I also finally meet Blanche Debris, and tell her how funny she is. I'm really not that much of a complimenter. I do try to be charming, but if I tell you you're funny, I really think you're funny. And I'm not like most people: When it's not funny, I don't laugh.
* * *
Thursday, No Idea What Time It Is:
Ophelia and Gina; Melody and Norm; Gemini Rising and her boy Tom; Minnie Tonka who just [detail deleted], and a dizzying, spinning pantheon of EVERYBODY. I am straight-up stalking Imogen Kelly at the afterparty—she's written for my magazine but I've never met her in person, and I'm totally arresting every Ozzie I meet, getting Imogen's dress discription, until I spot her and sycophant up to her. A puddle. A fucking puddle I am.
I get it together and we have a conversation you couldn't pay me to repeat.
* * *
Wednesday, Nightish:
Big dinner plans and big dinner gossip with powerful burlesque representatives from powerful burlesque cities, with mucho badass freebies from the chef (a friend of one at the table). A high point of the weekend, utterly off the MF record. Although cramming 3 gorgeous ladies and 2 other dudes into my teeny rental car as I low-rider it down the strip is cartoonishly hilarious.
* * *
Thursday, Afternoonish:
Cruise the bazaar and drop cash on a tie by Iva Handfull. She's like the trifecta of badass—super talented on stage, super nice off stage, and with a side business that you just can't stop throwing money at. We have a fun conversation about the fabulous purple-with-gold-beading dress that Melody is wearing for Legend's night; it was given to her by a friend of ours who wore it for her 50th birthday. Iva says, "Well, I'm [censored] so 50 isn't THAT far away." I realize that I'm growing old with these women. It won't be long before I'm buying a tie from Iva to wear at my 50th birthday party.
Cruise the pool and get roped into a conversation with a New Yorker about the New York scene. It's crazy how many New Yorkers I only see once a year—in Vegas. Yawn.
* * *
Wednesday, daytime:
Drop bags. Hang suits. Back in the car—and straight to In N' Out Burger. We don't have 'em in NYC, and we get a monster craving. We scoot across town to hit the Trader Joes—which is MASSIVE, seriously. In NYC these shops are the size of a Vegas 7-11—and load up on yogurt, granola bars (read: MM's breakfast) and snacks. I consider food optional, especially in a drink-all-day-all-night scenario, but Melody is healthier than I am, and staying healthy in Vegas isn't so easy.
We also hit a grocery store and stock up on grapefruit juice, seltzer, and vodka. That's right, boys and girls, the only drink you want for a 4-day festival is the Trackdog: equal parts vodka and grapefruit juice, add ice and seltzer and lime it up. Invented for Mardi Gras and perfectly adapted to Vegas hotel rooms.
* * *
Sunday night. I think:
My girl gets a fun buzz on. She's what I like to call a hilarious drunk. She just keeps getting younger until she becomes a super-cute, bouncy drunk teenager grinning on the dance floor. She's the best.
Then I have to take her upstairs. I, of course, go back out like an idiot, and make the "last call" group photo of all the drunks too rambunctious to leave.
* * *
Saturday. Maybe Sunday:
Chain of stragglers to some afterparty in somebody's room, and out in the hallway Tigger and Minnie Tonka are drunk dialing somebody—shocking—and when we go in I have the distinct pleasure of introducing Tigger to the room, which goes bananas. Norm Vancouver and I are catching up in the corner watching the [redacted] that's going on in the bathroom.
* * *
Friday, summertime heat, morning?
No notes. Ok, what notes there are don't make a lot of sense. I think I made it to the pool.
Later:
Another interview for Zelda, this one with Lola Frost. Getting very used to hanging out in the hallway on the top floor and watching people walk by—people with SUITES. Neil O'Fortune must be sick of saying hi to me. Man, where's that cushy assignment from Rolling Stone?
* * *
Thursday:
Melody's looking fantastic in what she calls her "Star Trek" dress, a 60s-short affair with a V-shape, which I remember (blurrily) from MOM's Ball in NOLA when she was rocking the pink wig. WOW. I'm in a charcoal grey pinstripe bespoke number, a pink shirt and CK vintage tie.
* * *
Friday night:
The afterparty spilled out into the casino where everyone was smoking like it was addictive or something. We finally run into the Seattle Strongarm Sydni Deveraux and catch up, and also finally get to meet her husband—who is as tall as she is. I feel like a munchkin standing around with these people. I almost climb on top of one of the slot machine stools just to feel like a grown-up, but there's far too much Trackdog in my system for such nonsense. Vague notion of meeting a writer from Sacramento—did you know there was burlesque in Sac-town?—and later find a postcard to prove it, but can't find the girl's email or number or nothing. The schmooze that got away.
Melody and I get into a round robin with half the Chicago Starlets—Honey Halfpint, and the absolutely hilarious Lady Ginger, who by the way makes amazing bourbon balls (no double entendre intended, although I bet that's true, too). We keep talking about another trip to Chicago, but if one more trip gets added to 2012 my calendar is going to collapse into itself like a singularity, a black hole that would engulf every digital cal in the cloud.
These late nights alone are my only chance to gamble, and I get on the craps table where some guy is setting the dice. I'm up about $80 when Jonny Porkpie joins me, and the both of us freeze the table. He shoots and loses, leaves, and I shoot and lose. This won't be my year for gambling.
* * *
Friday afternoon:
BurlesqueBeat's first Media Cheeseburger Social. (We're becoming known for parties involving cheeseburgers. It's a thing.) I make a run in a cab to In N' Out and we gather at the Alligator Bar and schmooze with other media-related peeps—Paul O'Connell, Elsa Sjunneson, Don Spiro, Ed Barnas, Jeez Louise. Good convo, good connections—it could be fun to make it an annual thing. If nothing else, the burgers are fanfuckingtastic.
* * *
Saturday Latenightish:
I mean, that shit is exhausting, either one: a) four-plus hours holding a camera or b) four-plus hours scribbling notes in the dark. I BUST out of the theatre during the ovations and score pizza—or what passes for pizza this far West of First Avenue—and we go upstairs and eat it with Trackdogs, Melody's dogs barking. We go downstairs and belly up to the Alligator Bar with our friends from Montreal, Natalie and Bert. Do you know these kids? They're wonderful. Natalie is this smoking hot brunette, Bert is this cute guy, and they are FANS. They come to Vegas every year just to see the goodies. They're fun, they're funny, and they'll tell you what they like. And I like to see Natalie in her clothes—she has good taste—and wonder what she looks like out of them. Besides, man, after 4 straight nights of endless nudity, it's going to be weeks before I can look at a woman without expecting her to take it off. I'm afraid mid-June I'll be on the subway and say to some stranger, "Well?" We hoist a few with Natalie and Bert before the afterparty. I'm officially done working for the weekend, so I start hitting the BOURBON.
* * *
Wednesday, June something, way-too-early in the am, Brooklyn:
Wake up feeling like a sack of potatoes after being dragged five miles through the brambles. I slap myself in the shower and drag five tons of luggage into a cab, photographer in tow, who, thank god, is my wife. Otherwise, who would ever tolerate my travel-related crankiness? Fight through JFK wishing I'd had bong hits for breakfast: surrounded by travel amateurs and post-911 non-safety measures. I'm sorry, but I don't feel safer, I feel harassed. And how hard would it be to put down carpeting for us poor saps walking the cold floor shoeless? Get on the plane—ready to relax—only to discover that Virgin America has very, very little in common with Virgin Atlantic. It's true: any airline with "America" in the name or on their corporate address is SHITE.
Cue bad movies, overpriced cocktails, and multiple, multiple eyerolls by Melody Mudd. Her husband is really an intolerant fuck.
—J.D. Oxblood, BHOF 2012
Burlesque Beat's Burlesque Hall of Fame 2012 Coverage: