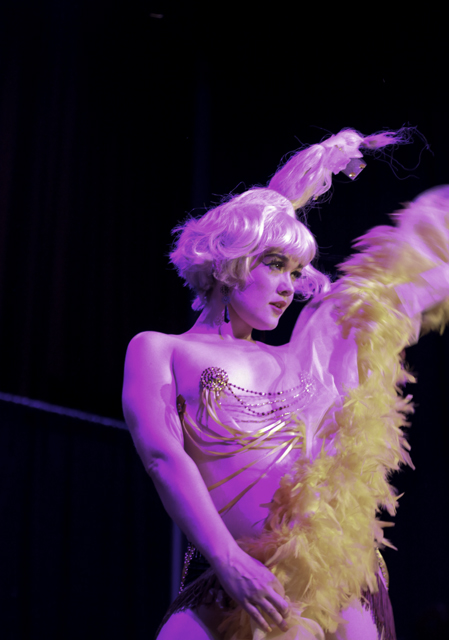 by Sandra O'Connell
photographs by Baron S. Cameron
May 2, 2013
The Rio Theatre, Vancouver, BC, Canada
For eight years, the Vancouver International Burlesque Festival has made thighs clench, eyes twinkle, and lips moisten over a three-day celebration of seduction and entrancement.
Held in a city known across the land for its escalating burlesque scene, the 2013 Vancouver Burlesque Festival opened at the Rio Theatre this year with an evening of music and group collaboration, theatrics and folly. Three very diverse sets were orchestrated to hit the audience's pleasure spots in a long symphony of clothing removal. The night was MC'd by dirty duo The Wet Spots, a partnership comprised of Cass King and John Woods, who share "love songs for slutty people" – clearly, a market worth tapping.
The first group to massage the stage with dancing feet was Rock and Roll Burlesque: Motown, produced by Blue Morris. Each beat from the rockabilly band hammered into us, eliciting a knee-jerk reaction of arousal. Diana Ross, Tina Turner, The Supremes, Stevie Wonder, Marvin Gaye… The music served as a charmer, making the dancers twist, slither, and snake across the stage.
Dressed as a bandit, Connie Cahoots wielded a gun and asked for our money; but unbeknownst to her, the real treasure was concealed in the depths of her plummeting V-neck bodysuit. Cherry OnTop became a river boat queen – shaking and shimmying with a carefree inhibition as though possessed by Turner. Her energy vibrated into us, sending shivers cascading across our skin like tumbling dominos. Ruthe Ordare, draped in a white sheet, blonde curls hanging demurely over her eyes, slinked on stage with Marilyn Monroe's spirit inspiring her actions. With bedroom eyes lit and "Let's Get It On" setting the scene, she dressed from modest sheet to cinched corset to buxom suit. We begged her with our claps and cheers to reverse the whole procedure again, but like any grand seductress she knew to keep us wanting more. A bite of delicious trouble named CiCi Fantastique teased us with a halo of hair and gold lamé booty shorts, forcing us to imagine ourselves at Studio 54.
With all these captivating women prancing half naked in front of us, it was a wonder the band was able to continue playing their instruments (their musical ones, that is) with no falters.
The next set transported us to New York City and Minsky's Burlesque where Gypsy Rose Lee and her bevy of stage beauties exposed a peek behind the curtains. Burgundy Brixx portrayed the burlesque legend with a cheeky twinkle in her eye and a sing-song voice that told the decades-old story. The Purrrfessor joined the troupe as stage manager and host – injecting slapstick humour appropriate to the era. The stage was awash with white boas, tutus, and corsets, sparkling evening gowns, and feathered robes painted on the women of Kitty Nights and Pandora and the Locksmiths, which included Voracious V, August Wiled, Miss Fitt, Ava Lure, Nicky Ninedoors, and Ruthe Ordare.
The final set, Paint and Pasties, produced by The VanDolls, was an interpretive journey through art history. Poker-playing hounds removed their clothes with a frenzy of fur, Salvador Dali's stiff mustache melted clocks and hearts, Bob Ross erected happy little trees throughout the audience, and Leonardo da Vinci showed us the real reason why Mona Lisa smirked. If only art history were taught this way in university – gold stars would line papers.
With so many climaxes experienced in the evening, it is highly probable guests took The Wet Spots' words to heart… masturbation is okay.
Check out coverage by Sandra C'Connell of the 2012 Vancouver Burlesque Festival: Music Night at the Rio Theatre, and shows at the Vogue Theatre
Sandra O'Connell is a freelance writer providing content for a variety of publications and corporations. Her focus is on society, fashion, burlesque, travel, and culture. Find Sandra on Twitter or at her website.
All photos ©Baron S. Cameron, and used here with permission by Burlesque Beat. Please respect photography copyrights and do not use images without obtaining explicit permission.