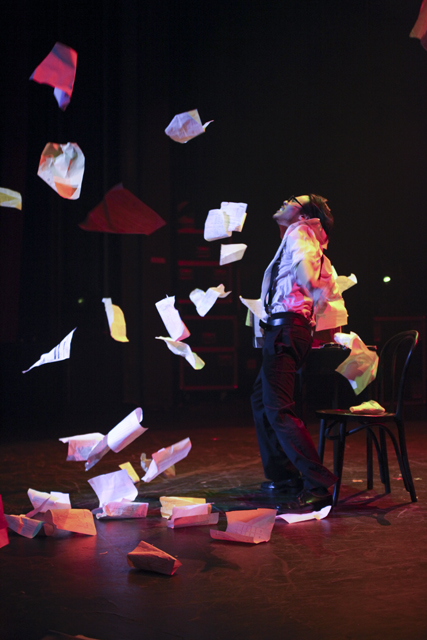 by Sandra O'Connell
photography by Baron S. Cameron
May 3-4, 2013
The Vogue Theatre, Vancouver, BC, Canada
In a city that ordinarily rains water, the Vogue Theatre hosted showers of glitter for two nights at this year's Vancouver International Burlesque Festival. The first night of showcase performances was co-hosted by the purr of Crystal Precious and roar of Foxy Tann.
Villainy Loveless opened the night alive with flames and fire that no fireman could put out. A broken-hearted Ruthe Ordare possessed a ragdoll with so much realism, she may have been manipulated by Giuseppe from the rafters. Miyuki Divine presented an exotic character that could have been created by Quentin Tarantino as she merged flamenco and Asian arts together. With vaudeville ringing throughout the theatre, April O'Peel as monkey and Whatshername as man made tears of laughter stream down our faces as mischief curled its fingers around their clothes, playfully revealing accordions affixed to undergarments.
We were then flown to a jungle gathering – a sacrificial or carnal offering. Gorgeous female savages preyed on a stranded male traveler as Tranny Zukko's Dirty Vanities thumped the stage in a Zulu daze. Melody Mangler with her brilliant red mane and daggered eyes stood out in the melee as leader of the tribe, and made it impossible to look away. The Hot Pants, a figment of Austin Power's imagination and star players in Kevin Arnold's wet dreams, shook and bounced up and down the stage in candy-coloured fabrics.
When Nicky Ninedoors opens her mouth, hummingbirds fly out. She enchanted with Bizet's Carmen to the point that our hearts were floating in our throats. Climaxes were hit from seats in the Orchestra to the Upper Circle as Wrong Note Rusty transformed from jaded office worker to sexed up Don Juan. Women throughout wished hijinks like this happened in their mundane office lives as Rusty's fingers walked down his pants and his cheekbones sliced into our libidos. Special guest of the evening, Shannon Doah, a legend of burlesque, showed us what was new with pussycats, proving that Tom Jones isn't the only one who compels us to throw panties on stage.
Foxy Tann took over as hostess with her succulent, suckable lips talking with the animalistic force of a lion in heat. Lydia deCarllo danced in the luminescent shadow of the moon, black hair reflecting the lights. Scarlet O'Hara turned Sixth Element beauty, Cherry OnTop took us to the moon in her kinky Daft Punk spaceship. When RedBone from Minnesota stepped on stage, we had not an inkling of what we were in for. Her Dick Tracy suit came off faster than Jessica Rabbit's dress as she vibrated and gyrated her hard body. The finale of the pulsating night poked us with Russell Bruner's pointed moustache and beguiled us with his somersaulting hat and tumbling acrobatics. The last image before our eyes as the night ended was his groomed man-gina proudly presented in masculine glory.
Before we had time to wash the sparkles off, night three of the Vancouver Burlesque Festival, co-hosted by The Purrrfessor and Foxy Tann, landed in our still damp laps. Melody Mangler reignited our burlesque cravings by stepping out of her rose-embellished cocoon to reveal a graceful, tattooed body. Boylesquer, Terrantino, whose movements appeared to be directed by his penis, enticingly revealed a white rabbit packed in his package. Connie Cahoots as Charlie Chaplin did not take her clothes off (pause for shock), but her hilarious depiction of the silent star was one of the best moments the evening.
A duo of blonde beauties, Villainy Loveless and Ruthe Ordare, enchanted with a sensual unbinding of innocence. Raven Virginia shocked with a dichotomy of dance when she transformed from ballerina to stripper. Voracious V, the Queen of Space, gave Princess Leia and Barbarella a run for their money as she regally removed her garments. If Will Ferrell was a boylesque dancer, he would look like muscle heads Johnny Bottomsworth and Clam Chowda, who stunned with stamina and strength.
With a lace jumpsuit wrapped like vinyl around her body, August Wiled fluidly unzipped in such a way that we almost didn't want the lace to come off. The presence and agile skills of Luciterra and Chris Murdoch as they juggled and bellydanced had us on the edge of our seats screaming for more, more, more. The set ended with Judith Stein, from the earlier days of burlesque glory, teasing us with her still supple cleavage and jubilant rosy cheeks.
Burgundy Brixx and her beautifully pale skin paid homage to the sun in a Carnival-worthy costume. A trio of bondaged women, Melody Mangler, Violet Femme, and Veronica Vex, twisted and kinked their scantily black-wrapped bodies with eroticism reserved for a harem dungeon. The Lady Josephine from Montreal swallowed a butterfly, which must have been what drove her to stunningly contort and writhe in the manner that ensued. Vava Vunderbust played a tribal beat on the drums… with her magnificent bosom… making all small-breasted women envious. Lola Frost made her body (and ours) purr as she made the floor her paramour. And the piece de resistance of the night, Catherine D'Lish, spread the thousands of layers of her skirt to show off her hourglass figure, while wooing the lucky Russell Bruner on stage.
If this weekend was any indication, Vancouver will continue to make an indelible imprint on the global burlesque scene.
Check out coverage by Sandra C'Connell of the 2012 Vancouver Burlesque Festival: Music Night at the Rio Theatre, and shows at the Vogue Theatre
Sandra O'Connell is a freelance writer providing content for a variety of publications and corporations. Her focus is on society, fashion, burlesque, travel, and culture. Find Sandra on Twitter or at her website.
All photos ©Baron S. Cameron, and used here with permission by Burlesque Beat. Please respect photography copyrights and do not use images without obtaining explicit permission.