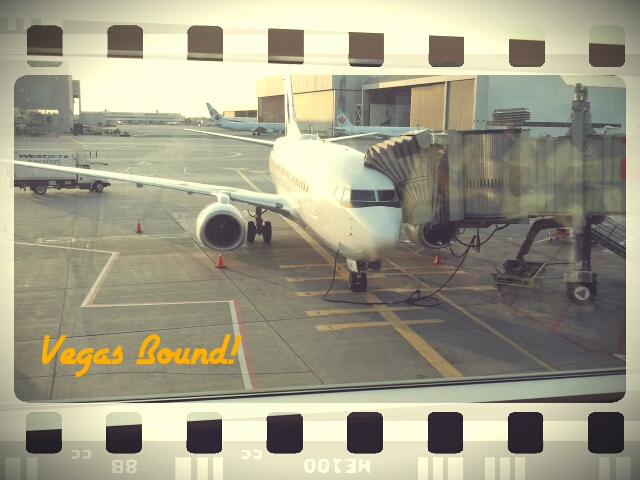 Wednesday, May 29, 8pm
Toronto's Pearson Airport
I've been to Las Vegas before. Twice. Once with my other, extremely patient, and some may say, better half. We stayed at the Westward Ho right next to Circus Circus. The "Ho" as we affectionately called it, was just somewhere to sleep while we explored every buffet possible, drove out into the desert, and I growled at David each time he tried to get me to leave the $2 Blackjack table at the Flamingo (I was on a roll, I swear). The other time was with my mother. That trip I learned just how long you can sit at a slot machine, and that little old ladies who "reserve" and play 3 slot machines can get really nasty if you try to play on one of them. Don't mess with their mojo.
When I was given the opportunity to cover the Burlesque Hall of Fame Weekend I was more than thrilled! What a new experience this would be for me. Vegas is so glamorous and BHOF has always been a glamorous glittery mystery, with a stellar reputation. Vegas was made for this sort of spectacle and I wanted to be a part of it for just one whirlwind weekend.
You see, my grandfather was a big fan of musicals, especially dance musicals. I grew up watching anything with Frank Sinatra, Gene Kelly, Fred Astaire, Mitzi Gaynor, or The Brat Pack, and fantasized about all those glamorous stage shows with girls in beautiful over-the-top costumes that glittered and headpieces that defied gravity. I guess I still romanticize Las Vegas a bit and burlesque keeps that going for me. It's classic and classy, it's showgirls and sass, it's teasing you into a frenzy of feathers and never letting you down.
So as I sit in a hallway in Pearson Airport in Toronto, with my laptop charging up in an outlet in the wall, waiting for my boarding call, I imagine that in a  couple of (long) hours I'll meet up with old friends and make new ones from all over the world. I'll get to see over 80 performers shake their sexy bits on the stage at The Orleans and compete for impressive titles. If you asked me why I would take vacation time to spend a long weekend shooting burlesque from early morning until the wee hours of the afterparties, I would tell you it's because I just love to do this. I love the people and the pageantry. I love the colours, textures, music, props, sensuality….everything that makes burlesque what it is.
Watch out Vegas, here I come!
Olena Sullivan (Photolena) is a Toronto-based model and performance photographer who specializes in onstage burlesque photography.