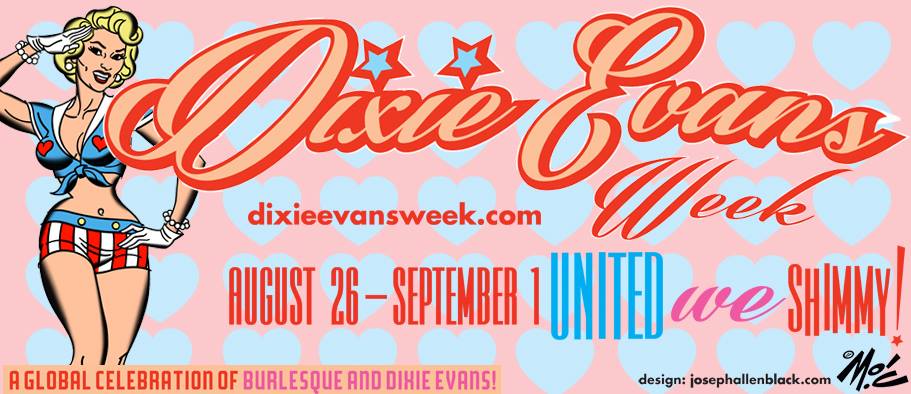 If you haven't heard Dixie Evans growl, you're missing out on one of the greatest tangibles of the burlesque phenomenon worldwide. People love to talk about all the great "stuff" that they enjoy about burlesque—empowerment, community, blah-de-blah-blah—but I just live to hear a lady growl about keepin' a trick waitin' at the stage door—especially when said lady is in my grandmother's generation, and especially when that lady is Dixie Evans. Would you ever have gone out to Vegas to celebrate glitter and pasties if it weren't for Dixie Evans? I doubt it.
So here's the bad news, if you haven't heard. In January, Dixie suffered a stroke. She's now in an assisted-living facility—and doing well—but what with healthcare being what it is in this country (i.e., not socalized) and what with Dixie being, um, not wealthy, there is some concern that she will continue to recuperate.
So here's the good news: You can help! This isn't a kickstarter for some new piece of Bad Downtown Theatre, and this isn't passing the hat for a single Wednesday-night striptease. No, this is digging deep, remembering your roots, and plying some old-fashioned shoe leather—and hustling some old-fashioned greenbacks—to help out an older woman who all y'all know busted her ass for all y'all. Please donate now. Neo-burlesque is nothing without the legends, peeps. Without the legends, there's no legacy.
—JDX
(from the D.E.W. press release:)
Opportunities to join include:
Burlesque Instructors: To teach classes to benefit Dixie throughout the month of August, please contact Jo Weldon, Headmistress of the New York School of Burlesque and author of The Burlesque Handbook at NewYorkSchoolofBurlesque [at] gmail.com.
Producers, Performers & Troupes: Want to host a show as part of Dixie Evans Week? Request a Producer Questionnaire at Angie [at] pontanisisters.com.
Online Funding: An online fund drive with www.youcaring.com will begin the first week in July, and run through Monday, October 7th.  This site will be used for collecting donations on-line (and where producers and teachers participating in the Week will deposit their earnings).
Please join our Facebook Page, https://www.facebook.com/DixieEvansWeek and visit us at www.DixieEvansWeek.com,