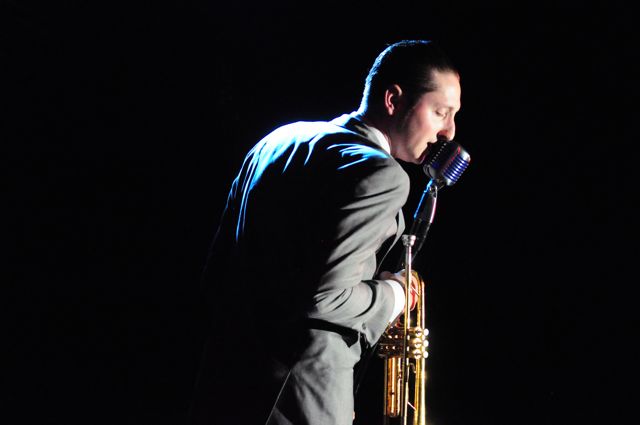 by J.D. Oxblood
May 31, 2013
The Jade Hotel, New York
I've been a fan of Brian Newman for several years, ever since Will Kenton over at CulturalCapitol.com turned me onto him. Newman has his work cut out for him—preserving the flavor of "Old New York" through hot jazz standards, bespoke suits, and calling the audience, collectively, "baby." Fans of electronic dance music are probably not feeling him. But the rise of retro-themed events, and the bubbling of mixology and artisanal food, the magisterial dominance of Brooklyn—perhaps even the pervasive trends of retro-themed TV—are playing into Newman's corner. Don't you want to get suited and booted and catch some swingin' jazz and see some hot dames take it off? Don't you, baby?
We enter the hotel and descend a stairway into a room that feels like a old-man den decorated by a younger, gayer man… it's swanky, but not entirely un-musty. No fewer than 3 tall, excruciatingly thin women stand collectively doing nothing—it takes me a minute to realize that they all work here, they're just so good at looking bored. (Models; I mean, have to be. Either that or the hotel is tacitly employing high-priced Russian call girls as hostesses, and I don't believe a high-priced Russian call girl would deign to show me to my fucking seat.)
We're led down a tunnelled brick hallway, past a glorious bar, into a room with a wood floor, tin ceilings, and large black and white prints crowded on the walls. Tables, red banquettes on the outside, and the crowd is filtering in,  lively, chatty, a mixed bag of underdressed rock-n-rollers, overdressed fashionistas, and the casually douchy—all of this while Rick James hoots, "Give it to me baby!" The one miss of the evening, and it's kind of a big one—while we should be lulled into the vibe by some Miles Davis or Dave Brubeck or Stan Fucking Getz, we get Rick James. Which is only enviable later, during intermission, when we get electronic dance music. Anyway, we're seated at the front of stage area (not raised), almost under a looong skylight hung with wrough-iron light fixtures, just in front of the piano, which has had it's guts exposed like a magical musical dinosaur. The stage is fucking set. The prix-fix dinner is $75 a person (ish), which turns out to be fair to midland for the dinner (this isn't an artcle about the food, but i will say that the organic roast chicken over mashed potatoes was elegantly amazing, simple as it sounds but crunchy and delicious; the dessert however was forgettable.) Top that off with a bottle of the Bertrand Senecourt Beau Joie Special Cuvee Brut Rose champagne, a fucking steal at $140 for the bottle (it'll run you $120 in a wine shop), and you are well on your way to a magical evening already. The stage lighting is minimal, with a simple Fresnel on a stand on each side of the stage, setting a tone that is elegant, dim. almost conspiratorial. Brian's band starts up without him, Paul Francis on the drums, Alex Smith, the musical director, behind the see-through piano, Steve Korya on tenor sax, and Pete Brindler on the bass, ably sitting in for Scott Ritchie.
Brian comes out, and they drop it—Brian and Pete getting right into a dueling trumpet-sax duet, and the energy in the room quickly goes up to 11. This is a show primarily about the music, which gives you the courage to shamelessly eat dinner while people perform for you, and gives you a little time to canoodle with the gorgeous brunette at your side while still taking notes. And you feel like you're in on something, what with Brian opening bottles of champagne and setting his glass on whatever table is closest to him. But you also get the distractions of lively entertainment, and tonight was rare—the legendary Julie Atlas Muz was, strangely, not in Las Vegas (this was the weekend of the Burlesque Hall of Fame, which I was also, strangely, not attending) and was instead here, doing a floor show. Now I've seen JAM in everything from teeny-tiny Nurse Bettie to the Vegas stage, but seeing her work a floor show is another thing entirely. She still manages to be a complete fucking anarchist—tossing her martini glass, twirling her tassels up into Brian's face as he's playing, doing a dropsplits with barely enough space, and then working the room—taking the fork from my hand to put a finger in her mouth, and tearing her way around the room like a barely-contained tornado of blonde, ending the song in the lap of a gentleman viewer, her leg straight up in the air. Fucking ridiculous. In the fun way—with everyone laughing and ordering more bubbly.
And there is something insanely sweet about hearing Brian Newman introduce his new bride, the inimitable Angie Pontani. It was the first time I'd seen her perform, and I almost felt bad about leering at his wife. Almost. She's doing that patented stutterstep ass shake as Brian just full-on blows his horn, and you're feeling downright voyeuristic. Come on—this is a gorgeous couple. And so charming—as Angie walks offstage, Brian leans over the piano, all pinstripes, and says, "What're you doin' later, you busy?" And then, as if answering his own question, complains, "—they're always fucking married!"
Crowd participation involved Lee Chapel slaying it in a bowtie-tying contest, and the third special guest was the Lucid Dream, Francine, glamourously disrobing blue velvet to Brian's rendition of "Blue Velvet," which is about the most perfect act you can imagine for such a setting, referencing Francine's David Lynch obsession and Brian's Old New York in one swoop—like the swoop of Francine's arm up, holding it before a long unzip of her dress, moving into swanlike backbends that had the audience rapt. And while Tommy London's duet with Brian to "Just a Gigolo" was a fun crowd-pleaser, I'm still fanatic about B's version of "One Note Samba," because Getz/Gilberto gets a fuckload of play in my house, and very few bands attempt that one. Brian slays it.
I'll admit to a heavy bias. Newman's music has presided over several tentpole events in my life, including a bachelor party where I was the best man, my own private 40th birthday bash, and—not for nothin'—my wedding. When it came to choosing a band for our wedding, we weren't thinking just about the music, but also of the band as guests: Newman and his band are awesome people.
You can see it in how he continues to give work to burlesque performers. One could argue that burlesque has helped Newman develop a following, as punters who may have once gone to see him as background for striptease now follow him as an artist. But he's also turned burlesque fans onto live jazz, and, and I argue, almost single-handedly built a reputation for the downtown venue Duane Park, which was then able to move to a nicer space. But Newman keeps hiring ladies to perform with him, and in doing so provides not only work, but a safe place to perform. the Jade Hotel is really his gig–with full control over the seating chart, he's putting his friends and stalwarts up in the front, which is good for the girls: Julie Muz knows she can assault those people; obviously, they're not squares.
But to return to the previous subject, Brian slays it. He's always been a stunning trumpet player and an able bandleader, but over the last few years he's advanced from a capable singer to a full-throated warbler, a flexible vocalist unafraid to belt and able to croon. He's gotten more daring in his endings, hitting higher notes and holding them longer, and it's had a flattering effect on his stage presence—when a crowd hears that long, final note, they look up, and to see a pencil-thin rake leaning back against a box mike—that's entertainment. (Different area, but I know B knows The Jam.)
Kiss kiss,
JDX
For some hot New York burlesque and live jazz, check out Brian Neman's Red Room Revue, returning to the Jade Hotel on Friday, July 12th.