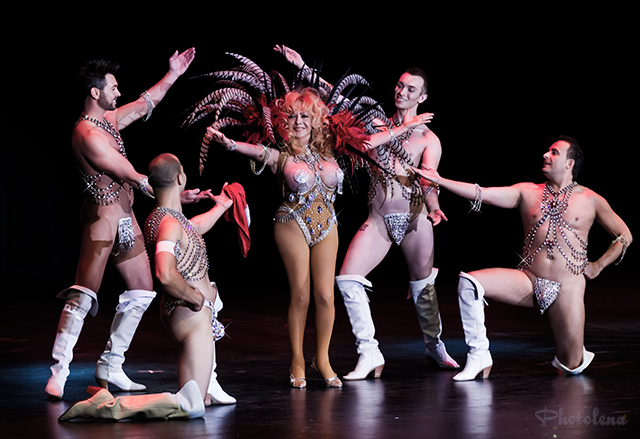 by Photolena
Friday, May 31, 2013
Orleans Casino Showroom, Las Vegas, Nevada
There's breakfast, then there's breakfast in Las Vegas! How appropriate that on the morning of the Titans of Tease Reunion, I enjoyed my eggs, bacon, and hashbrowns in the company of burlesque legends Delilah Jones, my roomie for the weekend Tiffany Carter, and her mentor Angel Carter. Tiffany is such an amazing and generous lady, and getting to meet her close friends, these fabulous legends, in such a relaxed and comfortable setting (with a side of bacon) was an experience I'll never forget! What a way to start my day. Some highlights from this amazing (and very long) evening…
One of two big surprises of the evening was the appearance of Tempest Storm outside the entrance to the Showroom — very few knew she was going to be there. She set up a little table right at the entrance and was autographing photos and other merchandise before and during the show. She was one popular gal! And who wouldn't want a photo from this living legend and friend of Bettie Page?
Las Vegas' own Gina Bon Bon caused quite a stir when she strutted out of her giant gilded cage, gorgeous costume topped by a tremendous feather headpiece, and surrounded by a buffet of tasty boys. Everyone was hot, hot, hot as they danced from one end of the stage to the other. There's something sexy about watching a gorgeous man sensuously strip a woman, almost painfully slow, caressing her body with each piece of clothing that comes off. Yeah, that's how hot this act was. As of today I'm accepting applications for my own entourage of buff boys!
I'm in love with Velvet Ice! Her debut at the Titans of Tease was a hard rock stand out. Teased-out platinum locks, leopard print tights, jet black corset and matching sheer robe — she was a vision with an edge. I loved the little details in her set — the framed AARP ad (you're too vital for that, Velvet Ice!) and that ginormous spliff that would have floored the best of us on a party night. She drew me in with her chaotic energy and shit-kicking attitude — this magnificent chick better be performing for years to come!
Holiday O'Hara is "The Lady Who Loves To Love You" — and that she does with everything she puts into her performance. It's evident in the way that the crowd was brought to its feet when she rose from her wheelchair to perform the final striptease of her fabulous performance. I have never seen a burlesque routine completely done in a chair — definitely parts of one — but Holiday has perfected this in such a way that you forget it's there, it becomes part of the set in an unobtrusive way, as if it was always meant to be there. This was my first time seeing Holiday perform and I was caught up in the enthusiasm of the audience, all hands clapping for the standing ovation.
When you want to Get This Party Started, all you have to do is look to Gypsy Louise. They should have created a "Most Fabulous Hair" category just for her — this hairpiece spiraled out from her face in gorgeous platinum swirls with dark blue streaks. It was truly spectacular — which was appropriate, as her costume, mask, feather fans, and bejewelled bra and pasties matched in brilliance. With the aide of her long-legged assistant, the elegant Ms Lenska, she worked her way from feather fans, to glittery gown, down to one of the most glammed-out pastie and bottoms sets I have seen shimmering in the stage lights.
I met Delilah Jones for the first time at breakfast in the casino. What a fabulous lady — poised, generous, and charming. I had no idea what a sexy beast she was on the stage! You can see the influence of her early days with Lily St. Cyr and Sally Rand in her movements and costuming. Her black costume, embellished with large purple diamond shapes and completed with a shimmering cape and tiara (who doesn't want a tiara?) was gorgeous! She worked the cape beautifully, catching the stage lights and flowing as if on a breeze. Sweet sophistication!
When actor Sean Penn was set to marry Madonna, one of the sexiest legends of burlesque performed at his bachelor party — Kitten Natividad. A performer with an impressive 44" chest this former film star, porn star and partner of Russ Meyer has has done some sexy things throughout her career! It was wonderful seeing her on the stage again, her stunning red hair a perfect contrast to her dark green sheer sparkle wrap and huge green boa (must be a Big Fannie Annie boa!).
I have to admit, I was on the edge of my seat, super excited to have the chance to see Haji — best known for her portrayal of Rosie in Russ Meyers' Faster, Pussycat! Kill! Kill! — live, on stage, right there not too far from me. So exotic looking, with those gorgeous doe eyes and high cheekbones, she slinked across the stage like a panther while scenes from her old movies played on the big screen behind her. It was an interesting effect, seeing the old and the new superimposed. Her costume was brilliant (literally) — shining silver throughout with her cape and headpiece — paring down to simple black with a colourful tambourine with shimmering ribbons that glided like sparkling dragons through the air.
She's known as the "Queen of the Amazons" and with those gorgeous legs that just keep going and going, I can see why. I love Marinka's old bump-n-grind style, and watching her hug the red velvet curtain, giving the audience a flash of those sexy legs, was old school burlesque at its best! I can see why Bob Fosse felt compelled to cast her as a stripper in All That Jazz.
Our second surprise of the evening — well, a surprise to everyone but me, since I shared a room with her — had to do with Tiffany Carter. She performed her moving Knights in White Satin routine, starting off with her back to the audience in a hooded cape. When she turned around and pulled the hood down everyone was shocked to see her blonde locks replaced by new, fresh, and oh-so-young looking red hair! She looked fabulous — it was the same colour she had in her heyday, the soft red from her pinup photos. Ok, enough about the hair — this routine is one of my favourites — it really kicks up in the second song, and Tiffany's old school moves, strut, and use of her long skirt really make the stage come alive. This isn't slow and sensual — it's in-your-face sexuality at it's best. And as a redhead — pow!
Two awards were given out during the evening: the lovely Elsa Henry presented the Jenny Lee Spirit Award to Paula the Swedish Housewife and the Legend of the Year Award was presented by the gorgeous Shanghai Pearl to a truly inspirational legend, Tai Ping.
One more person you may not even know about — Grant Philipo, of the Las Vegas Show Museum, whose illustrious career has included work as a designer for greats such as Liberace and Eartha Kitt, was responsible for many of the legends you saw on stage looking so stunning for their performances as well as those in the Walk of Fame.
Kudos to Tammi True who moved too fast for me to photograph — that is not an easy thing to do! Big shoutouts to those who took to the stage but whom I didn't get a chance to mention (but we've got photos!): Penny Starr Sr. & Jr., Val Valentine, Ezi Rider, Ellion Ness, and Dusty Summers.
Olena Sullivan (Photolena) is a Toronto-based model and performance photographer who specializes in onstage burlesque photography. All photos ©Olena Sullivan-Photolena and used here with permission by Burlesque Beat. Performers may use shots for promotional purposes, but please credit properly with photographer's full name and a link to this piece.
Check out Photolena's review and photos of the Burlesque Hall of Fame Weekend 2013 Opening Night: Movers, Shakers and Innovators.
More Burlesque Hall of Fame Weekend coverage continues…follow us on facebook and twitter to stay tuned.