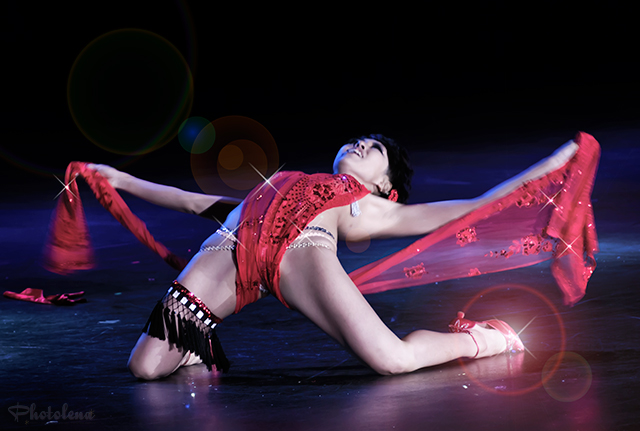 by Photolena
Saturday, June 1, 2013
Orleans Casino Showroom, Las Vegas, Nevada
Winners:
Most Innovative: Laurie Hagan

Best Debut: Lada Redstar
Saturday at Burlesque Hall of Fame Weekend—the big night for the performers competing in the Tournament of Tease in four different categories. Considering the amazing talent that I had already witnessed at the Movers, Shakers & Innovators evening, I could not imagine what level of creativity was needed to become a competitor and I had no idea how the judges could possibly pick just one winner from each category. But these were no ordinary judges—among them the likes of vintage burlesque photographer Neil Kendall, author and producer of Behind the BurlyQ Leslie Zemeckis, burlesque legend Shannon Doah, and Miss Exotic World 2010 Roxi DLite. Now that's a roster of burlesque and cabaret showmanship and support!
Ten performers competed for the title of Best Debut and every single one of them had a kick-ass routine. With each one I was thinking "that's the winner… no that's the winner….ok, that's the best one…" and realized that I was so happy to just be shooting the show and not giving out awards. Parts of the evening that stood out in my mind:
London's Laurie Hagen blew my mind with her reverse strip routine. Sure, I've seen reverse strip routines before, lots of times. Some were spectacular, some well done, and some have needed a bit of work—this isn't an easy routine to do in any way and takes a ton of creativity and planning to not only keep the audience intrigued once they figure out the hook, but also to time correctly. The gorgeous Miss Hagen took the concept up some notches and blew it out through the roof. Not only was she reverse stripping from nude with a hint of covering (and what a hot bod!), but she added in the challenge of playing her music in reverse and doing all her movements in reverse as well. As you watched her put on her heels and leopard print coat, it truly looked as if someone was playing a movie reel backwards. Stunning work and well-deserved of the standing ovation! I highly recommend you head over to her website where you can catch her reverse striptease act.
Another big standout – and really, that headpiece was killer!—was Sarajevo's Lada Redstar. With the most sensual purple feather cape and sporting ginormous feather bug antennae, she made a fabulous entrance onto the stage. Her costume was a brilliant shiny bug green and accentuated that perfect pin-up hourglass figure. How she managed to keep those antennae_which must have been half her height—up on her head throughout the fast-paced routine is beyond me. I really wanted to wrap myself up in that purple feather cape—it looked so soft and fluffy—but it's not nice to take other people's pretty things.
While we're in gorgeous headpiece territory, I have to say that Melbourne's Sina King had a stunning blue- and red-embellished feather headpiece that matched beautifully with her lush red- and white-tipped feather fans. She was a vision as she performed her Goddess of Seduction routine! Her silk dress turned into large multi-coloured wings that floated on the air as she danced and spun on the stage. It was truly mesmerizing. When someone uses silk wings well, you can really tell as they just become an extension of the performer, moving so smoothly you forget that they're part of the costume. Her striptease, down to a beautiful silk shift, was true classic burlesque. No wonder she won the title of Miss Burlesque Australia 2011—seductive, sensual, and truly stunning to watch.
Australia's Mistress of Tease, Bella de Jac was smoking red hot in her rock 'n roll Queen of Hearts performance. Her Elizabethan costume, embellished in red to match her stunning coiff of red curls, was a standout of lush fabric. I loved the way her striptease not only laid her bare, but also took her through 3 different forms—from Queen in full gown attire, to Jack with corset and high boots, and finally to Jester as she discarded her wig and corset to show us her true self. She managed to simultaneously show us different classes and genders in one act, all to a powerhouse rock beat. A fantastic show from the reigning Miss Queensland and one I'd love to see again.
I'm a big fan of the 20s so it was no surprise that Minneapolis' Elektra Cute stole my heart. With her long beaded black dress, black bob, white fur wrap, and long cigarette holder, she reminded me of Cyd Charisse from Singin' in the Rain in the nightclub scene. A statuesque beauty, she performed a slow striptease on a black chaise to reveal the most scandalous pearl beaded skirt and bra. The long lengths of bead swirled around her body as she undulated on stage right up until she took it all off in the end (except for pasties and bottoms of course).
She's been on the stage since she was 5 and you can tell from the theatricality in the routines. Leicester, UK's Eliza Delite performed her signature act—Like a Prayer—her winning routine from the World Burlesque Games 2012. I cannot fully explain exactly how beautiful and haunting this act is. Inspired by the photograph La Madonna au Coeur Blessé by Pierre et Gilles (which I find truly beautiful on its own), she looked like an icon on stage with her golden headdress. Having been raised on Byzantine artwork, I could not get over how perfectly she crafted her Madonna look from this period. It was actually quite moving—and I haven't set foot in a church in decades! Her blue coat was cast off to reveal golden Isis wings framing her red and gold corset and jeweled red heart on her chest. She worked the golden wings like a pro, so sensual in their flight across the stage. I was 100% captivated by her performance and I hope I will get to see more of her in the future. She's a truly stunning performer.
In the end, our fabulous emcee for the evening, Blanche Debris, was happy to announce the winner BHoF 2013 Best Debut was Lada Redstar, and another award for BHoF 2013 Most Innovative to Laurie Hagen for her reverse strip routine (which was well deserved!).
Big kudos go out to the other performers who competed for the title of Best Debut: San Diego's Di'Lovely and Lady Borgia, Tokyo's Coppelia Circus, and Los Angeles' Jessebell Thunder. I wish I could write about everyone I saw at the show, but I still have the Best Duet, Best Group, Best Boylesque and Miss Exotic Word 2013 to get through—oi vey! Fabulous performance by all!
Olena Sullivan (Photolena) is a Toronto-based model and performance photographer who specializes in onstage burlesque photography. All photos ©Olena Sullivan-Photolena and used here with permission by Burlesque Beat. Performers may use shots for promotional purposes, but please credit properly with photographer's full name and a link to this piece.
Check out Photolena's reviews and photos of the first two nights of the 2013 Burlesque Hall of Fame Weekend:
Burlesque Hall of Fame Weekend 2013 Opening Night: Movers, Shakers and Innovators
Burlesque Hall of Fame Weekend 2013 Titans of Tease Reunion Showcase
More Burlesque Hall of Fame Weekend coverage continues…follow us on facebook and twitter to stay tuned.