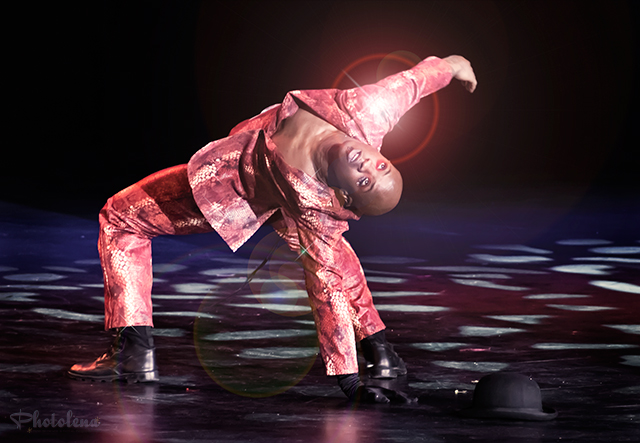 by Photolena
Saturday, June 1, 2013
Orleans Casino Showroom, Las Vegas, Nevada
Winners:
Best Duo: Sandria Dore & Russell Bruner

Best Group: Swing Time

Best Boylesque: Ray Gunn

Most Comedic: Mr. Gorgeous
After the sizzling heat and frenzy of the first competition of the evening — Best Debut — we cannonballed right into the the next 3 categories of contenders — Best Duo, Best Group, and the one I was waiting for all night, the super smexy, mucho muscular, oiled upped and rubbed down Best Boylesque. Each of these sets had 4 fantastic and award-worthy performances for the judges to pick from and Blanche DeBris, our dazzling gowned pixie host for the evening, did a fantastic job introducing each of them…
In the Duo category there were two — that's half of the competitors! — performances from north of the border (go Canada!). We started off with a moving performance from Vancouver's Villainy Loveless and Ruthe Odare. Their ingenious and haunting set had them dancing as sensual mirror images. Making use of a tall ornate mirror frame, they were in perfect sync until the reflection came out to engage in battle, dance, introspection, and a mutual frenzied unclothing. The choreography was truly engaging, drawing me into the moody storyline. Canadian colleagues Melody Mangler (she of the gorgeous snake tattoo) and Lola Frost held a special place in my heart with their routine. I have a thing for Canadian singer/poet Leonard Cohen, and when his song Dance Me To The End of Love — which is my favorite one — started up I just melted. You have no idea how hard it is to shoot while singing and swaying to the music! Their performance was a hot and torrid love affair and most of time you had a voyeur feeling — they seemed to be lost in themselves, and it made the performance more raw, more personal. While watching them kiss, undress each other with such adoration, roll around on the stage like lovestruck teenagers, the small things really made the act, like the lean into a soft caress, the subtle glances, the lingering touches, and the ease of trust they had in each interaction. It was so beautiful!
Chicago's Kami Oh! and Bazuka Joe presented a kitschy take on the snake charmer story and had a humongous snake basket prop on the stage from which emerged the slinky and slithery Miss Oh! to the seductive tones of Joe's clarinet. As they danced across the stage, clarinet dictating every snake-like movement, clothes were shed like a second skin… you could say he literally charmed the clothes off of her!
The winner of the evening was the duo of Russell Bruner and Sandria Dore' with their classic dance turned oh-so naughty routine. I'd already had a taste of Russell's Vaudeville style and this performance drew on that background in spades. Sandra's black gown accentuated her lithe body and she easily kept up with Russell's ballroom moves. Of course, the comedic side always seems to take over in these routines and in no time at all Sandra was ripping off Russell's snazzy suit in the most seductive of ways, once reaching up from between his legs to rip off his pants. With an easy flip, she was up and over his shoulder to be carried off stage, his lily white ass the brightest of moons retreating into the darkness of stage left.
Last year's Duet winners Jett Adore and Frenchie Kiss put together a beautiful Broadway style stepdown number. With her 100 foot (seriously!) dreamy feather boa, Frenchie looked like a classic Hollywood starlet in her silky pink and red gown. Their routine reminded me of the wind scene with Gene Kelly and Cyd Charisse in Singing In The Rain — where Gene dances and interacts with her 100-foot-long fabric train that floats on the breeze. Jett was all Gene Kelly throughout this performance, right to the big finale when he lifted a boa-wrapped Frenchie high up into the air. It was so romantic!
In the Best Group category we also had 4 contenders starting with the eclectic Dolls of Doom — 4 lovely ladies who seemed to have hit a bad run and were working on a chain gang. It was a cute touch that their garters were made of chain — savvy! They were great gymnasts and had a unique way of taking off their stockings by interlinking their bodies this way and that like contortionists. San Diego's The Hoop Circuit was, you guessed it, a hoop troupe. Their hoop work was perfectly syncopated and they used chairs as props to mix it up a bit. A unique twist to their hoop routine, which I haven't see anyone else do yet (give it time), was when they all laid down on the stage and passed off the hoop from one to another using just their feet. It was really cool and had to be timed just right. The Sizzling Sirens from Sacramento (ooh, say that five times fast!) were the perfect image of a sailor's pinup dream. Nine gorgeous ladies in retro marine get-ups performed a syncopated routine, finally stripping down and mounting the bow of the sparkling S.S. Siren.
The winner of the evening was Swing Time Presents — a fabulous trio led by sexy Vaudevillian Russell Bruner. This multi-talented dancer, choreographer, and physical comedian was completely in his element dancing with Pink Lady and Edie en Garde as they presented a truly debaucherous act. Incorporating traditional swing moves, the lovely ladies proceeded to unclothe the dapper Mr. Bruner in the most suggestive of ways exposing — yet again — his very white ass to the entire audience. Hmmm… I sense a theme here. A great move came when Russell, sporting his birthday suit and gorgeous tattoos, flipped each of the ladies on either side simultaneously. That man has strength! Of course strategic prop placement, dance moves, and partnering ensured that his privates remained so. Fabulous act and well deserving of the award!
Going with the theme of the evening we had — can you guess how many? — yep, 4 competitors for the Best Boylesque category. It was my first time seeing 3 of the competitors and I fell in love with all of them! New York's Mr. Gorgeous, a glittery version of Clark Kent in sparkle shorts and nerdy glasses, combined burlesque with his circus background in a unique way. This 6'5" hunk performed his Good Things Come in Large Packages routine, not only stripping down to his short shorts and fishnets, but adding heels to his already massive frame and somehow performing an angled handstand on a wooden chair. Solid! Seattle's Paris Original is truly a sexy original — and I need to know where he got that spectacular blue-fringed outfit. So much fringe… You could see his ballet background in the lithe way he moved, his splits, the way he always pointed his toes and held his hands. It was mesmerizing to watch the layers of fringe fall away like veils to finally expose the soft blue dress beneath. A beautiful routine.
Waxie Moon — what an amazing name for an amazing performer. I love Waxie's overabundant energy, enthusiasm, and just general sense of fun that exudes when he's on the stage. You can tell that he's just loving what he does up there and that really makes a difference and draws you in on a personal level. It's infectious. What started off as the biggest — just look at the photos, trust me — purplest boa I've ever seen anywhere, blossomed to reveal Waxie in all his sparkly gowned glory. I love me a statuesque bearded man in a leopard print gown and heels doing glove and stocking pulls. Truly sexy! And that smile — it sparkled more than his g-string and his necklace combined!
Hard body. Rippling muscles. Cat-like movement and grace. Slow and seductive stance. Sensual gaze from stunning eyes. Excuse me for a minute…
…… the photographer will return after a brief delay for self-composure ……
Sorry about that. I get all hot and bothered when I look back at my photos of the winner of Best Boylesque — the delicious Ray Gunn. That boy is buff! Usually I find that upside-down crab crawl all Exorcist creepy, but when he did it, it just made me tingly in all the right ways. Sure, he got naked — like all the way, hold a hat in front to cover IT up naked. But it's the way he did it. It was painfully slow. You just found yourself not only hooting and hollering for more, but shouting out "Do it, do it! Take it off! More!" It was worth the wait, every slow agonizing minute. Hot damn!
And to think, there's still the lovely ladies competing for Miss Exotic World coming up. After all these competitors I think we need a little break. Just between you and me, the ladies coming up are smokin' — you're going to need to read about them all on their own.
Olena Sullivan (Photolena) is a Toronto-based model and performance photographer who specializes in onstage burlesque photography. All photos ©Olena Sullivan-Photolena and used here with permission by Burlesque Beat. Performers may use shots for promotional purposes, but please credit properly with photographer's full name and a link to this piece.
Check out Photolena's reviews and photos of the first two nights of the 2013 Burlesque Hall of Fame Weekend:
Burlesque Hall of Fame Weekend 2013 Opening Night: Movers, Shakers and Innovators
Burlesque Hall of Fame Weekend 2013 Titans of Tease Reunion Showcase
Burlesque Hall of Fame Weekend 2013–Tournament of Tease: Best Debut
More Burlesque Hall of Fame Weekend coverage continues…follow us on facebook and twitter to stay tuned.