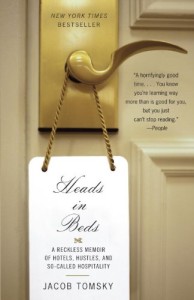 by JDX
We know you love to stay in hotels. Even a modest hotel is better than the usual alternative: sharing a couch with another burlesquer in pincurls, wrassling for the bathroom with the three others that were sharing the bed. At least in a hotel room, the five of you can call downstairs for some more towels, ice in a silver bucket, and some toothpaste, since you left yours on the back of the toilet seat at that dingy bar you were performing at in… um, what city was it again?
These days, with more and more burlesque festivals popping up like mushrooms in a BHOF backstage laundry basket, and more and more performers realizing the brand-building and wallet-primping value of touring, more of you are looking for places to stay. And hopefully, more of you are getting PUT UP in swanky digs.
So do yourself a favor and check out the New York Times bestseller by Jacob Tomsky, Heads in Beds, who writes with such verve and hilarity you'll forget that it's nonfiction. The pieces I've read were laugh-out-loud funny, blue-collar sincere, and downright useful. This is the book that will tell you how to get the most out of your hotel stay—how to get a little more for your money, take advantage of the system, and perhaps most important (for those who will inevitably roll in at three in the morning with a false-eyelash-laden scantily-dressed entourage) how NOT to piss people off.
Since the hardcover is pricey, Jake told me to wait for the paperback to come out, which is TODAY. Or, if you've learned how to keep your rollerboard lighter on those regional flights, you can buy the Kindle edition. (That's what I did—I'm gonna read that bad boy where it was meant to be read: on the road.) Even better, come celebrate the paperback release with Jake himself (he's good-looking, ladies, and word on the street, single) Thursday at Word in Greenpoint.
August 1, 2013
7:00 pm
126 Franklin St.
Greenpoint, Brooklyn
From Word's site:
"Brooklyn's own Jacob Tomsky celebrates the paperback release of his memoir Heads in Beds with a reading, discussion, and signing, including refreshments! In honor of Short Story Thursdays, Tomsky's weekly email-based short fiction club, he'll be joined by fellow writer Kristin Dombek, reading a classic, hotel-based short story from one of the finest writers in the history of American literature."