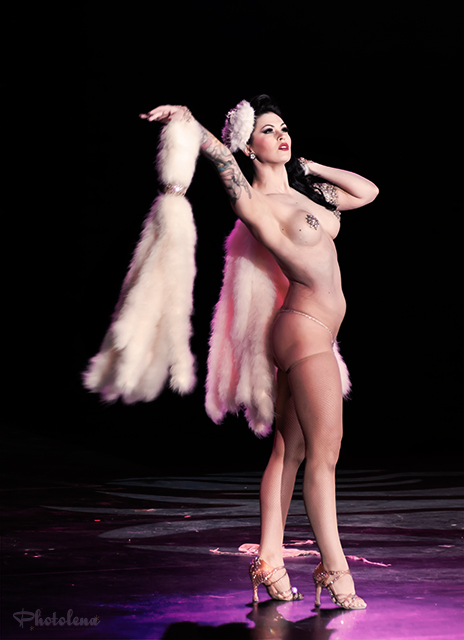 by Photolena
Saturday, June 1, 2013
Orleans Casino Showroom, Las Vegas, Nevada
Winers:
Most Dazzling: Sweet Pea

Most Classic: LouLou D'Vil

2nd Runner Up: Lola Frost

1st Runner Up: Sydni Devereaux

Winner: LouLou D'Vil
We've come to the end of a very long evening with the big competition, the one we've all been waiting for, the one with the longest title (really, does it have to be so long?) — Miss Exotic World 2013 Reigning Queen of Burlesque. With such an impressive roster of competitors, I hunkered down for what was to be a truly inspirational set of performances. Herewith the highlights of the evening — and I'll do my best to give a tidbit of all the competitors, but with so many it's hard to squeeze them all in…
How fantastic to start the competition off with a pair of Canadians (go Canucks!) as Vancouver's Burgundy Brixx took to the stage to perform her sunshine routine. I love this act of hers — the feather fans are so unique, having been designed in the shape of rays of sunlight. Dressed in her golden gown, she twirled across the stage, her rays of light spreading out across the showroom, fabric peeling off around her like solar flares. Fellow British Columbian Lola Frost gave one of the most sensual performances of the evening. She looked like an Erté sculpture in her black and purple sparkle robe, skin so smooth and pale, her movements catlike and gestures perfectly executed. I felt like I was watching an Art Deco piece of art come to life, her final pose exposing all her beauty, wrapped in just golden ribbons.
Don't underestimate Minneapolis' petite burlesque superstar Sweetpea. This gal has energy to burn and can shake, shake, shake señora like nobody's business. Her act was so much fun and her costume so colourful — the room was singing and clapping along throughout the routine. And boy does that girl know how to shake her behind in the sexiest of ways, and for a really long time! There's got to be a lot of latin/ballroom dance training in her background — her moves were sexy, fast, and fabulous.
I've only had the chance to catch Denver's Midnite Martini once before when she performed in Toronto at our Girlesque festival, and she blew me away with this move in her Stocking Girl act where she slid through the space in the back of a fold-up chair so it could take her dress off for her. I knew she would come up with something astounding for this competition and I was right — I mean who thinks of creating finger feather fans? And what a fantastic idea too. To compete in Miss Exotic World you need to bring your A-game and blow the audience away with a perfect performance, but a new and unique prop is a big help too. Everyone has feather fans, so how can you make them different? You attach the long feathers to the fingers on your silky red opera gloves – and it's so much fun to watch Midnite Martini have that extra ability to move them in a group or individually just by moving her fingers. So much flexibility! And she used them all the way through her routine, covering herself until the final reveal.
I have had the honour of watching Austin's Coco Lectric perform several times in both Montreal and Toronto and think she's one of the best there is. I was truly excited to see her compete for the title this year, especially with a routine that was completely new to me. Her performance was an Egyptian fantasy-themed Isis tribute all in blues and gold with a stunning beaded headpiece and blue feather fans to match. What blew my mind was her incorporation of ballet moves into the piece. She did a spectacular job of keeping on point throughout much of the routine — a task that I know is not easy to do. It was dreamy watching her flitter across the stage on the tips of her ballet shoes. An erotic Egyptian myth striptease ballet — now I've seen it all!
The New York contingent had two powerhouse performers, both of whom I've had the pleasure to see perform in Toronto and I adore.* Poor Minnie Tonka, always waiting for that phone to ring, for the love of her life to call her. Lounging around the house in her pretty silk robe all day… boy does that all change in a flash when the phone rings and that robe comes off! There's a powerhouse of a superwoman under there, complete with superhero leather corset. I pity the fool that treats that lady poorly. Gin Minsky is a new performer for me — and am I ever happy I had the chance to see her do her thing. I love seeing a talented tap dancer and Ms Minsky's flapper tap/burlesque mashup style is all authentic vintage gold. Her costume was a retro lover's dream — all soft greens and greys, soft and smooth and silky, with feathers, beads, and bling in all the right places. Who knew that under that gorgeous gown was a stunning flapper costume that sparkled like a thousand stars? And boy does she know her tap moves!
The last time I saw chameleon Kristina Nekyia perform, she blew my mind with her genie contortionist act and an out of this world alternative medical leg braces and stilts act (I soooo loved that one). These were so different that I didn't know what to expect this time — and she showed her versatility with a classic feather fan burlesque number. Such gorgeous large pink fans that paired beautifully with her sparkly old gold gown. And if you've ever seen Kristina perform, you don't need me to tell you what a killer body she has!
There is no one who does a better impression of an 8-foot tall spire of spinning golden beaded fringe than Seattle's Sydni Devereaux. Smooth skin, legs that touch the sky, and poured into a stunning gold dress, Sydni knew exactly how to shake it, move it, and grove it to make the most out of the most beaded fringe I think I've ever seen on one costume. And as much fringe as was shed, there just seemed to be more, and more, and more. Don't worry, we finally saw skin, and lots of it, with just some strategically placed golden ribbon to make it even sexier. I love all things Art Deco and Manila's Cleo Viper has that retro look down pat. Her black crow routine had one of the most unique — and outrageous — costumes of the evening. If there was an award for "Most Feathers Used in a Routine," Ms Viper would have won, hands down. Her black feather cape had a hood and she wore a mask with a huge beak — the entire outfit came together to make her into the sexiest crow ever. Underneath all those feathers was a beautiful black (there's a colour pattern here…) corset outfit that contrasted with milky white skin.
And now for the moment you've all been waiting for…… drumroll…..brrrrrrrrrrr…….. Miss Exotic World 2013 Reigning Queen of Burlesque (phew, that's a long title!) went to Helsinki's LouLou D'Vil. The statuesque beauty put on one of the most sensual and luxurious performances of the evening. A perfect example of vintage glamour and bump 'n grind burlesque, her Sex on Legs routine transported everyone back to the era of Old Hollywood. Poured into a gorgeous sheer gown and swathed in a veil of what seemed like a million soft ostrich feathers, she knew just how to get the audience hot and bothered as she accented each movement with a hip grind, a wink, and fanny bump. I had a 50s pinup moment when she was up on stage in nothing but her feather shawl, giving that lovely, mouthy, bad girl "o" face. It was beyond sexy. The final reveal cemented it for everyone: beautiful body, spectacular cleavage, amazing poise and grace, legs to the moon and back, all wrapped up in a phenomenal burlesque package. Congratulations LouLou!
Last year's Reigning Queen of Burlesque Imogen Kelly not only presented LouLou with her crown, but also performed a beautiful modern dance-infused burlesque step-down routine. Our second Erté statue of the evening, she used a huge hoop of stretched fabric as her prop throughout the entire set. She manipulated it into shapes, wrapped it around herself to create beautiful lines and curves, and cocooned herself inside its soft folds. It was a breathtaking alternative routine that was like nothing else performed at the festival weekend and very emotional. This routine went beyond the boundaries of burlesque, circus, or cabaret, and was an inspiring work of art that moved each and every one in the audience.
So that's all the coverage of the award competitions and winners…. more to come with the Icons & All-Stars Showcase! Stay tuned.
*And both from Brooklyn! —ED.
Olena Sullivan (Photolena) is a Toronto-based model and performance photographer who specializes in onstage burlesque photography. All photos ©Olena Sullivan-Photolena and used here with permission by Burlesque Beat. Performers may use shots for promotional purposes, but please credit properly with photographer's full name and a link to this piece.
Check out Photolena's reviews and photos of the first two nights of the 2013 Burlesque Hall of Fame Weekend:
Burlesque Hall of Fame Weekend 2013 Opening Night: Movers, Shakers and Innovators
Burlesque Hall of Fame Weekend 2013 Titans of Tease Reunion Showcase
Burlesque Hall of Fame Weekend 2013–Tournament of Tease: Best Debut
Burlesque Hall of Fame Weekend 2013–Tournament of Tease: Best Group, Best Duo, Best Boylesque
More Burlesque Hall of Fame Weekend coverage continues…follow us on facebook and twitter to stay tuned.