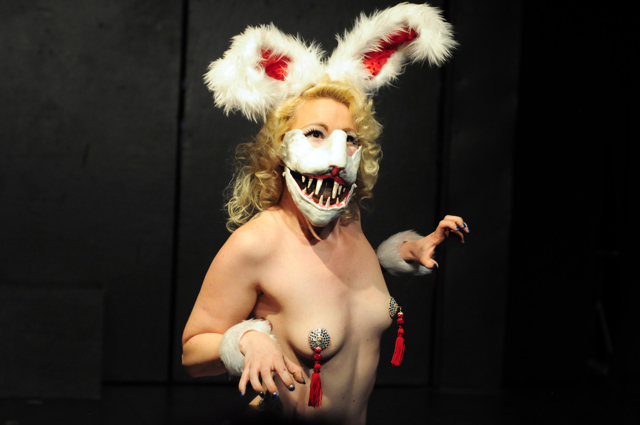 by J.D. Oxblood
photos by Melody Mudd
June 27, 2013
The Kraine Theater, Manhattan
In a city as burlesque-choked as Gotham, a new troupe on the scene raises few eyebrows—unless the brains & bodies behind it belong to Dangrrr Doll and Stella Chuu. Monty Python has seldom registered in my mind as erotic, but with a name like "Far Too Silly," the show promised less eroticism than sheer, unadulterated ridiculosity—a promise well-fulfilled.
I had the good fortune of sitting in on a burlesque producer's workshop offered by the NYC luminary Doc Wasabassco, and DD and SC were two in the room who, I figured, would actually put their learnings into practice. There is an odd mix of schooling offered in New York, but my attitude is always one of apprenticeship. I know a high school teacher in her first year of teaching chemistry, and there is one rule of teaching: know more than your students. It doesn't need to be much more—a guitar neophyte wouldn't be able to learn from Les Paul—but in this case I felt confident that these ladies were learning valuable lessons. It's worth noting that The New Yorker says in its music listings: "Musicians and night-club proprietors live complicated lives; it's advisable to check in advance to confirm engagements." The nightlife is a weird one; kudos to anyone willing to tackle it.
First, the audience: these punters knew all the words to every Monty Python song being played in the pre-show. I'm not judging—I only came out because I had at least seen the Monty Python movies, and have already learned that certain super-esoteric burlesque inspirations are simply beyond me, and I have all too-often under-appreciated the fanatic, um, fanaticism of nerd-geek-dom. And it's even harder on the ladies, who suffer much derision in attempting to join in on he-man-woman-hater clubs focussed on militant examination of subbaculture minutiae. Again, major props to producers willing to break in a new branch of audience—I knew virtually no one at this show. (That's a good thing.)
The show opened with MC Albert Cadabra doing the Absolutely Worst English Accent Ever. He sounded like a weasel on meth, and worse, it completely disrupted his rhythm and cadence. It was thoroughly awesome—his willingness to fail, his self-derision, his eventual abandonment of admittedly-poor showing—I love that shit. He looked the part, and introduced a couple of drag-king vikings stripping to Led Zeppelin's "Immigrant Song"—I couldn't help wonder if there were a Lez Zeppelin version available, and admit that I totally missed the Monty Python connection. So be it. Who cares anyway—that Foxy Vermouth is one strong pour of 36-proof, and looks wicked hot with a beard.
Albert got a couple of costume changes, and the entire proceeding was seriously disrupted by a plant in the audience who blew the timing of his line, but the evening had a fabulous meandering that very much did justice to the whole "and now for something completely different" aesthetic: a Spanish Inquisition act with multiple line-blowings, an over-the-top obscure "Pantomime Princess Margaret" offering by Nasty Canasta, an almost-naked Jo Boobs in a blonde wig (my palm still has teeth marks) playing the uke and skillfully getting the entire crowd to sing along.
My two favorite acts were from the producers. In the first act, we got Stella Chuu doing a Chinese striptease to "I Like Chinese," becoming more and more ridiculous as she produces the ingredients for a meal from her costume as she disrobes—chopsticks from her hair, natch, veggies from her stole, then spooning rice from her crotch and pulling soy sauce packets from her bra. What is there to say about Stella? Her body is disarmingly, almost unexpectedly slammin', especially as paired with her devilishly cute face. She is so anime cute yet so mainstream hot, she's like Hello Kitty with a butterfly knife.
Dangrrr Doll gave us a terrifying vision of hotness paired with a bona fide disturbing—almost "Donnie Darko"—evil bunny rabbit mask, paired with fur coat, bunny ears, and a malicious hop, as her interpretation of the evil rabbit from "Holy Grail," the soundtrack mixing quotes from the Chuck Jones classic Daffy Duck-Bugs Bunny joint "The Abominable Snow Bunny." It's so high-concept, she could almost have phoned in the actual act, but doesn't—delivering a hypnotic strip tease that culminated in a classic bounce tassel-twirl. And left the mask on. I've got mixed feelings about this; clearly the use of masks in various world theatrical traditions lends credence to the idea of remaining masked when in a sacred performing space, and keeping it on is clearly a choice—a refusal to break character; the ultimate tease. But I'd like to see it the other way, just to try it out. The removal of a mask is also the ultimate reveal. I'm reminded of Miss Tickle's unforgettable fuck doll routine, or even the way the Legend Tiffany Carter turns a simple hair let-down into an erotic exclamation point. Regardless, if these two acts are the kind of thing this production duo are going to curate, Rawr! burlesque is a troupe to keep an eye on.
Perhaps my favorite moment of the show was a by-the-book recreation of the "dead parrot" sketch by Albert and Nasty Canasta (doing a spot-on accent). Their timing was wonderful, the homage was accurate, and they had the crowd riding along with them as if in a sidecar to their tandem fish-bike—eliciting a chorus of "ex-parrot!"s. This is exactly the kind of act that could breathe new vaudeville into the burlesque scene—a variety act that isn't circus or sideshow, that shows no T or A, and isn't a baggy pants throwback, yet offers a nice distraction. I'd love to see "Cheese Shop," the "What is your name," interrogation from "Holy Grail," or (technically not Monty Python, I know) the "Chip up the nose" Wanda-eating routine from "Fish Called Wanda." (And if anyone ever does the classics, I'd personally love to be the straight man in a recreation of "Who's on First.")
Kiss kiss,
JDX
PS: Cupcakes to Rawr & Horsetrade for distributing a program.
The next RAWR! Burlesque is Sunday, August 18th at Kabin. Check out their facebook page for ticket info.
J.D. Oxblood is co-founder and Editor-in-Tease of BurlesqueBeat.com. His burlesque writing has also been seen in Burlesque Magazine, 21st Century Burlesque and Zelda. His academic work has been seen in Borrowers & Lenders. Follow J.D. Oxblood on twitter.
All photos ©2013 Melody Mudd for Burlesque Beat. Performers may use shots for promotional purposes, but please credit properly with photographer's full name and a link to this piece in all instances. Performers who would like hi-rez images, get in touch. All others: Please respect photography copyrights and do not use images without obtaining explicit permission.