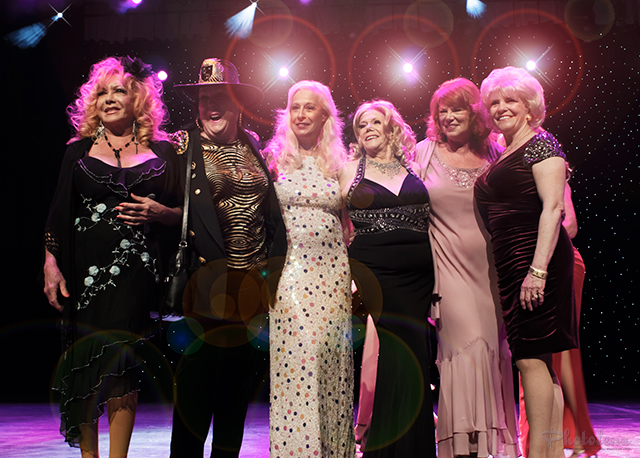 by Photolena
Friday, May 31, 2103
Orleans Casino Showroom, Las Vegas, Nevada
Friday's Walk of Fame, held during the Titans of Tease Reunion Showcase, carries on a tradition started in 2011 of recognizing the legendary stripteasers who started it all by getting them up on stage for another round.
While I was familiar with the Great White North's legend Judith Stein and the First Lady of Burlesque April March, both of them having graced Toronto's stages over the past couple of years, it was great to see some legends whom I had never had the opportunity to see perform during their heyday. Their names were so familiar, their pinup photos fresh in my mind, and the stories of their struggles in the early days of neo-burlesque fuelled my passion for the artform and how far it has come.
With three large screens in the background showing old theatre posters, original pin-up photos, and other memorabilia, these ground-breaking legends were welcomed on stage to the deafening applause and standing ovations of their modern counterparts in the crowd – those for whom they had paved the way and who continue to find them a never-ending source of inspiration.
Big Fannie Annie
Judith Stein
Toni Elling
Gabriella Maze
Bic Carroll
Madame E
Tai Ping
Joy Dale
Viva La Fever
Julie Mist
April March
Olena Sullivan (Photolena) is a Toronto-based model and performance photographer who specializes in onstage burlesque photography. All photos ©Olena Sullivan-Photolena and used here with permission by Burlesque Beat. Performers may use shots for promotional purposes, but please credit properly with photographer's full name and a link to this piece.
Check out Photolena's reviews and photos of the first two nights of the 2013 Burlesque Hall of Fame Weekend:
Burlesque Hall of Fame Weekend 2013 Opening Night: Movers, Shakers and Innovators
Burlesque Hall of Fame Weekend 2013 Titans of Tease Reunion Showcase
Burlesque Hall of Fame Weekend 2013–Tournament of Tease: Best Debut
Burlesque Hall of Fame Weekend 2013–Tournament of Tease: Best Group, Best Duo, Best Boylesque
Burlesque Hall of Fame Weekend 2013–MISS EXOTIC WORLD 2013