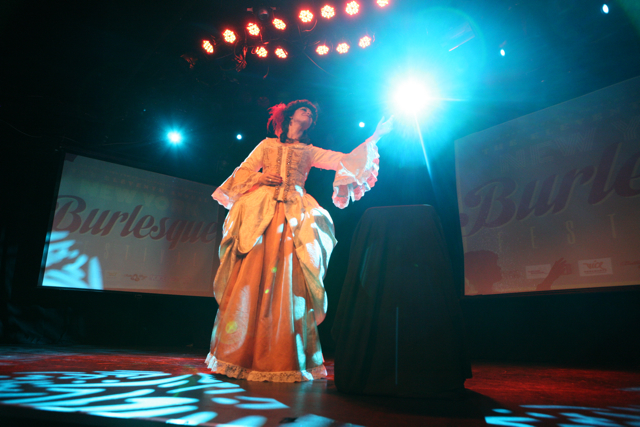 by J.D. Oxblood
Photos by Melody Mudd
September 26, 2013
Le Poisson Rouge, New York
Having missed Vegas this year, it was nice just to be on the scene and kissing familiar faces—some of whom I hadn't seen since last year's New York Burlesque Festival. I quickly made my rounds, greeting Iva Handful—selling her amazeballs ties—producer Jen Gapay, Tigger, Don Spiro, Jo Weldon, and was overjoyed to see the ozzie Lillian Star (who brought a surprise guest). It was nice being back at The Red Fish, set up differently than in years past, with more open space.
I like the mellow excitement of Thursday night's Teaser Party… like anything can happen… but it'll probably just be tits.
Let's start off with some gogo—and just say that it's almost unfair to make other gogo dancers share the stage with Stella Chuu, no matter how lovely they may be. I'll leave it at that. We segue into a really exceptional teaser video—layered effects and clips of shows past, almost "I Love Lucy" nostalgic, product of Onome Ekeh. World Famous *BOB* takes the stage in a devastating pink dress with bangles and train, a B-52s hairdo, and we are off.
I get so tired raving about Vancouveriños, but we were blessed with the black arts of Voracious V, who is a member of Pandora and The Locksmiths. She appeared in darkness, seated, her hands working up her body almost robotically, revealed in a spacey, asymmetrical costume, to the song "2wicky" by Hooverphonic (Which both samples Isaac Hayes and was in the movie "I Know What You Did Last Summer." Word.) Her glove peel, timed to a persistent snare tap, was a one-two-three bite and throw, timed impeccably. She worked a kind of dark energy across the stage, bonding to the music, peeling off her Thunderdome costume pieces and twirling silks. V.V. has a captivating face, and knows how to hold the gaze of the audience—I kept looking at her face, even as her body was revealed wrapped in Fifth Element floss, her dancer's legs and hindquarters taut in the darkness. This is the kind of non-classical act we yearn to see at the New York Burlesque Festival.
Such a delight to finally see Kay Sera perform, after flirting with her mercilessly for yeeears in Vegas. A close-cropped blonde, with a body that reminds me of Jessica Lange, Kay is always one of the best-dressed at Burlesque Hall and is charming and friendly to a fault. Here, she enters a stage set with an apple tree, mostly naked but for a few well-placed fig leaves, in a blonde wig that reaches the floor. It's Eve, natch, but what is she going to do with it? She goes to the tree and leans against it, a quick theatrical trick and the snake is peeking out of it, whispering in her ear—it's a puppet, and Kay pulls it off gleefully. She tries to resist but takes his suggestion, eats the apple, and bang!—the music explodes to GnR's "Welcome to the Jungle" and we're into a reverse strip as Kay sluts it up—stripping off the wig to shake her short, rockin' locks, then donning a fringy bottom—and licking her downstairs fig leaf—stepping into tall, bejeweled red shoes, twirling tassels, sliding into a red bra, and then returning to the tree to punch out the snake—beating him into submission and pulling him out of the tree—now he's a red boa. Both stagily clever and wordily punny.
Alabaster Betty—they have burlesque in Indiana?—must've had fun when she was here last year, because she came back to New York to do an act that actually worked with the ridiculously dim lighting they were giving us. To an interesting musical choice, Santigold's "Look at These Hoes," with an agro pulsing beat, she shifted from poses into ratchet moves, jerking her body in black dress, stockings and gloves; the repetitive lyric, "killa," punctuating as she bares a knife. Knife in teeth she unzips the dress, and undresses as she dances with a knife and a sap, a threat cranked up a notch when a gun appears. Fast-paced, aggressive and fun, delivered by a brunette masking with her mean face—though I suspect she has a dazzling smile.
Dangrrr Doll made her entry though the nerdlesque/geeklesque/CosPlay/WTF scenes, but has continued to shake it up, defy expectations and deter judgment—and it was exciting to see her on this stage, doing something defiantly weird. Look at the pictures—I can't even describe what the fuck Mardi-Gras-bead/'70s-hippy-curtain she was gorgeously draped in, with a mask covering her face and a feather headdress, with long, curly blonde locks. Her choreography is hauntingly specific—I dig the way she turns upstage and freezes, staying perfectly still for a moment before beginning to grind, forcing us to look—really LOOK—at her ass. The bendy grind act culminates in the ultimate reveal—taking off her mask, displaying her expressive face, first with unease, and finally fluttering her eyelashes, butterfly-like.
Gin Minsky brings such obvious joy to the stage that it's infectious. She's a clever tapdancer, a sensual performer, and has welded the Jazz Age to burlesque with a style that is all her own. The crowds love her, and it's easy to see why. Tonight was possibly the best I've seen her, taking her time in the opening section, taking long steps and quick hops, stage-wide turns that allowed her white dress to flow out, big kicks—she was drawing the crowd in, slow, big, and statuesque. When the music shifted to the second piece, more upbeat, she lost the dress to reveal a short blue flapper dress beneath—dig those striped stockings—and went into a full tap routine. But that wasn't it—the rest of the act was also punctuated, paced cleverly. Spinning out of the flapper dress; stopping to point at her bra before succumbing to remove it. Chapters and stories, turning a simple striptease into a Jazz narrative. Absolutely terrific.
Half the fun of these EPIC festivals is the sheer range of performance you get to take in. Musette, from Minneapolis, did an old-timey Earheart routine with a strap-on plane, culminating in a crash and a lucky parachute with an expanding bra. Legs Malone brought in a harem-girl act with all belly-dancing moves, saving the veil covering her face for last. New York's Beelzebabe made her NYBF debut in a cloche-like black 'do, ably bringing home a red-dressed-devil New Orleans romp, spanking her own svelte ass (*crush*) with a red, hole-besotted paddle. Calamity Chang showed off her skill with silk fans, and Scarlet Starlet her all-American baton twirling in pink. Grace Gotham showed us a charming Brazilian Carnival, and Tiny D turned in a convincing Gina Bon Bon tribute, with the excellent beefcake Teddy Turnaround and Brooklyn Irons. 
Dolly Berlin, SO cute, '50s-style in a yellow dress, a wholesome brunette with perfect teeth, lost the crowd when she went from all-adorable to belching along with the music. She was devilishly charming, but sometimes there's a disconnect between act and venue. Bunny Buxom, who has been garnering mad crushes citywide since she started kittening, made her NYBF debut in an exciting romp of shaking her body parts in sequence—a kind of heavy metal twerk. She's cute, Charmin-ly squeezable, and still one to watch. And closing the evening was the blonde bombshell Havana Hurricane, from the U.K. She's pure '60s shimmy, and all cheesecake—a true crowdpleaser. 
Applause-wise, it seems easier for the boys of burlesque—in a mostly-female crowd, just about anything will get these girls riled, which isn't to say the dick wasn't well-represented. Hard Corey's Mighty Mouse act… well, I didn't understand it, but the audience loved it, and that's what counts. Creamed Stu had the crowd the moment he leaned over the lip of the stage, peering over his dark sunglasses in his crosswalk cop outfit. A great gag, big "STOP" signs that lead ultimately to a codpiece that says something completely different… And Mat Knife—what a great name, and, finally, a decent tagline, "The sharpest tool in the box"—went from mustachioed drag princess to Luigi (as in Mario) with delicate grace, definitely lending the night its most "apeshit" moment. Ladies, screaming, ala the Beatles.
And I never get tired of *BOB*. I love her riff about the things she picked up in Paris… and one of those things she had to go to a clinic for. (Beat). "What? Clinic is a nightclub."
The greatest knock-down drag-out of the evening was Hazel Honeysuckle. Hazel has long been blessed with a classically beautiful face and the kind of body that makes even other cover-of-Cosmo-ready girls self-conscious, but her act this night took her natural gifts, wrapped them in badass, and opened them up with a fireworks show.
In a tight corset decorated with cherries and a red skirt, the luminous brunette works the entire stage, lifting her skirt and whirling, showing off her fishnets and shifting with conviction, svelte in her steps. She loses her gloves and then removes a garter decorated with two dangling cherries, which she then—there's no other word for it—teabags in her mouth, but classy-like. She pulls her corset strings up high, arms raised up, then faces downstage to open it in front, turning back for a slow bra peel, then back downstage to tease us, cradling her breasts, then opening up to show off her cherry tassels, then spinning them wildly—the finale a backband tassel twirl. Classic, with an edge.
I don't know what's happened to Hazel, be it a life change or a new dance class or getting off gluten, but what we witnessed was nothing short of a breakthrough. She reached into herself and came out with a wildness, an abandon that I'd never seen before—a kind of recklessness that read as pure wild sensuality. Beauty can be static, but sexy IS movement. Hazel was beautiful, sexy, and charming—a wicked combination. I have no doubt that if she enters Thursday night's video to BHOF, we'll see her debut on a Saturday next June.
But a giant dance floor full of people shaking it and the music is cut off at 10:15pm? Do these people not like money? Oh—there's another show coming in, and we all have to get out. (Hence the afterparty at the Slipper Room.) The photographers are commiserating about the problematic lighting, and I remember that there used to be tables at this venue. Oh, and I still wanted that after-show drink. Suddenly, I miss The Bell House.
But it's a long weekend to come.
Kiss kiss,
JDX
J.D. Oxblood is co-founder and Editor-in-Tease of BurlesqueBeat.com. His burlesque writing has also been seen in Burlesque Magazine, 21st Century Burlesque, and Zelda. His academic work has been seen in Borrowers & Lenders. Follow J.D. Oxblood on twitter. 
All photos ©2013 Melody Mudd for Burlesque Beat. Please respect copyrights and request permission for usage. Performers may use shots for promotional purposes, but please credit properly with photographer's full name and a link to this piece in all instances. Performers who would like hi-rez images, get in touch.