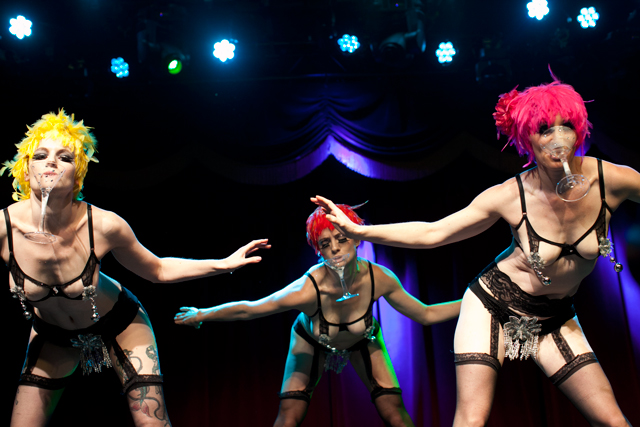 Friday, September 27, 2013
Brooklyn Bowl, Williamsburg, Brooklyn
by Simone Sanguine
photos by Peter Marquez
A Worldwide Convergence of Burlesque Talent
The beginning of autumn in New York. Central Park becomes alive with color, the merciless humidity of summer starts to dissipate, and millions of Halloween enthusiasts gear up 30 days head of time for the festivities. As the climate figuratively declines, the New York City burlesque scene comes alive. We're in for a plethora of hedonistic, body-quaking, pastie-twirling delight. This Friday evening at Brooklyn Bowl marks the Premiere Party of the 4-day long spectacular which is the 11th Annual Burlesque Festival.
Our first two go-go's take the stage, sweating and twerking to our pre-show delight. Girls – in case you were thinking that towel at the gym was essential, I can advise you that sweating is hot. A brilliant spectator suggested to his friend, who had just given one of the dancers $1, "You gotta smack that ass!" Actually, you don't, and you shouldn't. But we hope that he comprises a minority of the couple hundred show-goers.*
We know we have a good show on the roster when some of the sponsors are PABST, Blu electronic cigarettes, and the Voice. Our first host of the evening, Albert Cadabra, kicks things off with a magical cage, made all the better by the apparition of a scantily clad Hard Corey. He's dressed mostly in red body paint and red devil horns and tail. Two more gentlemen in gratuitously little clothing, Scary Ben and Mysterion, come to clean up the aftermath.
The slew of male anatomies makes the oncoming line-up of nearly nude ladies all the more welcome. First up is the recent New Orleans Queen of Burlesque, Medianoche. The neoclassical act is complete with a two-toned brown glittering down with matching heels and full-length gloves. With the upbeat instrumentals and what looks like a 16" waist, we're practically transported back to the times of glitzy burlesque starlets and high-life audiences. If it weren't for the onslaught of iPhones thrust up into the air to get a poor-quality photo of what should be a spectacle for professional photographers only, the illusion would be convincing. Hundreds of pairs of eyes watch lustfully, admiringly, and sometimes, confused. If it poses a challenge to burlesque reviewers to define burlesque – an art-form/striptease/dance/variety-style spectacle that is constantly breaking boundaries and reforming its identity – we could expect some confusion on behalf of some audience members.
At any rate, it is not hard to enjoy and respect the girls and boys of burlesque. Perhaps it is a nostalgia for the old glamour days that attracts myriad dancers to incorporate neoclassical performance into their acts. The jazzy numbers and gradual striptease down to pasties and a g-string seems to reminisce of those days. One particularly notable act fit this stylistic category because of the music and outfit, but tossed in an interesting thematic twist – Stroker Ace of Boulder, Colorado, made herself into a glitzy caterpillar. Her costume is complete with 3 pairs of legs that move with her as she dances. She then becomes a butterfly with great silver-lined wings. Stroker Ace's act is a creative way of giving reason to the aesthetic – the glittering outfit colored and tweaked to look like a caterpillar; the strip-down to become a butterfly; and the blossoming fans which serve as her wings not only look great, but demonstrate a considerable amount of originality.
Tonight's festival is an international and statewide convergence of burlesque talent. Coming in from Stockholm, the trio Ivoncita and her Matadores hearken back to the true pin-up age – the "Matadores" dress as sailors and cannot resist the tempting charm of Ivoncita for long. Dixie Ramone represents Italy with a neoclassical number, while Miss Blondis has come all the way from Russia to show us her elaborate version of what appears to be Alice in Wonderland's Queen of Hearts. Again disrupting our idea that burlesque typically involves strip, she doesn't strip all the way, instead focusing her act on costume and choreography. Docking in from Australia is the sensationally hilarious duo Peaches N' Gin. The girls give our Harry Potter fan-fiction enthusiasts a reason to possibly reach orgasm. The reunion of Harry and Malfoy takes a turn for the best as they end up ripping their clothes off and taking turns topping one another. It was certainly a welcome bout of humor in the show.
Hair is like currency in our society. No, really, it is. Our second go-go dancing duo is composed of a man who looks like he was just at a clothing-optional Stonewall protest and a goddess-shaped woman who seemed to stumble out of an '80s action thriller. She has a two-foot afro for which the members of the audience can't wait to tip accordingly.
The duo is a great warm up for the second half of the festival, hosted by Shelly Watson. The remaining line-up is full of some surprises – unexpected both for their high entertainment quality, originality, and noticeable effect on the crowd. We have the boylesque performer who never fails to put a smile on everyone's face – even the staunch hetero guys who try not to react. Yep, it's Go-Go Harder reminding us that men can really dance. His denim accouterments have the aroma of a gay farmer boy as he dances and strips to "Why Don't We Do it in the Road." After tearing the carefully-crafted segments of his outfit one-by-one, he proceeds to make use of a 5-gallon bucket in what I would consider an ingenious way – by putting his naked crotch into it and spinning around. Girls squeal and straight guys wear tight-lipped smiles.
"If you're with someone you love, cover their eyes. They'll probably leave you," our hostess warns us before our next act takes the spotlight. Tansy is indeed a little bombshell. She makes an unapologetic display of sexuality as she infuses a neoclassical number with plenty of sexually suggestive gestures. Tansy plays with her outfit as she removes it – an effect that I always find adds that extra element of excitement to the striptease. We really don't mind watching her stroke her bust with the feather she's just plucked from her hair before she lets it cascade down, or lubricating her fingers before sliding her gloves off – not at all.
Lillian Starr presents us with a refreshing break from neoclassical to the trip-hop number "Feed the Horse." Accordingly, she's a horse. I could imagine her studying her subject on a farm way out in the country where good girls definitely do not get up on stage and do what she is about to do. Instead of painting a picture of Black Beauty, she transforms herself into a stomping, kinky slave pony, complete with eye guards, mouthpiece, long ponytail, and no-heel high heels like hooves. Yes, she even has tails attached to her ass tassels. Lillian Starr should be an inspiration for us all… to go home and try new things.
"I'm sure you've noticed the shiny hairless man behind me," says Shelly. He's sitting about 18 feet up in the air after having skillfully climbed to a single trapeze. He's Jason Mejias, and he's soon joined by the aerial sensation that is Harvest Moon. The two come together to form an incredible spectacle of physical feat and spot-on interdependence that is AeroTrapeze. It is a bit reminiscent of trending Acro Yoga, minus the safety of the ground. The considerable time investment that culminates in the poses they flow through are something to gawk at both for their aesthetic value and athletic ability – we have human bodies hanging from the tops of flexed feet and hyper-flexibility supported by sheer strength. It is a sight more readily appreciated in person – this act is a must-see!
Miss Rose of France pokes fun at the independent drama Teeth with her multivalent act. At the beginning she is dressed like an Egyptian or Arabian dancer, complete with headdress and gold chains draping over her body. The waiflike Miss Rose strips down and shows us her teeth – a toothed pastie covering her lady part. Some wardrobe malfunctions (to most of the audience's delight) threaten to break the bar's liquor-nudity laws; laws which Shelly Watson happily and mockingly defies by asking an audience member to hold her exposed breast so as not to show bare nipple. "Thanks for helping me not break the law," says Shelly.
Rounding out the show tonight is a member of NYC and international burlesque royalty, Darlinda Just Darlinda. After these few hours of tease, we happily forget the foreplay and stare at the risque display on stage. Otis Redding's "I've Been Loving You Too Long" starts up. At first, I think Darlinda is nude under her thin vermillion robe – but it's actually a perfectly skin-toned g-string she's wearing along with a beckoning smile and eyes that declare focus and charm. Keeping her fixed gaze she licks her finger and shows us just how turned on we should all be. She swings her hair around wildly while seated on a metal chair as if in a state pre-orgasmic pleasure.
With its line-up of burlesque talent and hundreds of spectators, the Friday night Premiere Party was an overall success. Routines were carefully rehearsed, and the mixed variety of acts keeps the tone upbeat and unexpected. I do have to say that a three hour show in a standing-room only venue may not be the most audience-friendly options, but the crowd remains loyal and intrigued by the beautiful and talented performers. Burlesque aficionados and newbies, the queer and the straight, the old and the young will be sure to make it out to next year's production!
*2012's official count was over 1,000. —Ed.
—Simone Sanguine, an anthropology nerd and burlesque aficionado, concocts a blend of academia and sexuality to spread the word about gender performance, sex positivity, and NYC's burlesque scene.
All photos ©Peter Marquez and used with express permission by Burlesque Beat. Performers may use shots for promotional purposes, but please credit properly with photographer's full name and a link to this piece in all instances.