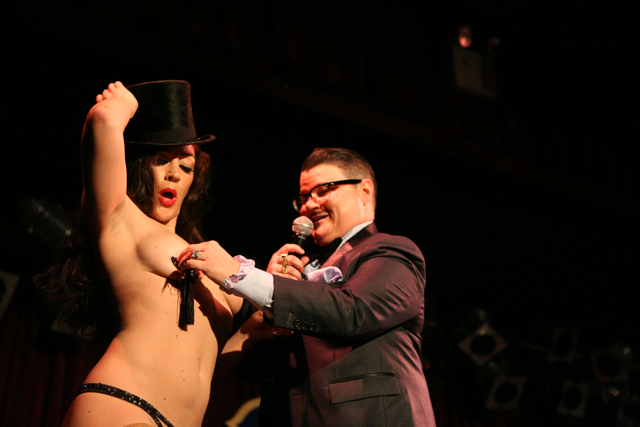 by J.D. Oxblood
Photos by Melody Mudd
September 28, 2013
BB Kings, New York
I look forward to my annual Saturday night at B.B. Kings, thanks to the New York Burlesque Festival. I love it all—the glitz, the glamour, the uncomfortable older guy in the front row being publicly insulted. I love the sheer range of experience that a simple six-hour evening can afford, from the total confusion of the box office and front of house staff, to the total confusion of the waitstaff when checks are dropped. From Harvest Moon in a birdcage to Amber Ray be-feathered. From that first Maker's Mark Manhattan to that last warm Corona at Lucille's. From the first "hello" kiss from a performer working the merch table… to watching a newbie giving Murray Hill lap dances at the long-over afterparty. It was one helluva night, and none the less so considering that I ended up so hammered by 4a.m. that not only was I in blackout, the people I was with didn't know I was still there.
 My favorite part of the show just might be the opening band. The New York Burlesque Festival's Saturday Spectacular is a rare chance to see Brian Newman and his boys on a big, fat stage with big, fat sound, and they did not disappoint. There's no overstating how pistol they performed. Their "One Note Samba" was on point, and Brian was working the room, striking such a pose at the end of one song, perched over his mic… ladies were heard to swoon, "What a DREAMboat." They changed it up to do a more modern version of "You Don't Know What Love Is" (Brian is a consummate Chet Baker fan), though I was sad to miss "Darn That Dream," from the seminal Miles Davis album "Birth of the Cool," which I've heard them nail at their standing gig at the Rose Room.
They wound it up with Brian's original "Take Me Back to Brooklyn," with a master class in jazz solos: Scott Ritchie with a stupefying bass solo, sliding glissandos; Randy Ingram's piano solo, all two-fisted chords; sax-er Steve Korya flipped the tune over; Brian knocked it up; and drummer Paul Francis slammed it the fuck down. Brian got the crowd to sing along, and got them ready for some SHIT.
None of this entertainment was hindered by watching raffle girl Sincerely Yours giving ladies in the house the "body wrap." Nice and slow.
But J.D., why aren't you talking about the burlesque? Because it STARTS with the music, people. Learn something about music, and maybe you'll stop setting pieces on "The Stripper" and "Whatever Lola Wants."
 
Ok. The Burlesque Bullet Points:
 • Missy Lisa
Audience, performers, and press alike: you must always be kind to the person who opens the show. It's a shit gig. It's a ton of pressure, and you're going into a cold room. So big props to Missy Lisa from Texas, a pretty blonde bombshell with a dazzling smile, in a tight white patterned tulip dress, and a grrrind with three R's.
• Gal Friday 
does classic with a fuck you, and it starts the second she takes the stage, leans in, and

glares

at us. We know we're in trouble. Dig the move of taking the hand almost all the way out of the glove—but not quite—then flipping the glove around.
• Maine Attraction 
does a surprising act in white satin, with a tight 'do (no wild wig), to "Dos Gardenias Para Ti," which you might remember back when Buena Vista Social Club was all the rage (nice pick). Deliberate turns show the inside of the dress to be green. A spin out of it without a reveal. Bends a leg and shows it. Very controlled, great stillness. And I thought,

Nice, she's not gonna do her audience-chair-stand thing.

Then she did.
• Kitty Kitty Bang Bang
from the U.K., never disappoints. Which is hard considering we keep expecting more from her. Here she is with a clever stage trick (something else that she probably bought at Home Depot): a stick-on light that fits in her top hat. So: darkness, light on her face emanating from her hat, hand choreography around her face, and a caress to her black lace dress—which will become see-through once we have some more light. Clever girl. Swings her glove from her dick. (Yeah.) Steals a drink from a table. (Cheeky.) And dig the nude thigh-high fishnet stockings. Don't blink, or you'll miss her losing a tassel, saying "fuck it" and ripping off the other.*
• Murray Hill
• Coco Lectric
Really? "Harlem Nocturne?" Oh, is that a Latin version? Ok. Dig it. I'm feeling you. Check this glove bite—oh, fake out! Double fake out! This is more "psyche!" than strip tease, done so playfully. Second track: Tito Puente's "Ran Kan Kan." YES.
• Mr. Gorgeous 
is so gorgeous, charming, skilled, and likeable, he risks global saturation and total alienation of everyone else in his field. Though I hope he just raises the bar. By now, most of the ladies in the house have forgotten that he did a chin-balance with an ice cream tray—this is a legit circus skill—but may still remember him sticking a cherry to his jock. For me, it was the fake titty cuddles (he has no titties). For many, it is the sheer beefcake. For all, it is his personality, which shines through it all. Future best boylesque at BHOF. Those Chicago boys better watch out.
• Perle Noire 
says she's "back" and living in New York again, and we couldn't be more thrilled to have her. I want her here. She's pure sex & glamour, and brings us all up a notch. She takes the stage in a green dress, her boa a giant rope of ruffles. Throws her hair with earth-shattering abandon. And points—literally points at her silver shoes, so you have to look. Peels the dress: Devilish look: stop. And that was only the first half.
• Kitten La Rue
Was bigger than life in a pink and green dress and big red hair, blowing bubbles as she chewed gum, so wonderfully trashy. When she ditched her dress and threw it, it caught on the upstage lights, and she gave us a grin and a nod. And what a glove peel—shoves her arm through her bra straps and removes the hand, then pulling the glove out of the straps. And what an ending—a big tassel twirl, while chewing gum. So. Much. Sass. One recommendation: that second piece of gum? Not a

stick

—but Bubblicious or Hubba Bubba.
• Audrey De Luxe
Is a cupcake. It's a great conceit and a great open, but I love her uber-innocent face on the glove peel. That's good cognitive dissonance. And watch how she executes the tiniest of left-right jiggles as she starts to remove her corset, facing upstage—when the corset drops, that's an ass wiggle. And THAT'S a reveal, not just of a body part, but of

movement

.
• Angie Pontani
A new act from the Italian Battallion! Dedicated to Madame de Pompadour, Angie rocked a wide-bustle'd gown flowered and green, with big luscious hair and

what shoes. 

A record's crackle intro'd the music, and she began the tease—but midway, a drastic music change to X'Ray Spex' "Oh Bondage! Up Yours!" In a corset and bra, Angie proceeded to Rock. Out. Dig the devilish move of lightly touching the tip of her tongue to the center of her upper lip. How this woman manages to produce this festival while maintaining sufficient calm to perform continues to amaze me.
• Indigo Blue
The delightful diminishing fan act, all in shades of blue, natch. Worth noting that this is a particularly excellent version of "Summertime," by the Ray Brown Trio. (Live from New York to Tokyo.)
• Trixie Little
On a giant banana, in a banana dress, which she PEELS. My favorite: the one-finger glove peel. And I mean, one finger, peeled.
• Gravity Plays Favorites. 
Y'know, I've given up on trying to write about these girls. I get fucking shivers down my taint when I see them on the bill. I can't describe what it is they do—there's nothing to compare them to. They're like trying to describe what a passion fruit tastes like, or trying to rhyme with "orange." Even the photographs don't do them justice. If you're reading this, and haven't seen them, just smack yourself in the face. You deserve it. And now—do you feel it? That lingering, stinging, burning sensation, that makes you want to go out and fight someone and then fuck 'em? Yeah, THAT's what Gravity is like.
• Tiffany Carter
We finally got a Legend performing at the Saturday Spec, and no one could be happier than me to learn that it's the one and only Tiffany Carter. Tiffany did her

devil-in-a-blue dress "Mrs. Jones," 

quite literally snarling at the audience like a kitty cat with 8 lives out for revenge. There are so many lessons here: like biting a glove and not removing it; opening a coat and posing with it open; taking off the coat but still not dropping it to the floor—all a master class on TEASE. And leaning into the audience to wink, to flirt with individuals directly, all in a manner that's readable from the back of the house.

I was concerned; not about Tiffany's peformance, but about the crowd. This isn't the love fest that is Friday night at BHOF, this is New York, we don't see Legends perform here, and I was worried about how the crowd would react. I didn't need to be. No one—and I mean fucking no one—brought down the house like Tiffany that night, in a full-on thunderous standing ovation.

(And don't miss

this very-complimentary piece on the Huffington Post.

Just skim past the "this is what burlesque is" as explained by someone who has no idea what burlesque is.)

 
• Tigger!
No one else can end this show. Cheap Trick's "Surrender." You know what I mean.

 
Kiss kiss,
JDX
*After the act, Murray Hill stuck them back on, and Kitty leeeeaned back far enough to walk offstage without them falling off of her.
J.D. Oxblood is co-founder and Editor-in-Tease of BurlesqueBeat.com. His burlesque writing has also been seen in Burlesque Magazine, 21st Century Burlesque, and Zelda. His academic work has been seen in Borrowers & Lenders. Follow J.D. Oxblood on twitter.
All photos ©2013 Melody Mudd for Burlesque Beat. Please respect copyrights and contact melodymudd@gmail.com for permissions. Performers may use shots for promotional purposes, but please credit properly with photographer's full name and a link to this piece in all instances. Performers who would like hi-rez images, get in touch.