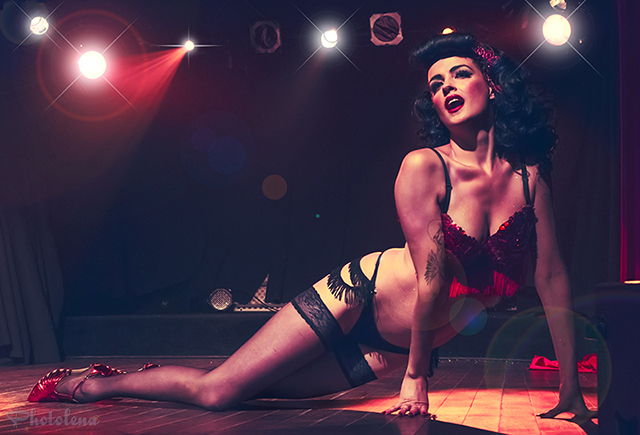 by Photolena
September 15, 2013
Revival Bar, Toronto
Every year, Great Canadian Burlesque – and the Canadian burlesque community as a whole – inducts one (or two) of their own into the Great Canadian Burlesque Hall of Fame. Of course, with a community as dramatic as this one, there's really only one way of doing a proper ceremony of this caliber. You have to throw a fabulous event filled with performances from some of the best and freshest faces out there and throw in a couple of existing Hall of Famers just to mix it up a bit.
This year's ceremony – and celebration – was a titch different as Mysterion and his crew over at the burlesque museum gave everyone a sneak peek at the ongoing curation of burlesque paraphernalia, articles, and timelines covering over a century of burlesque history. On display were original show posters, matchbooks, rare autographed photos and enough burly-q ephemera to make everyone crave more, more, more!
And what better location for this show – dubbed History: Timeline Live – than at Revival Bar in Little Italy, one of the first venues in Toronto to allow burlesque to thrive in its rebirth. The show's title refers not only to the history of Canadian burlesque and the museum pieces on site, but also to the theme of the evening, with performance showcasing striptease from Klondike days of the Canadian north to modern times.
Several past inductees into the Canadian Burlesque Hall of Fame took to the stage to remind us of all the many reasons why they've received this honour as they showed the audience just how it's done. Tanya Cheex is well known for her dramatic and creative acts and her Chimera routine definitely fits that bill. Sporting a huge set of blue and golden horns (not the first of her costumes to have them – I think she really digs those horny beasts!) and complete with long pointed tail, she came at you like a true rock powerhouse. By the time she ditched the satiny cape, horns, and cinched-tight corset to expose the stunning landscape of tattoos, you're already in her thrall.
Halifax's Miss Cadence is always a joy to watch on stage and a picture of pure feminine beauty. To quote my dearest as he caught her photo as I was editing it – "Who's the hot chick with all the curves?" And boy, does she know how to work those curves too! With a flowing silky red costume to match her silky red hair, this she-devil had everyone bedazzled right up to the last red hot pastie reveal.
Sauci Calla Horra – of Toronto's well-known Skin Tight Outta Sight troupe – has a real knack for dramatic burlesque. Beautiful costumes, melodramatic stories… well, except when she's having a ball being absolutely silly. She's multi-faceted, you can't fault a girl for that. Her spanish dancer routine was all reds and blacks, right down to those killer red heels (seriously, where did you get those?) and up to the red rose in her hair. This gal knows how to throw in those sensual latin moves that all the boys (and the ladies) like.
It's always a treat for me to watch Miss Mitzy Creme perform on stage. Her acts are full of innocence – like watching a pinup on stage. From the cheesecake pouts to the gorgeous frills and feathers, I can just imagine her as a Vargas or Elvgren model. Her routine of the evening had her in exactly one of those outfits – all pink petticoats and frills, black eyelet lace-up boots and matching pink parasol. So damn pretty – but it's always the most innocent looking ones that get on stage and do naughty striptease down to their pasties, right?
As well as the former Hall of Fame inductees, we were entertained by some of Ontario's best and brightest burlesque performers. One of my favourites of the evening was Toronto's Laura Desiree. Creator of cabaret company Vamps Like Us, this "Big City Kitty" was all old school burlesque – a true Bettie on stage! Tall, gorgeous, classic beauty, and moves that could drive you mad! To me, the better the overall act, the harder it is for me to pick from all the photos, and this one had a ton! This act reminded me of old Hollywood movies – with the big show stopper, the singer/dancer with the great costume and equally great moves. Like a half cup of Bettie Page, a half cup of Cyd Charisse and a tablespoon of striptease!
Great Canadian Burlesque's Fionna Flauntit put on one of the most energetic and fun acts of the evening with her Klondike set. Coming on stage all covered up thick wooly gear to keep herself safe from those bitter northern winters, she sloughed it all off to reveal a fabulous saloon dancer costume underneath. A full skirt with layers was perfect for high kicks and twirling around – you bet just one glimpse of those gorgeous ankles and knees would have sent a gold miner into a tizzy back in the old day! I always love when Fionna gets down to the nitty gritty stripping and teasing and I get to see those luscious tattoos of hers. OK, so you could say I have a fetish of sorts…
Sometimes you just need a kickass belly dance to get you into the mood – and Karen the French Swan really delivers on that one. Her brand of alternative belly dancing is one that I absolutely love. We have all kinds of belly dance here in Toronto – traditional, rockabilly, alternative – and Karen's knows how to perfectly pair harder rock and alternative with her moves. Did I tell you how she has this wicked tattoo on her abdomen?
The most entertaining set of the evening has to go The Harlettes. There aren't that many live action Mike Meyers movies that I truly enjoy, but the Austin Powers series is definitely in there (although I still think So I Married An Axe Murderer is his best, but I guess it's hard to do burlesque to). Plus, the theme song – "Soul Bossa Nova" – you know the one that goes da-dada-da-da da-dada-da-da da-dada-da-da… is so damn catchy once that musical earwig gets in you, it's never getting out (aw, too late, right?). Watching the troupe (minus Rouge La Rouge) perform as 2 go-go dancers with Chow Mein as Austin Powers was truly hilarious. I won't ruin it for you – just look at the photo – but I did not know you could make chest hair pasties. 'Nuf said.
The big event of the evening was not only the induction of Mlle Oui Oui Encore into the Burlesque Hall of Fame – but surprise, also the induction of Roxi DLite! Roxi could not attend due to event conflict but Oui Oui was there and so ecstatic to receive her award, which included a beautifully framed photograph by Ruth Gillson. Founder of Blue Light Burlesque in Montreal, she truly personifies classic burlesque in Quebec and deserves her spot in the Hall of Fame! Lucky for us, she didn't come all the way to Toronto just to get the award – she also graced us with a fabulous performance as well. In true Oui Oui style, her neo-burlesque act was reminiscent of grand old Hollywood. Soft and silky in pink and black, she painted a pretty pinup picture as she daintily went through layer upon layer of frills, feathers, and sheer fabric to the delicate and intricate garter and stockings underneath. So many bows! So many ribbons! This is what makes her so magical – this attention to detail, adding more and more notions until her costumes are just perfect!
Huge kudos to all those that I didn't have a chance to mention (so little room, so many photos!): Koston Kreme, Ava Noir, DeeDee Starr, Natalia Rose, Chaos Divine, Paige Turner, El Toro, Lucky Minx, Violetta Vixen, Dolly Berlin, Glamour Puss Burlesque and our emcee for the evening Great Canadian Wolfman. Fabulous performances by all!
More coverage, photos and stories from the Toronto burlesque scene.
Donate to the Canadian Burlesque Hall of Fame.
Olena Sullivan (Photolena) is a Toronto-based model and performance photographer who specializes in onstage burlesque photography. All photos ©Olena Sullivan-Photolena and used here with permission by Burlesque Beat. Performers may use shots for promotional purposes, but please credit properly with photographer's full name and a link to this piece.