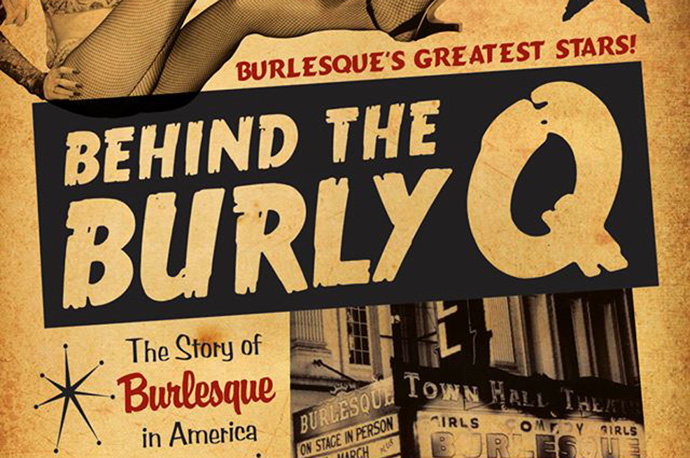 Introducing The Burlesque Bookshelf
A few years ago, I was casually chit-chatting poolside at the Orleans during Burlesque Hall of Fame weekend with Julie Vogt, aka Dr. Uberblonde. She suggested that she would really like to contribute to Burlesque Beat with an ongoing series called "Burlesque Bookshelf." The idea was simple: review and commentary on the various books about burlesque. Even as Julie suggested it, she quickly admitted that there never seemed to be enough time for everything. We all know that feeling. For Julie, it was, sadly, all too true: She passed away on December 4th, 2011, at the tender age of 38.  She is survived by her husband, Todd, and son, Miles.
Part of Burlesque Beat's founding mission statement was to create a historical record, something Julie also believed in. She was assistant professor of Fine and Performing Arts at Colby-Sawyer college, and her archive on burlesque performance, gender issues, and Ann Corio are now held at the Jerome Lawrence and Robert E. Lee Theatre Research Institute, Ohio State University in Columbus. Those of you with memories or photos of Julie are encouraged to send them along to her family, who are creating a book of remembrances for Julie's son, Miles. 
In her words:
"I am proud of the creative and personal risks I took in the theatrical, burning man and burlesque communities. In the writing I leave for [my son] I will impart my thoughts about moderation and finding the boundaries between exploration and decadent self-harm. I'm also confident that my life as a scholar and teacher will be part of the collective memory as part of the balance. It's been a remarkably rich life…." —Julie Vogt, November, 2011
Over here at Burlesque Beat, we never stopped remembering Julie, who was an energetic early supporter of our fledgling publication, and we never stopped thinking that a "Burlesque Bookshelf" is a good idea. We're happy to bring you our first installment, written by Elsa E. Sjunneson-Henry, aka the Swedish Housechild.
With great humility and respect, we would like to dedicate this column to the memory of Julie Vogt. (Please cue the smashing of a nice-but-affordable sparkling wine across the masthead.)  —JDX, 2013
*This piece contains affiliate links. If you click and buy, we get a cut of the sale.*
Behind the Burly-Q, by Leslie Zemeckis
review by Elsa E. Sjunneson-Henry
In the long and comprehensive list of books about the history of burlesque, I cannot think of another that uses the words of actual burlesque performers from the golden era on every single page. For that, Behind the Burly Q: The Story of Burlesque in America
 by Leslie Zemeckis, is well worth a read for any scholar, performer, or fan. The intense and painstaking work that Zemeckis put into researching this book (and the accompanying film) gives us a chance to hear about the history uncensored and unglamorized.
For example, not everyone in the book is proud of their history with working in burlesque. Beverly Arlynne says that "I was embarrassed and humiliated about my past. If I had a daughter in burlesque, I'd be upset." It certainly changes the rhetoric of burlesque from that of "everyone loved it and wants to keep performing," to that only some people really loved doing burlesque, while others wished they could hide their past forever.
I specifically appreciate that there is no gussying up of the history. Women's stories are told: The hard work, the scary parts, the illegal parts. Often we try to make the history of burlesque look glamorous, washing away the grit and replacing it with glitter. This history does not censor itself, but allows every story to tell itself.
While women like Joan Arline speak of their hard work and their desire to make money (and she did!), women such as Lily Ann Rose talk about being arrested and regretting the choice to take off their clothes rather than pursuing other dreams.
It is certainly a broad and sweeping history. Varied opinions, circuits, and performers are scattered across the page, which sometimes makes the narrative a bit difficult to follow. The tendency towards extremely short chapters to delineate subjects isn't always as effective as longer chapters on broad subjects.
Not only does Zemeckis talk about the peelers and strippers, but she also covers the history of the comics and the producers—the men of burlesque also tell their stories within the pages of this book—which is a rare thing. Typically the women are the center of the tale, while the men are relegated to perhaps a page, if that.
Because there is a companion film to the book, Behind the Burly Q- The Story of Burlesque in America
, there are a myriad of archival photos peppered within the pages, giving us a glimpse into the imagery of the burlesque world. Photos of Joan Arline performing a bit with a comedian prove that the burlesquers did more than just remove their clothes.
I do, however, have some issues with the book. I wish that the histories of women of color were better included in the book, rather than relegating Jean Idelle and Toni Elling to the chapter titled "The Exotic Others," which takes up approximately 6 pages of a 306-page (not including indexes and appendices) book. The histories of women of color are important, and we should take the time to interview these women, and give their stories as much weight and worth as the white women whose histories take center stage. Given the extensive research done for this book, I was disappointed by the lack of their stories. I am also disappointed in the tokenization aspect of including Daisy & Violet Hilton (the Siamese twins whose lives were immortalized in the musical Side Show).*
My other quibble is that I would wish for a better citation system. Footnotes would have made this book much more accessible for historians, rather than having to dig into the quote section in the back. Given the wealth of information contained in this volume, I can envision graduate students pawing through the pages of this book, back and forth, until they finally line up the quote with the snippet of quote in the appendix.
All in all, Behind the Burly Q is an excellent addition to any at home burlesque library, and one which should be read by any and all who wish to know more of the history of the art form.
*Full disclosure: Leslie Zemeckis also directed Bound by Flesh, a documentary about Daisy & Violet Hilton, which has been screened at various film festivals in the last year. —ED.
Elsa E. Sjunneson-Henry (aka the Swedish Housechild) is a burlesque scholar and feminist theorist who reads every book she can get her hands on. She can be found writing & running Feminist Sonar.
Hi! If you purchase anything by clicking on any products we link to, Burlesque Beat will get a cut of the sale, and we wanted to make sure you are aware of that. Thank you!
BUY THE BOOK… BUY THE MOVIE…