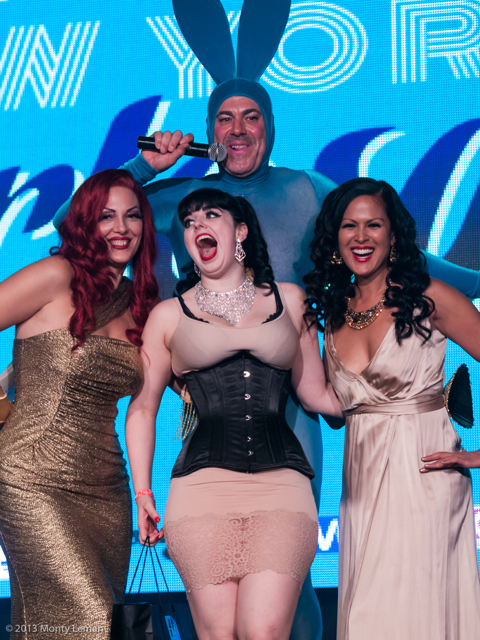 Photos by Monty Leman
Intro by J.D. Oxblood
September 29, 2013
Highline Ballroom, New York
I take Sunday off. So fucking sue me. Sunday, I'm in the audience, having a steak with my wife, nursing my hangover (ie, drinking vodka), and enjoying the show. I'm not carrying a notebook. But I did witness some moments on Sunday that I didn't need a notebook to remember. 
Trixie Little and Mr. Gorgeous did a fairy tale-inspired princess/Prince Charming bit that brought the house down—a duo acrobatic routine with an eye-popping sequence of lifts and holds. The first was pure magic, as Trixie rose up, standing on Gorgeous's hands; and the last, a hold, and a dramatic fall—group breath inhale—and catch, drove everyone crazy.
Kitten N' Lou, who just moved to New York, did a breathtaking suicide-pact act—yeah, I'm fascinated by suicide, and what a way to conceive of an act: Drano, "Last Dance," and some disco. This was the tightest unison choreography I've seen in a long time. I'm hoping their arrival in NYC will help squash the pervasive (and flawed) belief system of: "Well, I'm showing my tits, so it doesn't matter if the choreography's sloppy."
Shout-out to Boo Boo Darlin', whose gracious recovery to a wardrobe malfunction was the distilled essence of burlesque. Ignored the premature drop of an item, and then mimed removing it when the proper time came. Fucking brilliant.
Perle Noire wasn't on the bill, but her acceptance of "Hottest on-stage bitch face" was nothing shy of a performance par excellence. That face is bitchy. And HOT. And if you know her at all, you know it's a put-on. And then she showed us the nonchalant sideways slide, dragging a foot and looking down, mewing "shooes," and put everyone over the edge. Perle's two minutes onstage was a New York Burlesque Festival lagniappe. For full Golden Pasties results look here, and yes, Bunny Buxom took "Hottest Freshman." Obs.
We had a surprise visit from a ringer:  Jessica Pimentel, from Orange is the New Black, presented the "Most Likely to get cast on Orange is the New Black" award to Hazel Honeysuckle, who's already been on Boardwalk Empire and on House of Cards. 
We ran out to hit our 4th annual NYBF afterparty, co-hosted by Erica M, who gave away 50 pairs of fantastic stockings.
See you next year,
Kiss kiss,
JDX
Enjoy! Want more? Check out all our burlesque festival coverage from all over the world.
All photos ©Monty Leman, and used here with permission. Please respect photography copyrights and do not use images without obtaining explicit permission.