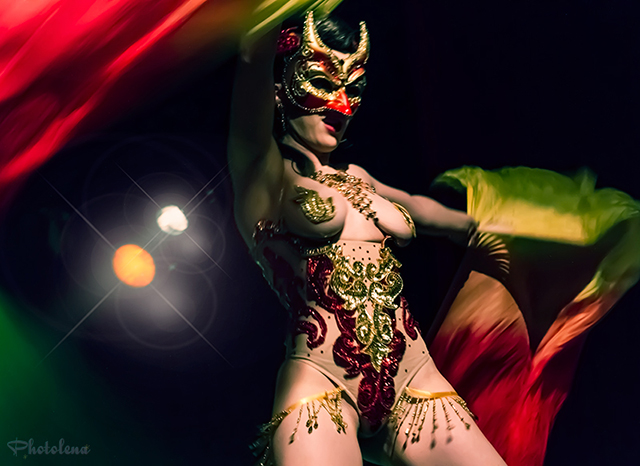 by Photolena
October 17, 2013
Revival Bar, Toronto
So I've never been to a burlesque/pinup pageant before but what a great idea! The fabulous gals over at Missy/Ink Magazine (http://www.missyink.com/), whose motto is "Femininely Bad-Ass and Sincerely Sexy", put out the call through social media for contestants and we were treated to a night of burlesque performances and 3 rounds of pageantry from 15 beautiful pin-up hopefuls all vying for a chance to win a feature interview in the magazine, among other great prizes.
Our judges for the evening were from all over the burlesque and pin-up realm and included Dana Brushette, associate editor and head of photography for Missy/Ink; Larissa of Blonde Moxie Makeup, Toronto's go-to makeup and hair diva; Mysterion, Canada's foremost mentalist and fab burlesque producer; and Rick Frayne.
ROUND 1: DRESSES
(15 contestants)
Let's get to know our contestants, thanks to the insightful intros provided by hostess Dolly Berlin…
Laura Desiree is known around town as the Big City Kitty and began her cabaret career as a Go-Go dancer in the dive bars and colourful drag clubs of lower Manhattan. She polished her skill and persona under the careful guidance of the New York School of Burlesque and pulls lifelong inspiration from the likes of Marlene Dietrich and Miss Liza Minelli.
Jillian Allen, known as the "Jill of all trades," is a model and movie extra and entered this pageant to put herself out there for Missy Ink and the world!
Orillia's own Gabrielle Jensen is not only adorable but is also a handywoman who works in construction and installing glass. She loves reading horror comics and hanging out with her family and best friend Vin the Pug.
Canadian born, but of German and Croatian heritage, Natalie Kristel is a model and actress who strives to promote a positive body image for women through her work. With a degree in journalism, a diploma from the New York Conservatory of Dramatic Arts, and nearly 10 years of experience in front and behind the camera, doing everything from acting and modelling to writing and photography, she is an uninhibited, modern day femme fatale reminiscent of classic Hollywood beauties.
Red Vixen, named for her red hair, lived most of her life as a tomboy and started doing pinup to take the opportunity to play the girly girl once in a while. Being plus size, she hopes to show people not to fear doing something you love or have always wanted to do just because of what others might think, because really—Who cares?
Reanne Villeneuve is a makeup artist who also does special effects makeup, oil wrestling, and is a fitness and pin up model who has done work for local clothing lines and aspires to work a runway.
Celladore Violet is a burlesque performer, pinup model, artist and seductress who diligently studied the fine art of tease at the Toronto School of Burlesque. She enjoys lacing (and unlacing) corsets, wearing clothes only when absolutely necessary, and believes world peace can be achieved by a simple stocking tease. She sees everything as an elaborate art piece, which is why she decided to create her own pop art-inspired dress out of nothing but paper (and a dash of eccentricity).
Toronto's Cheesecake darling Knox Harter is a classically-trained dancer with a BFA in Performance Dance from Ryerson University and has extensive training in ballet, contemporary, jazz and musical theatre, which has parlayed into exciting opportunities performing with DivaGirl, Nuvo-Burlesque, the Bombshell Beauties, and Love Letters Cabaret, of which she is an original member. She also teaches at the Toronto School of Burlesque and performs in Toronto, Ottawa and Montreal.
Kitty Meowdows has sparkling blue eyes and can't-miss-it cotton candy hair! Kitty likes dressing up in costumes and anything cute or creepy. In her free time this kitten enjoys painting, doing special fx makeup and watching too many cat videos online.
Born out of power chords and red wine, Red Zeppelin is the rock n' roll bella. A pinup photographer, rock n' roll journalist, burlesque dancer and party thrower, all her musings on love and music can found at NoPantsSociety.com. Until then: Keep Calm and Take Your Pants Off.
Corey Major is a medical laboratory technician at Bluewater Health in Sarnia… except on Fridays, when she's a level 5 elf sorceress character in dungeons and dragons. She also currently runs a blue & black zombie EDH deck in magic:the gathering, and considers herself a bit of a horror movie buff. She's a classically trained musician with almost 20 years experience, and can always be picked out of a crowd thanks to her love and near obsession with sporting the vintage pin-up look every day.
Leah Licious is a Toronto model who has been featured in the pages of Auxiliary and Missy Ink Magazines and on F.A.T. And Montreal Fetish Week runways. By day, she works as and Autism Behaviour Therapist. Leah has a penchant for singing, and is the lead singer for Toronto based rock band, The Wild Darlings.
Born in Sundre, Alberta, Sam Mansbridge is a single mom, tattoo artist and aspiring model. She's always looking to take on new experiences, as it's a long way to the top if you wanna Rock N' Roll.
Lauren Starkiller is a personal trainer living in Toronto. She's a singer/songwriter and piano player who started tattoo modelling 6 months ago and instantly fell in love with the quirky and expressive world of pinup! She loves to bring the vintage/rockabilly style to her music.
Pastel Supernova is an uninhibited artist who uses her femininity as the prime stimulus for everything she creates. Professionally trained in classic dance she makes a living teaching Lady Lessons, how to walk in high heels & creating naughty ballets for her company, Love Letters Cabaret. She is the atomic bomb inside your heart.
And there they are, our contestants for the first Missy/Ink Magazine Pin-Up Pageant burlesque show. While the judges went into deliberations to narrow it down to just 8 contestants based on just first impressions (there wasn't any talent or speaking involved this time around—you just had to be able to walk, hold yourself confidently, and look good), we all took a break for intermission to make our own guesses as to who would be moving on to the Talent Round.
ROUND 2: TALENT
(8 semi-finalists)
As we said goodbye to contestants Jillian Allen, Gabrielle Jensen, Natalie Muhnditch, Kitty Meowdows, Red Zeppelin, and Sam Mansbridge we readied ourselves for what I hoped would be some interesting talent from the semi-finalists.
Laura Desiree started off the talent round with something we're are all familiar with—burlesque. I love Laura's burlesque—it's sensual, erotic, slow, and pulls you in. This routine was no exception. It was like watching an old classic with white furs and gorgeous ball gown. I couldn't stop snapping photos. This is why she's so fabulous at what she does.
You haven't been to a pageant show until you've seen Red Vixen, looking so pretty in a strapping retro dress, put on a yellow hard hat and nail together a birdhouse on stage to some awesome burlesque music. Put that in your pipe and smoke it, Miss America!
Celladore Violet got everyone hot and bothered with an interesting little routine that had her stripping down, putting whipped cream all over her bare chest and then…she.. what now? Hey, what's she doing with her mouth?
Knox Harter, trained as a classical dancer, merged old and new in her ballet routine that had her kicking up her heels and pulling up her skirts to a fresh new soundtrack. I don't think ballet dancers wear stockings and garters, but they should! Makes it much more interesting.
Corey Major surprised everyone when she brought out a trombone to play as her talent! All dolled up in a pink polkadot dress and belting out a tune on this big instrument. That was very cool—kudos to you!
Leah Licious showed everyone that she's not just a pretty gal with pink hair when she belted out Bjork's It's Oh So Quiet. It's not easy to sing live on stage and I've watched some burlesque performers/singers get better and better over the years and Leah did a good job up there. Sure as hell not something I could ever do—I can't even get the courage up to karaoke.
Lauren Starkiller also took to song with a lounge rendition of Michael Jackson's Thriller. I'm a huge fan of Richard Cheese and his lounge versions of popular music—even metal—but I'm still on the fence whether this song works all lounged up. Fabulous effort and gorgeous pink/purple haired gal 'tho.
Last contestant Pastel Supernova is known in Toronto for her fiery style of burlesque and she brought that to the stage for her talent portion. She blew everyone away as was expected. I am a huge fan of her work and she didn't disappoint.
Between judging we had burlesque intermissions and were entertained by Frenchie Fatale, Zilly Lilly, Mitzy Cream, Luckee 13, Bianca BoomBoom, Belle Jumelles, and Esther DeVille all with great burlesque performances. One of the three that stood out for me was Frenchie Fatale's devil look set that was accentuated by two gorgeous long silk panels that cut through the air like fire. She looked stunning in her red and gold sparkle outfit. The second was Zilly Lilly—a new one for me—who did a haunting set as a slowly unravelling mummy. It was slow and sensual and had me mesmerized throughout, even when it busted into the Ghostbusters theme as the end as she was hunted down. And the third was the finale of the evening – an amazing devil's bride performance by Esther DeVille. She came up the middle aisle wearing a wedding gown with an inverted cross on the long train—wow!!! As she stripped and writhed on stage like a demon in heat, the audience waited with bated breath for what was to come. There was a plastic sheet on the stage—that always means something messy… this time it was blood (chocolate?). She poured it all over herself then slid through it like a snake, caressing it all over her skin. Yowza!!!
ROUND 3: QUESTIONS
In the final round, the 3 finalists—Pastel Supernova, Laura Desiree, and Corey Major were asked 2 questions by each of the judges on the panel. Nothing too complicated, just meant to delve deeper into their character and soul. I've never been fond of this part in pageants as I don't know if you're really getting them in the answer or what they think you want to hear. It's like Jeopardy. Clock is ticking….answer…answer…answer!
WINNERS
At the end of the evening, when all was said and done, we finally had our winners:
2nd Runner Up: Laura Desiree
1st Runner Up: Pastel Supernova
Winner: Corey Major
Olena Sullivan (Photolena) is a Toronto-based model and performance photographer who specializes in onstage burlesque photography. All photos ©Olena Sullivan-Photolena and used here with permission by Burlesque Beat. Performers may use shots for promotional purposes, but please credit properly with photographer's full name and a link to this piece.