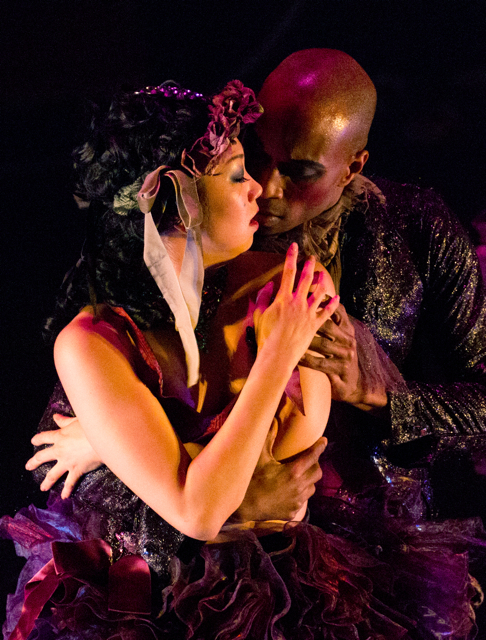 by Will Kenton
Conceived, directed and choreographed by Austin McCormick, with a script by Jeff Takacs.
Minetta Lane Theatre
November 30, 2013 to January 5, 2014
'Tis the season for nutcrackers. And wiseacres. And ballbusters. Manhattan has its perennial version of the Christmas classic on at Lincoln center, and Brooklyn can boast its own rendition this year at BAM. In all, you can catch no less than five straight renditions of the story about the wooden toy and the little girl in NYC 2013.
But what's the fun of seeing a (boring, old, white) straight version when you can see something a little off-color? Austin McCormick, the theater empresario who brought you Judge Me Paris at the Bond Street Theater in Brooklyn, has mounted a spin-off (not to say parody) of the Russian classic at the Minetta Lane Theatre aptly titled Nutcracker Rouge.
The name tells you it is another iteration of the holiday ballet, but it also recalls the Moulin Rouge and the dark, seamy side of the late 19th century. Highbrow meets lowbrow; tutus and point shoes meet steampunk and grand guignol. The stage at the Minetta Lane has been transformed with proscenium and footlights into a stately Victorian theatre, and neo-Vaudevillian cigarette boys and girls in skimpy costumes sell energy cocktails (no smokes in 21st century NYC, of course).
Our MC for the evening, the indefatigable Jeff Takacs who also plays Drosselmeyer the magical toy maker, takes the stage to introduce the story. Once again we have Clara and the Nutcracker Prince, but the realm of the Sugar Plum Fairy to which they journey has more in common with Lou Reed than Tchaikovsky. The dancers perform aerial acrobatics and disrobe along burlesque protocols in a series of vignettes that allude to, but depart radically from, the original choreography of the children's ballet.
In one most memorable scene Drosselmeyer, dressed in S&M gear, stocking garters and high heels (a look taken directly from The Rocky Horror Picture Show) and sporting a fearsome-looking bullwhip, leads a dance of sculpted, beautiful young men dressed in black pleather, faces obscured by net-like masks. Drosselmeyer cracks his whip and the boys writhe for Clara.
In another memorable interlude, the dancers enter accoutered with very large silicone strap-ons dangling from their crotches and perform what can only be euphemistically called an erotic dance. Drosselmeyer's add-on is big around as a wrestler's thigh and hangs well past his knees. Dance and witty rhymed verse are seasoned with high flying circus acts and naked flesh. Shelly Watson (as Mrs Drosselmeyer) contributes outstanding vocals in several styles, from blues to popular opera, to round out the entertainment.
Nutcracker Rouge is a fun, hot, joyful experience — not for the whole family (most definitely not!) — for New Yorkers who caught Christmas fever but hope to recover with the right dose of sex and stimulants!
Will Kenton is the Editor-in-Chief of Cultural Capitol and contributes regularly to Frontier Psychiatrist.