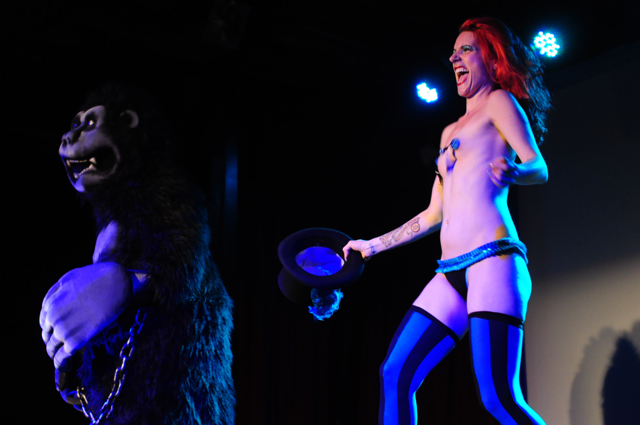 by J.D. Oxblood
The Bell House, Brooklyn
If I haven't said enough nice things about Hazel Honeysuckle lately, in Wasabassco's KONG she proves that she's ready for leading lady roles. After impressively filmed black and white credits and an opening act from Evelyn Vinyl—all sinew and swivel—Hazel took the stage (by the throat) as a blonde. A ditzy one, at that, and performed a purposely terrible striptease. It's always impressive when a female performer is willing to appear purposely unattractive or clumsy, and this was a rare treat.
You know the rest of the story, and here it is, sprinkled with burlesque acts. Of noted hilarity was a "girlspeak" bit with the natives on Skull Island.
But the true gem was our heroine Hazel dancing a romantic pas de deux with a giant ape hand. Brilliant, and traditional—who doesn't remember Fay Wray screaming in a giant ape hand? This is low-fi special effects mocking low-fi old-school special effects, with a grin and a wink. (Obviously a wink; that's Sapphire Jones as the Hand.) We work up to sheer surreality as the sultry Penny Wren performs as the Empire State Building. Don Spiro army-man-walks a miniature ape doll up her body—now that's some good high-concept ape shit.
Serious high praise must go to the craftsmen who constructed the model city at house right, complete with light-up signage, toy cars, the works. And serious criticism must be levied at the decision to allow Kong, in the climax of the show, to completely destroy it out of view of 90% of the audience. I had anticipated that it would be filmed, projected live onto the stage, and that Kong would move in exaggerated slo-mo. It's a gimme, right? Live person in apesuit, miniature city—a perfect scale movie. And maybe an instant replay. Didn't happen. Those sitting house left saw nothing, all too quickly. Next time around, this is the moment that needs fixing.
Looking for that absolute groaner to close the show? Delivered. Nasty Canasta: "'Twas boobies that killed the beast." Curtain.
KONG. They're doing it again on January 19th. Go see it. Brought to you by Wasabassco Burlesque, Nasty Canasta and Wit's End.
J.D. Oxblood is co-founder and Editor-in-Tease of BurlesqueBeat.com. His burlesque writing has also been seen in Burlesque Magazine, 21st Century Burlesque, and Zelda. His academic work has been seen in Borrowers & Lenders. Follow J.D. Oxblood on twitter. 
All photos ©2012 Melody Mudd for Burlesque Beat. If using, please credit properly with photographer's full name and a link to this piece in all instances.