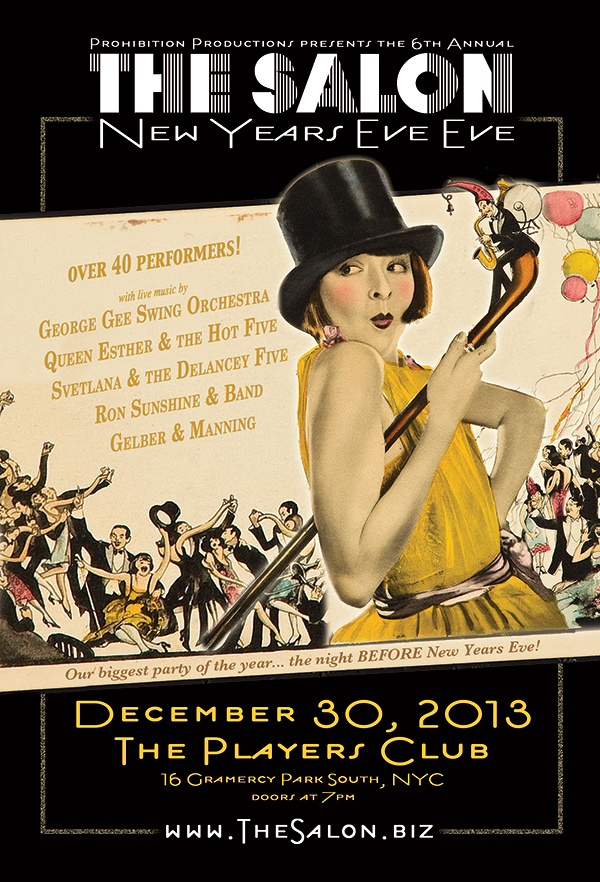 We all know the Soluri Brothers' vintage inspired events are a blast, and the New Year's Eve EVE Salon is his biggest vintage party of the year.  Back at the historic Players Club after a four-year venue hiatus, Prohibition Productions presents the 6th annual New Years Eve Eve Salon. And if we were in town, that's where we'd be.
The spectacular lineup of entertainment to grace the many different rooms and floors of The Players Club that evening comprises more than 40 performers, including 5 bands, dishing up live swing, jazz, vaudeville, big band and blues tunes. But don't get stuck in one spot; try to soak up as much as you can of the evening's tap dancing, classic burlesque, vintage performers, craft cocktails, fabulous atmosphere, and so much more.
To top it all off, this beautiful private club on Gramercy Park is celebrating its 125th anniversary and a snap shot of grand old New York, whose members included luminaries such as Bogart, Bacall and Sinatra. How cool is that.
Don't have tickets yet? Well, advance tickets are already sold out, natch, but there will be limited tickets available at the door. So get there early because the first two dozen people at the door will definitely get in, says Patrick Soluri on their facebook page. They're also going to do a late night special for $20 at the door after 11pm (based on capacity).
So put on your best vintage, check out ticket updates on their facebook page, and head out to The Players Club for The Salon on December 30th. Get your party on,  have a late night, and stay home in your PJs on New Years Eve. It's amateur hour.
For more info check out The Salon website and check out previous coverage of Soluri events to whet your appetite.