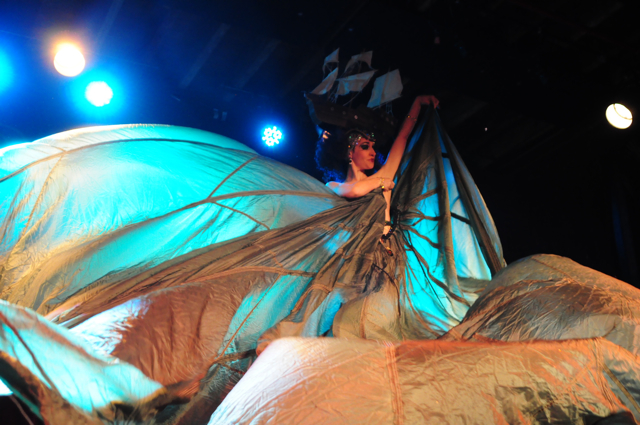 by J.D. Oxblood
Photos by Melody Mudd
Friday, November 8, 2013
The Bell House, Brooklyn
Doc Wasabassco is quite possibly the largest employer of both visiting and native-to-New York burlesque performers in this fine city—with multiple shows a week, he creates a lot of work. Every year, he gathers his faves for a throwdown to celebrate his anniversary, and 2013 was no exception: 2 nights at the Bell House. It's hard not to notice the serious loyalty that Doc has working with his fans—they love his shows, and he caters to them. Right off the bat, Doc took the stage and called out a birthday girl (Elizabeth) whom he'd met for 5 seconds in the lobby before the show. That's called class, kids.
Opening a cold house, gogo Cherry La Voix worked it feverishly, sweating for dollars and getting the crowd ably greased up. The first act was a big circus opening, with multiple players working multiple angles, entering from the house and gathering loosely on and around the stage, climaxing when Marlo Marquise blew giant fireballs. Leaving the stage wet with residue. Which took a while to clean up. Doc admitted, laughing, that they were off to a "rocky start," but said he would bribe the press (read: me) with shots so that we wouldn't remember. Well, no one ever bought me any shots.
Rocky start or no, there's always something to love. The crowd was quick to go nuts for Nikki Le Villain's giant boa–not the kind made out of feathers, and Mr. Gorgeous—also animal-friendly here with a parrot (not real) on his shoulder—routinely brings the house down. Plus we got a rare appearance by burlesquer-turned-tattoo artist Scarlet Sinclair (rockabilly; charming). I was fully mesmerized by Jenny C'est Quoi, who wore a stage-size skirt being pulled from four sides by assistants, creating a turbulent ocean upon which rode the ship-shaped headpiece atop her head. She rose quite theatrically (hidden ladder), and soon filled the stage completely with her ocean. She removed her top, and managed a skillful tassel twirl—while standing on a ladder, while barely moving her body. Points for difficulty. And the ocean dropped down dramatically for a full reveal.
Vikki Likkerish, who often visits from Boston for Doc's anniversary, strode on with dazzling red hair, a blue dress, polka dotted shoes and fishnet stockings, to Alannah Miles' "Black Velvet." Sultry and Memphis-ized, she cools herself with a wet sponge to her chest, and then rubs it on her shapely legs—wiping off her fishnets. Yep, it's a gotcha—the fishnets were artfully drawn on, and she wipes them off while stripping down. Slick, and skillfully delivered.
Trixie Little and the Evil Hate Monkey turned in a fetish-istic fantasy made real: Monkey on a leash, being led about by Trixie. This is serious skill in specificity, from the first glove peel—stepped on by stiletto—to the second—bitten off by Monkey, via various coiled leash tricks. After some mutual strips they get into the acrobatics, and Monkey holds her up on his feet while she peels her stockings, flipping her for the second. They manage to play both for hotness and for laughs; as Monkey rises into a handstand, Trixie gently blows some cool air into his crotch.
I finally got to see the relative newcomer Stache Novak in a turn at hosting, which was a little hit-or-miss. He definitely rides that raid of bombing on purpose, which occasionally threatens to veer into unfunny Mel Frye territory, but when he succumbed to the audience's nonexistent requests for a strip, he brought the house down. This isn't a fool playing for hot; this is a desperate character playing for honest laughs. You never saw a big, trailer park slicked-up white boy strip so convincingly to Ellie Goulding. And what do you call RED tighty-whiteys? Tighty-readies? Righty-tighties?
Kiss kiss,
JDX
J.D. Oxblood is co-founder and Editor-in-Tease of BurlesqueBeat.com. His burlesque writing has also been seen in Burlesque Magazine, 21st Century Burlesque, and Zelda. His academic work has been seen in Borrowers & Lenders. Follow J.D. Oxblood on twitter.
All photos ©2013 Melody Mudd for Burlesque Beat. Please respect copyrights and request permission for usage. Performers may use shots for promotional purposes, but please credit properly with photographer's full name and a link to this piece in all instances. Performers who would like hi-rez images, get in touch.