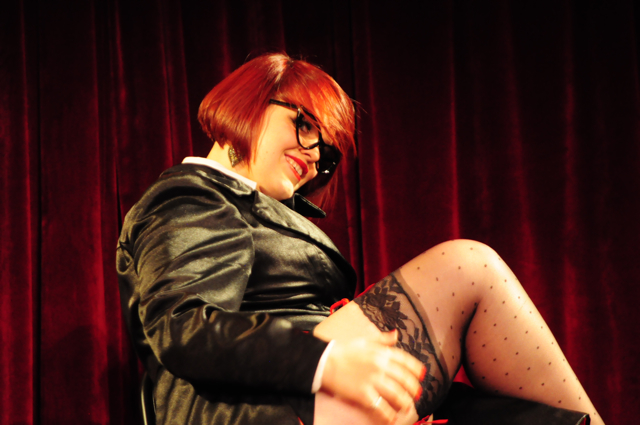 Wasabassco Burlesque: The Ninth Anniversary Show, Night 2
by J.D. Oxblood
Photos by Melody Mudd
Friday, November 8, 2013
The Bell House, Brooklyn
Truly, Doc knows how to book a gogo act, and doing a gogo set before the show even starts is one tough gig—you're warming up an ice-cold crowd—and Penny Wren shook it to the ground, whipping up some kind of improvisational chair act with backbends and full-on street hustle.
Sapphire Jones brought back her bellhop act, set to Mary J. Blige's "I'm Goin' Down." Out of her red kid gloves and out of her skirt, her panties clearly labelled "Lobby," she reveals floor numbered buttons stuck to her tall midriff and "down" arrows for pasties. It's a fun act, pushing the buttons "down" and getting into a chair to pedal her legs. I'm still proud to say that I was there for Sapphire's School of Burlesque debut, with a sausage boa (she still loves acts about food).
And Nasty Canasta told us all about how Sapphire performed this bellhop act the first time she performed with Wasabassco, which I was also there to witness.
Doc's former go-to stage kitten, Mischief Molly, did a fun act in a short skirt and a long jacket to… wait for it… Cake's "Short Skirt/Long Jacket." I will continue to applaud anyone who chooses interesting/odd/unique/not-heard-a-million-times music. Like Cake. Why isn't anyone doing "He's Going the Distance." He's going for speed…
Like Go-Go Harder. Go-Go is one I've so enjoyed watching blow up. He was always good, he was always cute—but he's truly come a long way and is now something like "amazing" and "crazy hot." Or, as my shutterbug Melody Mudd said: "Go-Go Harder is the hottest man in the world." I challenge anyone to argue that position. But this one… ok, he was a wiener. Started out with that "Oscar Meier Wiener" song, which I think he's too young to remember from TeeVee. But for reals, he had a giant fucking hot dog on his head. And then a cowboy outfit. And stripped. And waited until the bitter bitter end to take off the wiener—and get everyone screaming when they saw his cute face. And his hot buns, being shaken to LMFAO's "Hot Dog," natch. And he did push ups. But check it—he stripped off his jock, brought his hat from his head down to cover his junk, WHILE jumping to drop to the splits. All at once, quicker than you can polish off a dirty water dog in midtown, with mustard and slaw. Killer.
Hazel Honeysuckle wowed in a variation of the badassness we saw recently at Le Poussin Rouge, and Gal Friday stunned in her glorious flowered skirt, sultry and amazing as ever.
But one of my favorite acts of the evening was Boo Bess, the Runaway Starlet, with an act she designed for Storybook Burlesque's Weimar Moby Dick show, depicting the death of Ahab. Cutting a dramatic figure in a top hat and peacoat dress with a rake of blonde curls, one foot covered by a white knee-sock, she pulled on a rope with a man in white pulling just offstage at the other end. All drama, winding herself up in the rope, finally pulling the whale onstage, who fed her enough rope to hang herself, and they drew each other close in a tender death embrace. Ahab goes down. I'm doing it no justice—it was haunting, terribly beautiful. Call me, Ishmael.
If I have a criticism of the show—or of the weekend—it's the hosting. Doc likes to change it up, with a different host for every hour, but this year it seemed that too many of the hosts were doing the same schtick: charm and conversation. With few "acts" contributed by hosts and no acts that weren't strip, there was little variety and a whole lot of padding. More hosting than show. I began to yearn for just one host that would get us quickly from one act to the next. And on the plus side, I was grateful for the seats—Doc has brought chairs into a usually seatless venue—but I did hear it suggested that when the venue is SRO, people hobnob more and socialize. Would I mind the long hosting if I were chit-chatting with strangers at the bar? Or is it simply that being "at work" makes it harder to duck out, chat, get shitfaced, etc. Fair questions.
Long windup of silliness to get to the end. Stache Novak proves he's a badass, slowly revealing his mullet. As a security guard fantasizing at work, to "Here I Go Again"—Whitesnake, dude—complete with attacking ninjas and juggling maglights. Hilarious. And Penny Wren, in a giant penguin costume, gets down to 2 Live Crew's "Me So Horny," winding up into booty slaps, belly slides, the worm, a basic break spin and a shoulder stand. And poplocks out of that penguin.
If you didn't know that Doc Wasabassco has a major Wonder Woman fetish, you do now. The cast surprised him with a WW curtain call—cue the entire cast in Wonder Woman outfits. My fave: Go-Go Harder is doing pushups with handclaps in between, and so is Evelyn Vinyl. I asked her about it later, and she said, "Go-Go was doing it!" Like that's a reason. Damn, that chick is seriously badass.
The big news: Doc announced his TENTH ANNIVERSARY show, to be held on Saturday, November 8, 2014.
It will be a one-day event, starting early evening and going late into the night. It will be held in Gowanus/Park Slope at six different venues—Doc is calling it a "World's Fair."  Says Doc, "Shows will repeat multiple times at each venue on the hour. You can see them in any order with plenty of time to stroll to the next venue on your list. There will be a big final show and party at one venue at the end of the night where everyone comes together." Venues are to be confirmed, but you can count on The Bell House and Union Hall.
Six venues? A World's Fair? Sounds crazy, right? But that's why we love Doc—he's unafraid to try crazy new shit.
Kiss kiss, JDX
J.D. Oxblood is co-founder and Editor-in-Tease of BurlesqueBeat.com. His burlesque writing has also been seen in Burlesque Magazine, 21st Century Burlesque, and Zelda. His academic work has been seen in Borrowers & Lenders. Follow J.D. Oxblood on twitter.

All photos ©2013 Melody Mudd for Burlesque Beat. Please respect copyrights and request permission for usage. Performers may use shots for promotional purposes, but please credit properly with photographer's full name and a link to this piece in all instances. Performers who would like hi-rez images, get in touch.