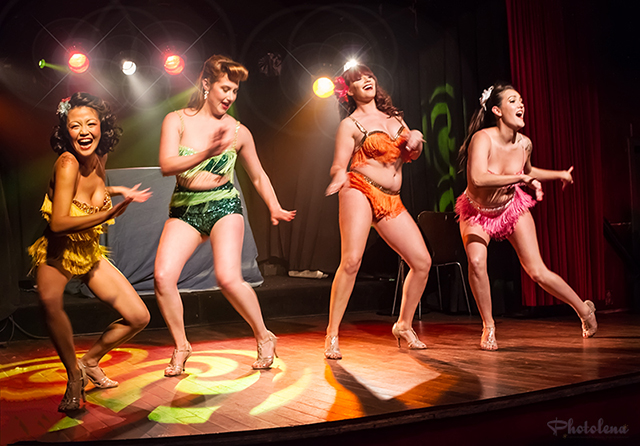 by Photolena
November 10, 2013
Revival Bar, Toronto
On a special day at the beginning of November, we all gathered at the Revival Bar in Toronto's Little Italy district to celebrate local Canada burlesque darlings The Harlettes' 10 year anniversary in the burlesque industry. The Revival Bar was a special location for the show as almost every single show they've had since 2003 has been held at this venue—talk about loyalty! These gals are stupid crazy good at their unique brand of comedic troupe burlesque and the evening promised a back to basics revue with examples of common gimmicks, themes and techniques used in modern day burlesque for an audience of eager students.
One of the things I love about a Harlettes routine is that they don't take themselves too seriously. Their routines are just as elegant and polished as other pro troupes, with gorgeous costumes and immersive storylines—but you get the sense that you're watching 4 sisters on stage, trying their hardest to do the set but inevitably catfighting and trying to grab the spotlight. But as with all sisters, everyone's a BFF again in the end.
Throughout the evening, the troupe went through their extensive repertoire, showcasing some of their favorite numbers and, along with special guests and Professor Wolfman, provided some instruction on classic burlesque techniques such as working the boa, using feather fans, and bump n grind.
The evening started off with a bang with a fast and sassy group number that had the girls on stage in matching fringe bikinis doing the twist, the mashed potato, and the swim. Everyone was jumping around on stage, shimmying around, and the energy of the performance set the tone for the rest of the evening. And what of the "burlesque 101" part of the show—what did we all learn?
The vivacious Laura Desiree taught everyone just how unbelievably sexual a feather boa can be. A modern day Eve toying with the snake, she had it wrapped to her will throughout her act, sensually pulling it along her arms, across her bare back, through her long lithe legs and across the stage floor. Lucky feather boa indeed—it couldn't have picked a more gorgeous gal to get all close and personal with.
The Harlettes' Rouge La Rouge travelled all the way from Texas, where much to everyone's chagrin she now resides, to show the audience how naughty and sexy a bunch of balloons can be. Who doesn't like a little audience participation? I don't know of any hormonally pumped up young man (or lady for that matter) who wouldn't jump at the chance to pop some of those balloons to get a glimpse of what's underneath. And did they ever—those balloons were gone lickety split with the expert prickings of a feather quill. If you've ever seen Rouge perform, you know that she has some of the most gorgeous corsets & garters anywhere and she didn't disappoint this time either—a lovely peach and pale blue number. Yum!
The sexy Sassy Ray, known for both her singing and her burlesque, a double threat, showed everyone that you can have your cake and sit on it too! That's right—sometimes it's just not good enough to come out in the most adorable pink and black fur trimmed corset costume. You just have that need to get extra sugary cute. And Sassy Ray is cavity-inducing sugary sweet already, but when you see her awesome bubbly behind bouncing up and down, up and down, up and down… oh my… on sweet white frosting you get really jealous of that cake!
Of course there had to be someone to show the audience that the burlesque sphere doesn't just rotate around the female form. Luckily for us Dr. Tease was more than willing to do just that, and with a special performance of a reverse striptease! What a treat for the audience, a double lesson in burlesque, an advanced class of sorts. And what a flexible young man—with what I can only guess is an appropriately-sized extra large leaf covering his manly parts, Dr. Tease put on his socks and shoes (yes, before his other clothes, odd!) with the longest of leg stretches that truly tested the staying power of his merkin. How he managed to get his pants on with his shoes intact is beyond me. It was a fun reverse strip.
Charlie Quinn brought many of my favourite elements together in a fun nerdlesque routine—Star Wars, disco, and Sarah Brightman. Yep. I grew up in a disco household—my mother was a huge Boney M fan—so when the music came on for the routine, I had a hard time keeping my camera still while I sang along to "I Lost My Heart To a Starship Trooper" (10 points if you remembered that Sarah Brightman was in a disco group called Hot Gossip before she went all Phantom—here's your earworm for the day http://www.youtube.com/watch?v=1wwilCs4Jqg). It was the perfect song for a Star Wars starship trooper striptease routine, and with someone as hot as Charlie Quinn, that makes for one damn sexy trooper.
The Harlettes' Chow Mein gave some expert instruction on how to use those gorgeous feather fans that we've all come to love in a burlesque show. All decked out in pink with matching pale pink/white fans, Chow had those fans floating smoothly on the air and wrapping her like the elegant wings of a swan.
So what was the big highlight of the evening for me? Was it a troupe performance? A solo act? Actually, it wasn't a performance at all, but a big surprise. Wolfman kept Chow Mein on stage after her lesson on feather fans and talked about how some fans are more devoted than other fans. He then introduced her biggest fan—her boyfriend, whom she met at one of her shows so many years before. After being introduced to everyone in the audience—Hi Adam!—he blew everyone away, well probably Chow Mein more than anyone, by getting down on bended knee to propose. Of course she said yes! Talk about the most romantic burlesque proposal ever. It was in the Twitterverse and well wishes and photos were on Facebook in a matter of seconds. Huzzah for social media.
A big congratulations as well to John Newton. For those who have never met John—and if you have been to a Toronto show, you probably have met him, he's never missed a show—he is Toronto's biggest burlesque supporter. Actually biggest dance, cabaret, burlesque, anything dance related supporter. I don't think he's really missed any burlesque show ever and he promotes every show he can—you'll always find him sitting in the front row or somewhere close, and he's first in line to every show. He was there from the beginning supporting the Harlettes and they recognized him with a lovely award. Toronto's burlesque community loves you John!
What a fabulous evening. Congratulations to the Harlettes on 10 years in burlesque – here's to more creative years to come! And my heartiest congratulations to Chow Mein and Adam on their engagement.
Olena Sullivan (Photolena) is a Toronto-based model and performance photographer who specializes in onstage burlesque photography and covers the Canada burlesque scene for Burlesque Beat. All photos ©Olena Sullivan-Photolena and used here with permission by Burlesque Beat. Performers may use shots for promotional purposes, but please credit properly with photographer's full name and a link to this piece.