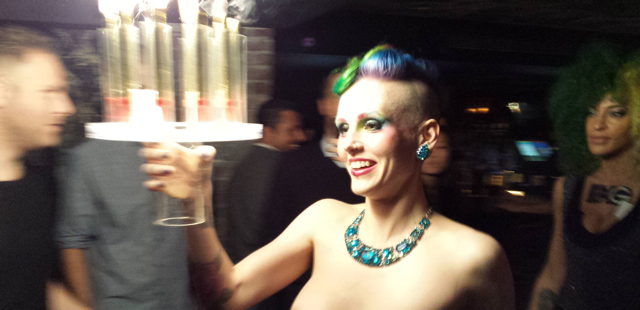 By J.D. Oxblood
Feb. 5, 2014
"And now, for my next trick," sculptor Skye Ferrante seems to be saying, "I'll turn this innocent spool of wire into $10,000." Actually, I have it on good faith that he said something very like that in a recent shoot for Vocativ, at a new residency at The Raven, an event also attended by Vice (it remains to be seen whether they'll snarkily dismiss it).
The idea is simple: Ferrante sculpts a live nude model out of a single strand of wire and then sells the sculpture for $10k. It's listed on the bottle service menu. And the buyer's purchase is celebrated with the lighting of Ferrante's custom-designed 10-sparkler Sparklerabra.
Bottle service is often discussed as a crushing weight on the New York nightlife, but there's no doubt that it allows patrons to display their wealth. This wallet-measuring—for those who don't spend a lot of time sitting in $2500 banquettes— is celebrated by the lighting of a sparkler, which announces to the club who's carrying the most weight in his (or her, but usually his) pants. "There's a competitive arms race in bottle service," says Ferrante, as people want to see what others are spending. "The art must be the most expensive thing in the club," he adds. "There's no way I'm letting an overpriced bottle cost more than my art."
It begs the question: are people really buying art? Or are they just buying the attention that comes with the purchase? "Initially," Ferrante concedes, "it's the sparklers, you're the big cheese. But hopefully it becomes about the art."
I asked the buyer, Lenart de Knegt, a collector of Ferrante's art as well as works by Rauschenberg and Basquiat, if there was an added value to being present for the creation of the work. De Knegt said, simply, "I was present for and have connections to all the art that hangs upon my walls."
While there's room for plenty of snark when discussing the modern club scene, I can only see value in Ferrante's addition, which I would classify firmly in the realm of performance art. In a dark club where the tiny dance area is an afterthought compared to the tables, Ferrante has brought in spectacle, and one that adds both entertainment and class.
In a corner banquette, Ferrante is protected from the onlookers by his security, two tall women with giant colored afros. (Big Hair Girls.) Ferrante's model, in this case, the burlesque performer Madame Rosebud, appears in a dressing gown and removes Ferrante's jacket and pants. He then steps into a mechanic's coveralls (art is a "blue collar" endeavor), removes the model's gown, and then manipulates her naked body into a desired pose. For the next two hours partiers rubberneck as they pass by, catching a look at lithe naked Rosebud and the mechanic at work, hunched over a spool of wire, bending with his fingers and a small pair of pliers, as the bent wire in his hands begins to take shape. Two hours, that's it—and a finished image of Rosebud is complete.
"I always wanted to be a muse," Rosebud said, adding that she considers Ferrante "both a magician and an artist."
With support from creative director Henry Stimler, Ferrante will continue to appear at the Raven, he has his eyes set beyond Gansevoort Street: Las Vegas, with its raging nightclub scene, is next.
I've written previously about Ferrante's success in bringing art out of the gallery and he seems more dedicated than ever. He told me that it's too difficult to convince people to be in a certain place at a certain time, "particularly the people who can afford it." Too much risk in today's economic environment. "I think galleries are passé."
Ten sparklers carried by a naked girl certainly beat the tiny red dot a buyer would see at a gallery.
Kiss kiss,
JDX
J.D. Oxblood is co-founder and Editor-in-Tease of BurlesqueBeat.com. His burlesque writing has also been seen in New York Magazine's Bedford + Bowery, Burlesque Magazine, 21st Century Burlesque, and Zelda. His academic work has been seen in Borrowers & Lenders. Follow J.D. Oxblood on twitter. All photos by J.D. Oxblood. 
*Cover Photo: Model Madame Rosebud With Skye Ferrante's Sparklerabra