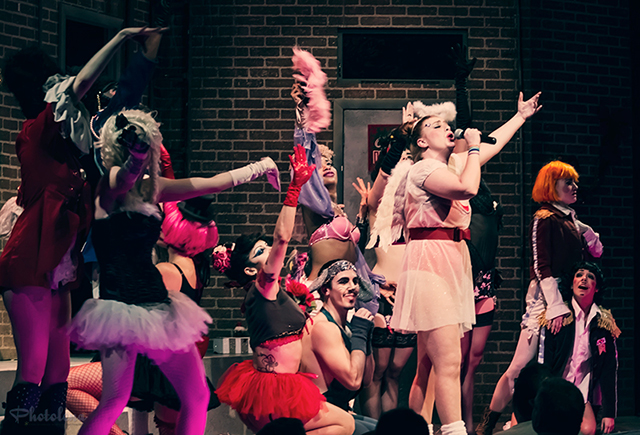 by Photolena
If you've ever watched the old '50s classic "Rudolph the Red Nosed Reindeer," then you heard Sam the Snowman tell the story of how the screwed-up freakazoid toys end up on the island of misfit toys, all depressed and never to be loved. But what about the completely normal but mischievous toys? Those up to no good (mwahahaha…)?
I found out just how much trouble they got into once Santa left for the big toy drop on Christmas Eve when I attended Love Letters Cabaret's "Naughty Nutcracker" at the Second City. As people milled into the venue, sexy rats (yes, sexy!) and elves climbed over chairs and tables and surprised guests as they looked for their seats.
As we all grabbed some sugary boozy drinks to warm us up (it was seriously freezing outside) the rats started dragging the scantily clad life-sized dolls onto the stage and dropping them willy nilly, sometimes in what seemed the most uncomfortable positions.
And then they all woke up…
It was a crazy show from there on out. Dance routine after dance routine—infused with striptease—by pairs of toys to some of the most fun music I've heard in a while. It did remind me a lot of being at the Nutcracker—there was something happening on all parts of the stage while the showcased dancers were doing their thing. You always had something new to look at—it was a feast for the senses from the choreography to the costumes to the music.
And you can't have a Christmas show without angels. Well, at least one really out of it "high on the holidays" super hyper carolling angel. And was she ever into it, just belting out the tunes…
Keeping warm over an open fire
Rats are nipping at your nose
Discarded toys that dance with desire
Russian dolls who drink and lose their clothes.
Everybody loves tits and mistletoe
Helps to make the season bright
Men watch with their eye all aglow
They will all sleep much better tonight.
That's a much more fun version of "The Christmas Song" and a titch more appropriate to a bunch of barely clad dancers.
Olena Sullivan (Photolena) is a Toronto-based model and performance photographer who specializes in onstage burlesque photography and covers the Canada burlesque scene for Burlesque Beat. All photos ©Olena Sullivan-Photolena and used here with permission by Burlesque Beat. Performers may use shots for promotional purposes, but please credit properly with photographer's full name and a link to this piece.