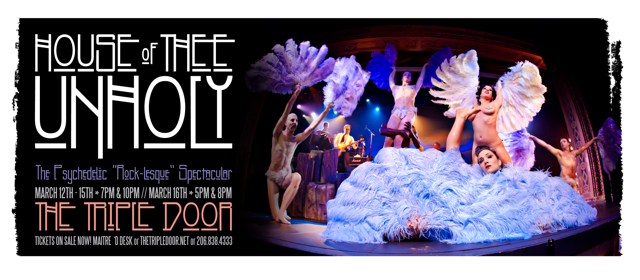 Seattle Burlesque–Featured Listing
House of Thee UnHoly, the epic, 90-minute, non-stop, explosion of '70s mythology and sexually-charged psychedelia, returns to Seattle for five nights and ten shows March 12 through 16 at the Triple Door.
Featuring Druids, Vikings, Hindu goddesses, sex, drugs, rock 'n' roll — and a little bumble bee with a big problem – thirteen dancers, three singers and five musicians will rock audiences in a radical rocklesque celebration of the 20st Century's most excessive decade.
The Triple Door joins creative director Paula Sjunneson (aka The Swedish Housewife), along with a kaleidoscope of Seattle's most outré and imaginative choreographers, dancers, burlesque performers, musicians, costumers, stage designers and theatrical performers in the show's first staging since 2011.
Praise For House of Thee UnHoly
Music is your master as "Sarah Rudinoff and Jen Ayers deliver powerful, mind-blowing vocals. The band alone is worth the price of admission," reported The Examiner during the show's last run. "The show delivers on its promise to leave you dazed, confused, and ecstatic."
"House of Thee UnHoly, clearly has a rabid following, if the whoops and hollers and cheers are any indicator," said The Seattle Times. "The costumes, extravagantly fanciful."
"House of Thee UnHoly's sheer visual and auditory spectacle cannot be overemphasized," wrote Culture Mob, and The Seattle Weekly called it, "Broadway level Burlesque."
House of Thee UnHoly runs 7 and 10 p.m. Wednesday through Saturday, March 12-15, 5 and 8 p.m. Sunday, March 16, at The Triple Door, 216 Union St., downtown Seattle. Tickets range from $20 to $45. Must be 17 or older to attend. Call 206.838.4333 or visit The Triple Door online for tickets and more information. Also hit up House of Thee UnHoly's facebook page.