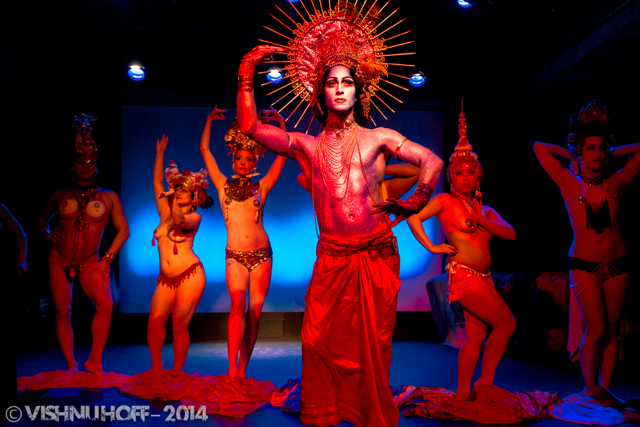 Cuchi-Crawler Productions Presents: Tails of The Dirty South (of East ) Asia
A Smokin' Hot Photo Gallery by Vishnu Hoff
The COW aka Celebration of Whimsey
We didn't go to this show. But we really wanted to. In fact, it was on the schedule. But as it is with running a website such as this and living lives such as ours, we didn't make it.
Look at what we missed! Photographer Vishnu Hoff takes us on a gorgeous visual journey of a night we wish we hadn't missed. Thank you, Vishnu. We hope to join you next time.
It was Valentine's week, which means it was cold and dreary, when Cuchi-Crawler transported a lucky group of people who made it out that night to the balmy, sexy, psychedelic Southeast Asia of your dreams. (How the creators of Burlesque Beat do love balmy, sexy, psychedelic Southeast Asia of our dreams…) A place where spirituality and the carnal desires are celebrated, but apparently they come with a price, we are told by the press release for this show.
Feast your eyes on this gorgeous collection of shots of a show that is said to have revealed the many layers of sex, money, culture and devotion of Southeast Asia. Apparently they raffled off a lovely Javanese massage! Who won THAT?
Starring: Bradford Scobie as an American tourist– looking for love in all the so-wrong-they're-right places.
Red Light performances by:
Calamit Y. Chang
Cheekie Lane
Dame CuchiFrita
Edie Nightcrawler
GoGo Gadget
Grand Mafun
Pearl Love
Kimchichi
With Pole Dancing by: Diana Susanto
Spiritual gogo: Pinkie Special SoutheErnComfort
…and a Special Appearance by the great divinity Darrell Thorne & the Temple of Whores
Group choreography by Edie Nightcrawler
Special effects by Vishnu Hoff (and the show's photographer!)
Vishnu Hoff (photographer) describes his work as Cultural Documentary photography. While he strives to capture moments as they occur, his previous career in motion picture production is evident in the implication of happenings just outside the frame, adding curiosity and tension to what might otherwise be considered mundane.
All photos ©Vishnu Hoff and used here with express permission. Please respect photography copyright and do not use photos without obtaining explicit permission.