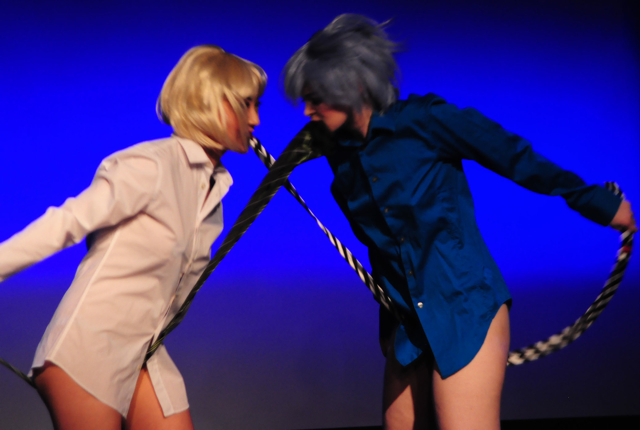 By Melody Mudd
March 7, 2014
Celebration of Whimsy (AKA The C.O.W.)
On March 7th RAWR Burlesque turned one year old and we were there to party with these fantastic ladies.
The show is produced by cosplay queen Stella Chuu and multi-award-winning performance artist Dangrrr Doll, and I'll tell you what, I don't know my Pokémon from my Pac-Man (ok that's not true, to date myself, I totally grew up on Pac-Man) but I absolutely LOVE both these ladies and everything they are doing. They seemed to appear out of nowhere, each doing her own thing, kittening, gogo-ing, performing—catching my eye every single time. And now they're producing—in a city filled with a large selection of burlesque shows happening any given night—what have turned out to be fantastic events. If you haven't been to a RAWR show yet, you are truly missing out on a wonderful treat.
Happy first birthday RAWR Burlesque! I can't wait to see what you do next.
RAWR Burlesque's 1st Anniversary Party
Featuring the incomparable talents of:
Inventor of Burlesque and Queen of the Galaxy NASTY CANASTA
Overlord of the North and Canada's First Stripper President, JAMES AND THE GIANT PASTY
King of the Rainbows and CEO of the USA Olympic Golden Shower Competition, DARLINDA JUST DARLINDA
World renowned kazoo symphony composer and winner of "Best Smile" 2013 by the American Dental Association, PACO FISH
World's Tallest Midget and owner of a Pulitzer Prize winning vagina, TRIXIE LITTLE
Actual real life sorcerer, capable of flight, telekinesis, and polymorphing into adorable woodland creatures, ALBERT CADABRA
Instigator of the 1919 Boston Molasses Disaster and winner of the Pepperoni Award for "Best Use of a Cured Meat" 2010, FEM APPEAL
Scientifically proven to start fires with her eyes alone, and will save the human race from extinction at the hands of self aware robots in 2029 by using the power of Ass, PEEKABOO POINTE!
And your master of ceremonies, Reigning Miss Burlesque Queen of the Universe, DOC WASABASSCO!
As well as your producers, Dangrrr Doll (Winner of the Kita St Cyr award for "Most Fish") and Stella Chuu (secretly, an actual real life pokemon)!
Catch RAWR Burlesque every third Sunday of the month at Kabin
92 2nd Ave between 5th and 6th Streets, 11pm, $10
All photos ©2013 Melody Mudd for Burlesque Beat. Please respect copyrights and request permission for usage. Performers may use shots for promotional purposes, but please credit properly with photographer's full name and a link to this piece in all instances. Performers who would like hi-rez images, get in touch.