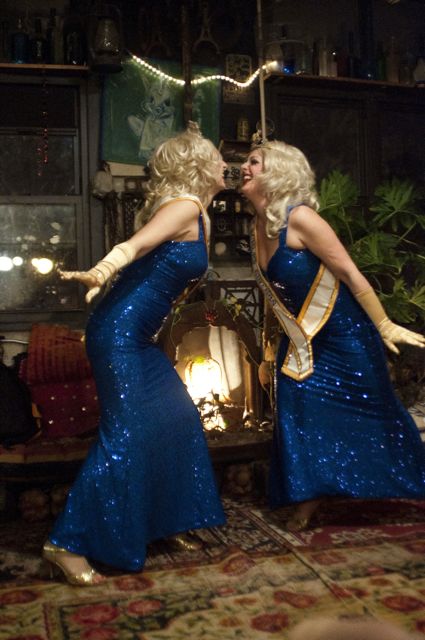 [BurlesqueBeat is proud to introduce our new cub reporter, Belinda Honeybush, who recently attended her first show as a representative of BqB—though far from her first burlesque show. We're excited to have her. —Eds.]
by Belinda Honeybush
March 8, 2014
"I didn't know places like this existed anymore," Melody Mudd whispered to me, her clear green eyes opened wide.
We had found ourselves in the House of Collection in South Williamsburg. The spacious loft hosted a number of collections that made kaleidoscopic patterns on the walls: farm machinery, kitchen tools, nautical paraphernalia. It reminded me of a bone church I visited in Rome in which a mad friar had built beautiful patterns on the walls and ceilings made of his brother friars' bones.
There were other collections in this loft as well: books, creepy dolls, plants, taxidermy animals. Once you allowed your eyes to drift down from the walls and every surface you were pleasantly  surprised to find that yourself and the other attendees were also part of the collection. There was Jo Weldon, who runs the New York School of Burlesque, with her trademark vibrant red hair and dancer's body. The dapper Jen Gapay, producer of the NYC Burlesque Festival, was on hand, wearing a bow tie with Pee Wee Herman's face on it (nice touch). We also spoke with Kay Mazing from the House of Yes; the new location in Bushwick should be ready for the public a little later this year.
It was impossible to determine which era we were in. Were we in a salon in 1940s France? If you turn around you decide, no, we're at a 1960s acid party. Nope, it must be a '70s glam party. I gave up and went to the makeshift bar complete with an absinthe punch (yes, please!).
Because we had arrived fashionably late to the Schlep Sisters' 10th Anniversary Show, we missed the first set, but after a few minutes of mingling, we settled down to watch Jonny Porkpie entertain us with a gentleman's act. Dancing to "Drink to Me Medley" by Dean Martin, Jonny toasted us. And then he toasted us and toasted us again until he was completely toasted. His strip tease revealed all the different places in his clothing and on his body a man can hide alcohol. At one point the music cut out for a second. "Even the stereo's been drinking!" he declared and took another sip. One of the last drinks he took before he stumbled and passed out was from a martini shaker that was in his underwear. No, he wasn't happy to see us, he was just drunk. I felt a little conflicted about this. On the one hand, I hoped the martini wasn't warm from being next to his junk, but on the other hand, his junk probably wouldn't like being ice cold. What a conundrum. Great job, Jonny Porkpie!
After a short break, Jonny sobered up enough to explain what an historic evening this was because the Schlep Sisters, Darlinda Just Darlinda and Minnie Tonka, had performed for the first time in this space exactly 10 years ago. He read a sweet letter that burlesque legend Viva La Fever had written about the sisters and we prank-called the Stage Door Johnnies who couldn't be there that night. And then, it was time for the wonderful Schlep Sisters!
They came dancing out in the loudest outfits I may have ever seen (and I've spent a lot of time in New Orleans and in gay bars near and far). They wore shiny, bright orange crop tops and bell-bottoms with sparkly hot pink headbands and gold shoes, definitely a disco/aerobocize look, to Apollo Braun's "Party in My Pants." These ladies know how to liven up an already lively party. Their sense of humor and the fact that they were having a blast was really conveyed to the audience. They somehow moved together with such fluidity, it was like watching really great figure skating. They also seamlessly helped one another out of their clothing. Sibling love!
"It's amazing how they can come together and perform like one synchronized unit," said the adorable Fancy Feast when I talked to her later. "It's also exciting to me to see throwback kind of stuff that they do, because it reminds me of a time that I wasn't even around for."
The next act started to the side of the performance area. Little Brooklyn, wearing a blond wig and an ivory evening gown, pressed herself against a wall and mimed screaming along to a horror movie soundtrack. After a few moments of this, she peeled herself off the wall to reveal…King Kong! She had ingeniously covered the left side of her body with a gorilla suit with the head next to hers. She came to the middle of the room and continued to be frightened of the part of herself that was King Kong. Then as a nice jazz tune came on, she decided that maybe Kong wasn't half bad. She clasped hands with him (her white-gloved right hand with her gorilla-gloved left hand) and danced a bit. Kong got a little handsy and grabbed her boob. She pushed "his" hand away. Then, she remembered that she had a banana hidden in the back of her dress. She took it out and started unpeeling it. She offered it to him, but he wasn't having any of it (he's just a mask after all) so he grabbed the banana and offered it to her. She took a big bite. Then he started cramming it into her mouth. She ate the whole thing and came up with a big banana-y smile for everyone, then threw the peel into the corner. Kong and Little Brooklyn continued their little love affair and everybody got lucky as Kong helped Little Brooklyn out of her gown. The act was complete when another performer came out and swung toy airplanes over their heads. Hope it works out for you crazy kids!
Our favorite sister act, the Schlep Sisters, closed out the night. They came out this time to a traditional Jewish anthem—My Way by The Barry Sisters. Their heads held high so everyone could see the Star of David on their tiaras, they wore royal blue sequined dresses, another ode to their Jewishness. At the key moments of song, they strongly tapped their chests and proudly raised their arms toward the sky. Once again they helped each other remove their clothing. Under those dresses they had beautiful blue stars of David over their nether regions. It was enough to make this Gentile writer tear up and get verklempt.
"Before I saw the Schlep Sisters perform, I had never thought to associate Judaism with sexuality," Fancy Feast said to me when I was asking her thoughts on the sisters.
Well, thank goodness they did. Mazel tov, ladies! Here's to another 10 years!
Belinda Honeybush is a writer and musician. She lives in Brooklyn with her beautiful black pussy, Franz Francois.
All photos ©2013 Melody Mudd for Burlesque Beat. Please respect copyrights and request permission for usage. Performers may use shots for promotional purposes, but please credit properly with photographer's full name and a link to this piece in all instances. Performers who would like hi-rez images, get in touch.