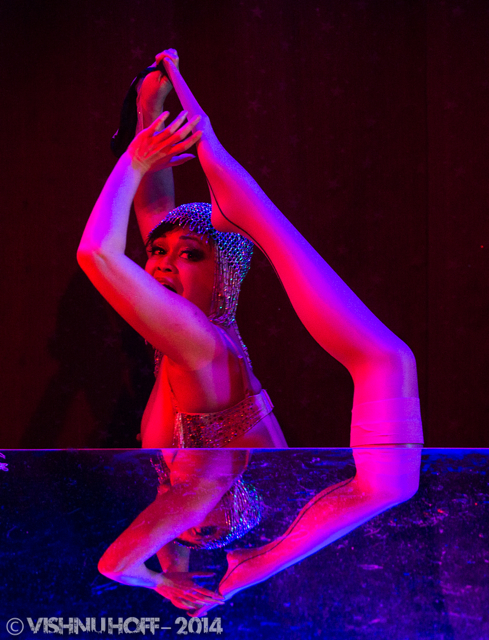 Sunday, March 30, 2014
The Slipper Room, New York, NY
Recently, as part of The Slipper Room's No-Lesque Sundays, Cuchi-Crawler Productions offered up the Crazy Pants Cabaret: An evening of dance and burlesque in homage to Alain Bernardin's iconic nude revue, Le Crazy Horse de Paris. We are so excited to share with out readers this delightful selection of photographs of the show from the company's resident designer and photographer,  Vishnu Hoff, who also did the set and projections for the show. Enjoy!
Performers:
Harvest Moon
Darlinda Just Darlinda
Mstickle Arts
Madame Rosebud
Antonio Ramos
Edie Nightcrawler
Luke Miller
Dame CuchiFrita
Camille Helene Habacker
Cheekie Lane
With Special Lighting Design By: John Goddard a.k.a Johnny Horrible
Projected Visuals and set by Vishnu Hoff
Vishnu Hoff (photographer) describes his work as Cultural Documentary photography. While he strives to capture moments as they occur, his previous career in motion picture production is evident in the implication of happenings just outside the frame, adding curiosity and tension to what might otherwise be considered mundane.
All photos ©Vishnu Hoff and used here with express permission. Please respect photography copyright and do not use photos without obtaining explicit permission.