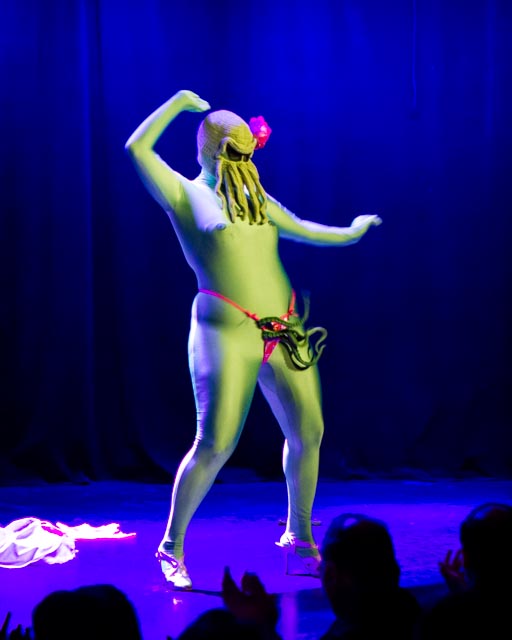 Photo Gallery by Elyse Fradkin
Saturday, April 5, 2014
Le Poisson Rouge, New York
The 1st Annual Nerdlesque Fest was an incredible feat, impressively executed by hot New York burlesque troupes Epic Win, RAWR & D20 from April 3 through 6 in various venues around the city. Please permit us to offer you this fun gallery of photos we shot at the Saturday night show at The Red Fish. The evening was hosted by Iris Explosion, Peter Aguero and Nelson Lugo, and blessed by The Sexiest Bishop Known to Humankind. (Bish–new tagline?)
The evening featured:
Lola Martinet
Maxie Milieu
Zilly Lilly
The Duet That Do It
Scarlett O'Hairdye and Bolt Action
Seraphina Fiero
Allix Mortis and Femme Bones
Red Herring
Lefty Lucy
Satira Sin
Fem Appeal
Katie Angel
Magdelena Fox
Nerd Girl Burlesque, Helen of Tronna and Loretta Jean
Jessabelle Thunder
Anja Keister
Petra Dish
Sexploitation Follies, Hayley Jane and Liberty Rose
Bazuka Joe
Nasty Canasta
With GoGo by Kita St Cyr, Ruby Solitaire, Cheeky Lane and Sailor St Claire.
All photos ©Elyse Fradkin and used here with express permission. Please respect photography copyright and do not use photos without obtaining explicit permission.
Which one's your favorite shot? Let us know in the comments below. Want more? Check out photos of the Nerdlesque Festival Friday night show.