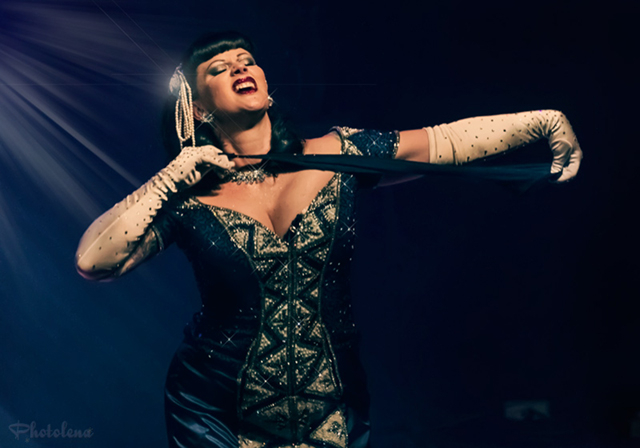 by Photolena
January 18th, 2014
Great Canadian Burlesque Girlesque Expo 2014: Day 1
Over the past couple of years, the Great Canadian Burlesque Girlesque Expo has become the one I look forward to the most in Toronto–not just because it's right around my birthday (and who doesn't want a big burlesque party, am I right?)–but also because it's in the middle of one of the most miserable months in Toronto and the amazing acts that have been brought in from all over the world continue to blow my mind year after year. You fill a big club for 2 nights of striptease during a "freeze your nuts off" Polar Vortex and tell me you're not a kick-ass show!
After Mysterion wowed us all by bringing in Tempest Storm last year, I thought there was no way he'd be able to top that. I mean, Tempest Storm! But showman and producer extraordinaire that he is, he knows what it takes to keep 'em coming back for more. We were presented with not only fab local acts, but ones from all over the US and as far as Japan! So many great performances over 2 days, so onto some of the highlights as I know I won't be able to get to all of them in just one article…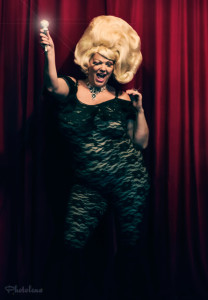 Big amazing kudos to World Famous *BOB* for hosting the show with Canadian Wolfman. I had the opportunity to see *BOB* at Burlesque Hall of Fame last year and was blown away by the natural ease she had in making the audience laugh–all the time! That is one of the most genuine and funny gals with the tallest, most gorgeous bouffant I have ever had the luck to meet and see perform. Two outfit changes for *BOB* (Wolfman's always a suave gentleman in a suit) took her  from a dusty rose gown with a huge bulky train that went from her shoulders to attach to her glove, to a super sexy black lace catsuit–and she even came in waving a little Canadian flag, so sweet!
We had not one, but two lovely ladies from Japan perform on the first night–Miwa Rock and Odile, who was the winner of C'est Magnifique! Showcase 2013 in Tokyo, Japan. Miwa's traditional style geisha burlesque routine was a complete opposite of Odile's Caribbean inspired routine. Bright colours, ruffled fabrics, flowers everywhere, and maracas. And for such a petite gal she moved like a tasmanian devil–fast, fast, fast! Before you know it, her hair was down, the skirt was off, and the top was nowhere to be seen. Zoom! Like a whirlwind striptease.(Yes, Cherry Typhoon, I know that you're from Japan too. But you've been in Montreal for so long now, I think of you as one of our own now… One of us… One of us…)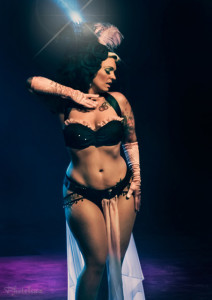 One of the highlights of the evening for me was watching DD Starr's new number. I've seen her at shows throughout Toronto over the years and she has truly been perfecting her craft. This year's performance was very different–it seemed like she hit a new high in creativity with complex costuming, themes, and choreography. This was a new DD, a pull no punches DD and I applaud her. Her set was stunning! She started off in a adorable layered pink tutu and it was like a ballet of the seven veils as she twirled and pulled pieces of the tutu off to slowly reveal the outfit beneath. As the final part of her skirt came off, it morphed into a Bollywood theme with layers of pinks, jewels, roses, and a skirt of long, long fringe. Her moves were sensual and sinewy and her hip shakes built the crowd into a frenzy. An added perfect touch–the glittery "DD" and star symbol inside her corset–it's these little details that make her stand out.
This was my first time watching the "burlesque beauty, tattooed cutie" Cha Cha Velour perform. All the way from Las Vegas, the producer of the Las Vegas Burlesque Festival showed us how they twirl their tassels down in Sin City. She brought some great ol' bump 'n grind neo burlesque onto the Toronto stage. Back and forth across the stage, snapping her hips, mouth open in that sensual "o, oh, OH" of ecstasy, taking it all off (well, almost all–you have to leave something to the imagination) for an extremely appreciative audience.
After Girlesque 2014, I have an even bigger admiration for Toronto's own James and the Giant Pasty. I already knew this Boylesque member was talented–hell, the whole troupe is–but his performance on this Saturday night is one I have a hard time believing he will ever be able to top. It moved me; I felt my heart hurting; the depth and emotion of the piece lay heavy like a shroud across the theatre. James was presented on the stage in a brilliant costume as a rooted tree with branched arms of autumn leaves and a fabulous headpieces of amber, copper, burgundy, and khaki colored leaves. As the fall turned into winter, the leaves cascaded from the tree, eventually leaving it bare to the elements. After shedding his bark for a shimmering, fringed, winter-cold dress, James lifted his remaining crown of leaves only to have snow fall down onto his shivering form (perfect! again–it's the little things). As seasons are wont to do, he sloughed off his winter remnants and, after presenting us with the most perfect ass–was reborn into spring. A well deserved standing ovation!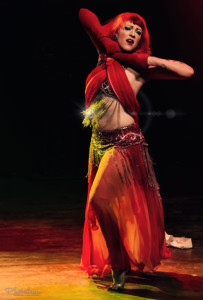 I love the colour red and all it's permutations–red, burgundy, copper, orangy-red, you name it! It's the brightness and fiery nature of it. Even had my hair red for the longest time (you know what they say about redheads right? they go broke dying their hair, nyuk, nyuk). So you can imagine how enthralled I was when Holly Von Sinn–awesome redhead–took the stage in her hot red beaded outfit. With the red spotlights that stage looked like it was on FIRE! You throw in Holly's moves with her billowy sheer skirt, beaded fringe shimmering in the air, and long red shawl and the whole room heated up as he act took on a chaotic pace. She was like a whirling Dervish, fabric coming off on all sides as she whipped herself into a frenzied red mass, hair strewn about her beautiful face. In the end, everything seemed to just fall away to reveal a steamy, half-naked, tattooed, dream.
Not only is Bettina May de-gorgeous (after all, she is a pinup model as well as a burlesque performer), but she's also a genuinely awesome gal. Did you know she's the first Canadian burlesque performer to ever get a Green Card for her outstanding ability in her field? I've had a Green Card and I know just what a bitch and a half it is to get one. Kudos to Bettina! When she came onto the stage, she looked like a living, breathing Erté statue. Her feathered headpiece was the star of the outfit and it framed her face perfectly, turning her into a statuesque Amazon goddess. I found out the secret of how she travels with that humungous headpiece, but I ain't telling you guys… her secret is safe with me. As she peeled layer of sheer fabric after layer, we were left with a vision of redheaded beauty covered in golden shimmering chains, sparkling pasties showing off her ample cleavage, all topped off with that gorgeous crown of long feathers. A vision!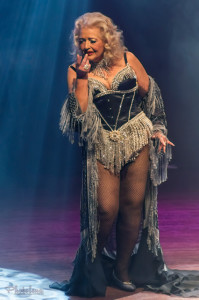 I cannot tell you how it felt to see April March perform again on stage. She looked fabulous–she's looking healthier and more beautiful than ever, has a new hairdo that I love, and her costume was to die for! So many shiny things!!! There were sparkles everywhere. If you had the chance to see her at The Great Burlesque Exposition you'll know what I mean–she can really move it. Her act was really great, a traditional bump 'n grind number and she had the audience hooting and hollering the entire time. Our enthusiasm was her fuel. I was so inspired by her performance–as I'm sure many of the burlesque performers were. I'm not a performer, but I hope–I want–to be able to do my craft until I've shuffed off this mortal coil and watching April March get up there, wow the crowd and truly enjoy herself while she's doing it is what keeps me going.
Kudos to everyone who performed during the first day of the festival including Charlie Quinn, Bianca Boom Boom, Chow Mein, Glamourpuss Burlesque, Fionna Flauntit, Sauci Calla Horra, Cherry Typhoon, the Great Canadian Burlque, Sassy Ray, Mysterion, Laura Desiree, Mark Brown, Gal Friday, Tanya Cheex, Koston Kreme, Audrey Hipturn, Vivian Mirann, and Dolly Berlin. I wish I could have described everyone's act, but we've got to leave room for some photos. Don't think this is the end, there's still Day 2 to come.
Olena Sullivan (Photolena) is a Toronto-based model and performance photographer who specializes in onstage burlesque photography and covers the Canada burlesque scene for Burlesque Beat. All photos ©Olena Sullivan-Photolena for Burlesque Beat. Performers may use shots for promotional purposes, but please credit properly with photographer's full name and a link to this piece.