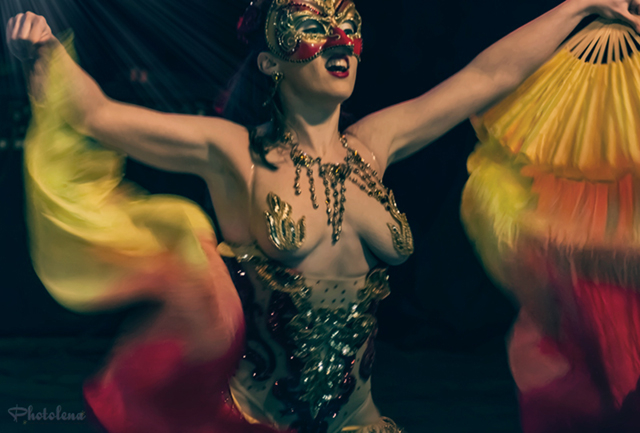 by Photolena
January 19th, 2014
Great Canadian Burlesque Girlesque Expo 2014: Day 2
As with all good festivals, the Great Canadian Burlesque Girlesque Expo is a 2 day affair so it's a double dose of awesomeness packed into one amazing weekend at the end of a rather dreary month. After watching April March take to the stage–and b-l-o-w my mind!–on the Saturday, I wasn't sure if Sunday was going to live up to acts of the first day. But that's where you gotta trust the producers to know what they're doing in making sure you don't just climax on the first day and have a meh finale.
Girlesque didn't disappoint. So who was on the roster for Sunday? On to some of the highlights…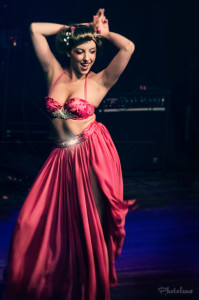 I've seen Gigi Vanilla perform a couple of times in the past–she's not just a great and creative burlesque performer, but she's also a talented model. Her act at this year's festival was a beautiful geisha number that had her coming on stage in a gorgeous white embroidered kimono. Her makeup was all white and pinks which matched the flowing pink skirt and sparkle bra set that was revealed when she gracefully and quite sensually disrobed. And the pink didn't stop at the skirt and sparkles. This was a theme with mileage–right down to the sexy little next to nothings, yes all pink, that showed off that perfect pinup body of hers.
One of the new(ish) troupes out of Toronto, Two Dames Productions has been putting on some fabulous variety burlesque shows of their own for the past year or so. DD Starr and Ava Noir really surprised me with quite a dark piece this year, which seemed the opposite of the comedic performances they tend to do. With Johnny B Good as their hapless victim, the vampiric ladies came out on stage, clad in the sheerest of red fabric, their mouths covered in white tape. Once the tape was peeled, they secured poor Johnny to a chair and proceeded to bleed him in the sexiest of ways. I mean, True Blood, right? Yumm. Apparently blood makes you hot and horny as the ladies had a real need to get their clothes off, and fast, much to the happiness of the audience.
Speaking of pinup gals, Lucky Minx has been on the scene in Toronto for a while now and has put together some really fun performances as well as a hoop act that I saw at last year's Girlesque. Such a multitasker, this one. She's got a real classic pinup look and her act this year, really accentuated that. Coming out on stage in her classic red overalls, hair up and back, wrench in hand, "Minxy" looked ready to take on anything thrown at her. Of course, that would be the hoots and hollers of the audience and they egged her on to take it all off. Not one to rush into anything, Minxy teased the audience, slowly peeling out of her overalls to reveal a snazzy purple fringed little next to nothing beneath. Boy did that fringe shimmy and shake all the way to the final reveal!
The delight of the evening for me was a group out of Ottawa, whom I hope to see more and more and more of. The Mansfield Brothers are not your average vaudeville act – three men of different stature, each of them with varied amounts of facial hair from simple moustache to a shaggy (but kempt) beard and moustache combo. They each wore a t-shirt with a simple white iconic version of their look. What happened next made it hard for me to keep shooting. It's just not easy to keep your camera straight when these three guys are doing the entire Single Ladies video up on stage. It was fabulous. They had the moves down pat and I think Beyoncé would have been proud of these hirsute manly men.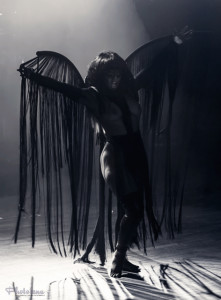 I was hooked right when I heard the name – Nikita Bitch Project. How awesome is that? You know you're going to get attitude, right? And we got a ton of that when she came out on stage doing the best burlesque impression of Michael Jackson I've ever seen. You know, Michael from his crotch-grabbing, sparkly gloved, "Annie Are You OK" smooth criminal days, post Thriller. She channelled his energy and charisma into a frenzied mélange of classic Michael moves that were so quick that I barely had a chance to shoot anything. It was fabulous! I have no idea how she kept up that pace and if I didn't know it was a striptease act I would have thought her close flew off her in the intensity of the act.
Girlesque also marked the return of Obskyura to the stage after a long absence that was felt by everyone. One of the best performance artists out there, her work has always been innovative, risqué, and known for pushing the boundaries of sexuality and sensuality in provocative and positive ways. It was beyond good to see her back on the stage again and I was so looking forward to her act–which KICKED ASS! To me, she was the vision of a dark demon, with wings made of strands of darkness, billowing on the air as she strutted across the stage. Wearing only a fishnet body stocking–and I think I'm correct in the word "only"–she worked the silken wings in a haunting dance accentuated by the deep red light. It was a fabulous display that ended with a true celebration of the female form.
I always love watching burlesque legend Tiffany Carter perform – she has some of the most beautiful costumes, uses great classical music accompaniment, and brings you back to the golden days of burlesque with her classic moves. It's also great to have legends such as Tiffany and April continue to perform and inspire the next generation of performers–you need to understand the history of the art and see those classic moves to understand how to move forward with it. I was so happy to see her perform again this year and she brought a brand new act with her. Loretta Jean and Delicia Pastiche of Nerd Girl Burlesque held humungous painted paper fans that opened to reveal Tiffany in a gorgeous purple embroidered robe. She wore a grand purple headdress that matched her outfit and was decorated with strands of beads. As she made her way across the stage, she slowly undid her long purple sash and when her assistants took off her robe, funky dancing beaded Tiffany was revealed. Dressed in a babydoll with a skirt of beads, she showed off her classic moves as she shimmied across the stage. I just loved her outfit–so retro! But the act didn't end there–the babydoll was discarded to be replaced by long silken fabric fans. I've seen Tiffany work feather fans before–and really well–but these fabric ones were something new and she pulled them off beautifully. What a performance–in 3 acts!
Big kudos go out to everyone who worked on Girlesque this year: Mysterion and Wolfman; and the performers that I didn't have a chance to write about due to space: Ashley Blade & Friends, Aviva Mirage, Bunny Angora, Frenchie Fatale, Honey B Hind, Mia Sangria, Miss Mitzy Cream, Ms Chaos Divine, Natalia Rose, Pastel Supernova, Rouge La Rouge, Ruby Joule, St. Stella; and all the stage kittens and other volunteers. Until next year!
Local videographer StanTrac captured some of these wonderful performances on video. Have a look at his Great Canadian Burlesque Girlesque Expo 2014 videos.
Olena Sullivan (Photolena) is a Toronto-based model and performance photographer who specializes in onstage burlesque photography and covers the Canada burlesque scene for Burlesque Beat. All photos ©Olena Sullivan-Photolena for Burlesque Beat. Performers may use shots for promotional purposes, but please credit properly with photographer's full name and a link to this piece.