The Burlesque Oscars, Presented by The Harlettes
by Photolena
February 23, 2014
The Revival Bar, Toronto
If you're like me, you skipped this year's Oscar show on TV. It's so damn predictable–every year the big budget movies win, the same big actors go up on stage, thanking everyone from their gynecologist to God and by the next day all the talk is about who wore what. OK, well at least there's that to look forward to.
Instead, I spent Oscar weekend at a different awards show, one with some spice to it and a little bit of sizzle. Toronto's lovelies The Harlettes put on their yearly Burlesque Oscars extravaganza at the Revival Bar and it was mega entertaining. They even had a live golden statuette up on stage greeting ticket holders in style to this gorgeous gala evening.
Canadian Wolfman was our emcee for the evening, reading each list of Oscar nominees and announcing the winners who proceeded to perform their own unique interpretations of scenes from the silver screen. So who were the winners this year? Let's check out some of the highlights….
And the Oscar goes to… King Kong
I have to say, when I saw the original as a young girl, I cried and cried and cried in the final scene for Kong. This rendition by Bunny Angora definitely didn't make me cry–I was amazed by the creativity of her costume. As the sexy Fay Wray in the grip of her giant admirer, she had a huge gorilla hand around her torso that clung to her perfectly as she danced, gyrated and managed to strip down to her corset and thigh highs–all without losing its grip. Such an ingenious idea!
And the Oscar goes to… Cry-Baby
I've always admired Dolly Berlin for her ability challenge herself with her characters. She's a gorgeous gal with classic burlesque moves who's not afraid of emphasizing her comedic side or even tackling gender roles. Her take on Johnny Depp's Cry-Baby was perfect, right down to the kiss curl and teardrop. As always for me it's all in the details, and her bedazzled jockstrap, complete with the name "Allison" on it just sealed the deal on the who set.
And the Oscar goes to… Django Unchained
So how does one think up a burlesque performance with the character of the dentist in a Quentin Tarantino slavery movie? If you're Dr. Tease, you put something together that includes a full size wooden horse, US flag and lots of cotton balls. What an amazing performance–from the moment Dr. Tease came onto the stage riding his hobby horse, looking the spitting image of Dr. King Schultz, you knew it was going to be an awesome ride. There was one fabulous moment when he hooked his suspenders on the back of his "horse" and dropped to the ground as his pants were pulled off to reveal his underwear made of cotton balls. Stripping off his shirt revealed pasties shaped like…. come on… you can guess, he's a dentist…. yep, shaped like teeth.
And the Oscar goes to… Black Swan
I have to say just how amazing Chow Mein of the Harlettes looked in her Black Swan ballet ensemble. From her crown to her black tutu, she was a perfect vision on stage performing her twirls and pliés. After receiving her roses and the adoration of her public, our little black swan retreated to her room for a little food break only to find that she must choose: stick on her righteous path of bland ballet goodness and eat the head of broccoli, or give into evil temptation and calories and eat the yummy scrumptious cheeseburger. As she danced through her turmoil and emotions the audience urged her to haz cheesburger! In the end she gave in to the evil of fast food.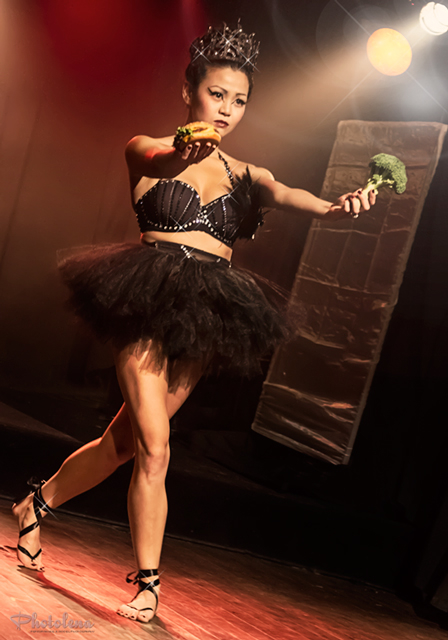 And the Oscar goes to… Ace Ventura: Pet Detective
I love to see Maria Juana of the Harlettes just let go and get totally into the comedy zone with her routines as she's truly excellent at it. Her performance gave Jim Carrey a run for his money. She had the outfit down pat, the signature hair, Carrey's mannerisms and she even talked out of her butt (if you haven't seen the movie: a) you were born after 1995, b) why haven't you?, c) this won't make sense.) Right down to her skeezy tiger-print gatch she had us laughing our asses off and then she pulled a move that Ventura never could have: perfect ass tassel twirls, and for a long time too. All righty, then!
And the Oscar goes to… Forrest Gump
I don't often think of Tolkien and burlesque in the same sentence, although I was proven wrong on that one twice in the same evening. I especially don't think of hobbits with their hairy feet, although I do know there's websites for that sort of fetish. Pixie Trix showed me what's what with her Bilbo Baggins performance. Set to the tune of the same name sung by Leonard Nimoy (recently used in a new Audi commercial of all things,) she found the Precious, and every time she put it on and went behind the screen she came back out… not more ugly like Gollum, no…but more naked and feminine. This is one nice Precious! When it finally left her in her pasties, it provided her with a sword–well, OK a light up dildo, so kind of a sword depending on how you use it. Hey, that means she's Dildo Baggins!
And the Oscar goes to… Basic Instinct
Laura Desiree. Remember that name. This is one super sensual, uber sexual, crazy talented, and disgustingly gorgeous gal who has no fear and is so multi-faceted that you'll see her dancing ballroom one night and blowing people away with her Sharon Stone police interrogation number. She had me totally convinced. The outfit, the hair, the moves, the slow slinking sensuality as she climbed the stairs, sat in the interrogation chair under the spotlight and lit her cigarette. You knew what was coming, just knew it (if you've seen the movie, or live anywhere with TV.) And then there it was. She lifted up her long sinewy leg and over it went, hiking up her skirt. She sat there exposed, legs wide open everything on view. And this is where her genius comes in because for one small second I admit I was fooled. I thought the police would be coming in any minute–that was the best fake hairy vag I've ever seen. OK, the only fake hairy vag I've ever seen. The kind you see in the old '70s "Joy Of Sex" book where it's all free love no shave hippies in the drawings. Bravo Laura!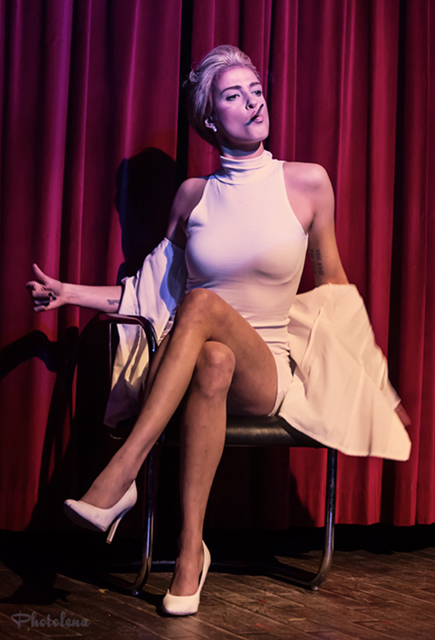 And the Oscar goes to… the Harlettes
These gals continue to produce fabulous show after fabulous show, and to put together great performances of their own. They finished off the evening for us the way any girl would want–by being princesses! They came out on stage with their princess gowns, all Disneyfied, then showed us that not all princesses are prim and proper. Well, at least not these three that were ripping their dressed off and showing us their boobages. What a great ending to the evening.
Big kudos to all those who made this evening so awesome including those I didn't have a chance to mention in the article: Canadian Wolfman, Mysterion, Sketchy the Clown, Zilly Lilly, Bianca Boom Boom, Licorice L'twist, and Sevvy Skellington. See you all at next year's Oscars.
Olena Sullivan (Photolena) is a Toronto-based model and performance photographer who specializes in onstage burlesque photography and covers the Canada burlesque scene for Burlesque Beat. All photos ©Olena Sullivan-Photolena for Burlesque Beat. Performers may use shots for promotional purposes, but please credit properly with photographer's full name and a link to this piece.