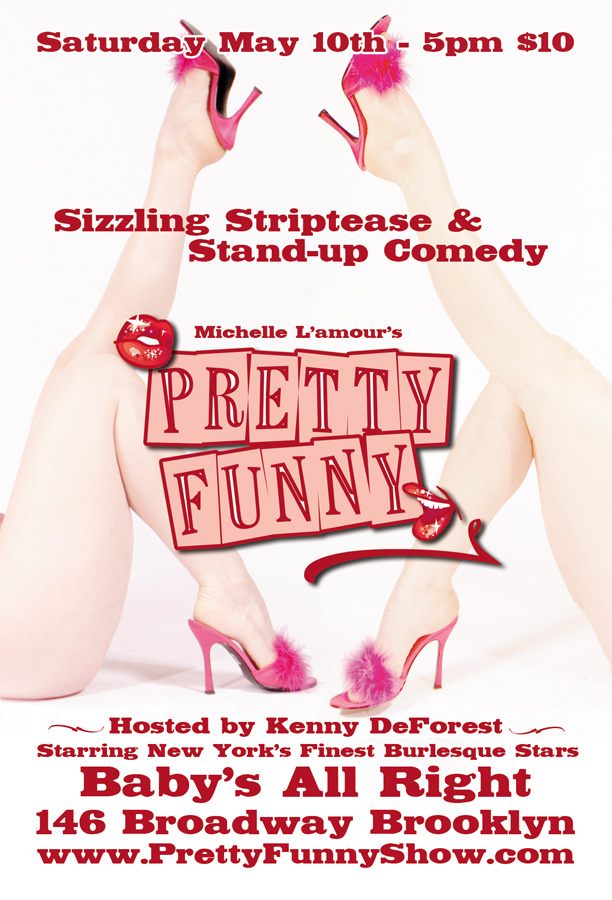 by J.D. Oxblood
Have you ever heard of Michelle L'amour? If you're reading this magazine, we assume you have. A powerhouse performer and teacher in Chicago, the creator of the global franchise Naked Girls Reading, and a round-the-world headliner, she inspires young girls to quit art school and start taking their clothes off every year—and for that, we salute her.
For the past 3 years, Michelle has run a stand-up comedy-cum-burlesque show in Chicago—a combo that's proved a winner since the vaudeville days, and works even without the baggy pants. (Rimshot.) Up-and-coming comedians have cut their teeth on L'amour's stage and moved on to coastal cities, and Pretty Funny alum Kenny DeForest's move to Brooklyn inspired bringing this Chicago favorite to New York.
Sleep in, get your brunch on, and follow up that Bloody Mary and cronut with some T&A and giggles. I'm sad to miss this show—but we're excited to be sending our cub reporter Belinda Honeybush, and veteran shutterbug Monty Leman.
Hosted by Kenny DeForest
With comics:
Jermaine Fowler
Joyelle Nicole
And burlesque by:
Michelle L'amour
Chicago Starlets Lady Ginger and Ivy Fabulous
& New Yorkers Madame Rosebud & Minnie Tonka
Pretty Funny
May 10
Baby's All Right
5pm
$10