Burlypicks Regionals 2014 Hit The Canada Burlesque Scene
by Photolena
April 10, 2014
Revival Bar, Toronto
Everyone knows about the Burlesque Hall of Fame Weekender, where many of the best of the best in burlesque are chosen to carry the winner's torch in categories like Best Debut, Best Boylesque and of course Queen of Burlesque, Miss Exotic World.
But there's also a new(ish) competition heating up the burlesque circuit–Burlypicks Burlesque and Variety Performance Competition, presented by Burlesque Bitch. In its second year, it's offering dancers, magicians, clowns–hell, anyone involved in vaudeville–from all over the world the chance to compete in Los Angeles for a trip to Hedonism and cash $$$. Woot! You just have to win at Regionals, and there aren't that many of those.
Toronto was the only Regional held in Canada and thanks to local presenter Mysterion we had a stellar contingent of competitors in several categories who were judged by local talents in the burlesque community: Sketchy the Clown–performer, teacher, and yes, he's running for Mayor of Toronto; Honey B Hind of Skin Tight Outta Sight; and Knox Harter, burlesque performer and "Toronto's Cheesecake Darling."
As always, I'm glad I didn't have to judge the competitors–there were just too many great performances and I'd wind up giving out awards for everything–Audience Favorite, Best Use of Balloons, Most Shades of Green… just so that everyone could get an award!
On to the list of competitors:
Zilly Lilly (Toronto) – burlesque
Arabella Allure (Edmonton) – burlesque
Jonathan Gold (Montreal) – magician
Bianca Boom Boom (Toronto) – singer/burlesque
Pretty Penny (Toronto) – burlesque/silks
Velma Candyass (Montreal) – burlesque
St. Stella (Toronto) – burlesque
Sassy Ray (Kitchener) – singer/burlesque
Ruby Moon (Guelph) – ballet-esque
Kitty Kin-Evil (Ottawa) – burlesque
Dottie Dangerfield (Toronto) – signer/burlesque
Rubie and the Pearl (Toronto) – burlesque/hoops
Lukas Stark (Toronto) – magician
Esther DeVille (Toronto) – burlesque/balloons
Before we got to the judges' decisions on the winners, there were two other competitions that were a ton of fun–and surprisingly no men took part in. Many of our lovely burlesque gals got up on stage to compete in tassel twirling and assel twirling. It was a hoot watching them trying to outdo each other–6 or 7 of them jammed up there on that tiny stage.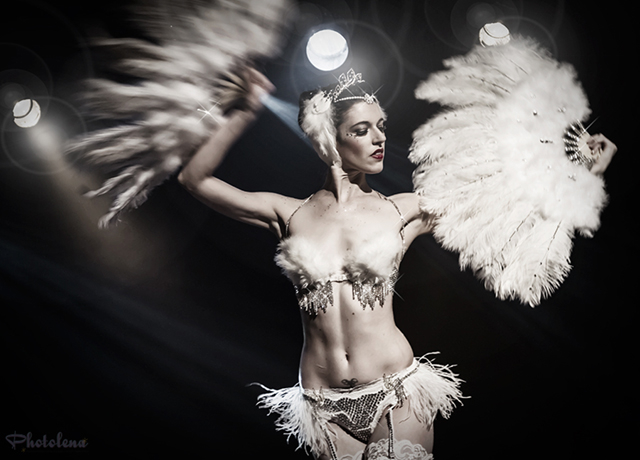 And the winners who will be representing Canada at the Los Angeles finals are…..
Master of Tassels (or it really should be Mistress, right?): Esther DeVille
Master of Assels: (again, no men here….): Pearl Incognita
Best Improv: Jonathan Gold (I was somewhat confused with this category…magic=improv?)
Best Singer: Sassy Ray
First Place: Ruby Moon
Great job Ruby! Keep practicing and performing–there's some amazing performers from around the globe representing. Lushes LaMoan for Detroit, Kitty Crimson for Colorado, Kitty LaRue for Wisconsin and more to come until the big final in September.
And of course, if our lovely Ruby cannot compete in September out in Hollywood, I'm sure that our 2nd and 3rd place winners will be happy to rush in there and represent for Canada:
Second Place: St. Stella
Third Place: Rubie and the Pearl
Congratulations to everyone who participated, the judges, the producer, the emcee, the crew, and the winners. Good luck in Los Angeles in September!
Olena Sullivan (Photolena) is a Toronto-based model and performance photographer who specializes in onstage burlesque photography and covers the Canada burlesque scene for Burlesque Beat. All photos ©Olena Sullivan-Photolena for Burlesque Beat. Performers may use shots for promotional purposes, but please credit properly with photographer's full name and a link to this piece.