Toronto Burlesque Festival: The Strip Search Newcomer Competition
by Photolena
March 30, 2014
The Revival Bar, Toronto
I was really excited to be shooting this year's Strip Search competition. It was 2012 when I had the pleasure of going to this event for the first time and the performers who wowed me that year have gone on to have great solo and troupe burlesque careers. This event really is a great way for a performer to get a big boost as the winner and runner up get spots in the Toronto Burlesque Festival and the opportunity to be seen by hundreds, thousands… nay, hundreds of thousands of eager fans.
I never envy the task of the judges for competitions like this as I can't imagine how hard it is to rate these lovely ladies and lads and pick winners. I know I hooted and hollered for at least 5 of them and couldn't make up my mind on my Winner's Choice, which this year we all voted on electronically through our phones–too bad my battery had died by then! Our judges for the evening were all stellar: Ms Tanya Cheex from Skin Tight Outta Sight, the Great Canadian Wolfman, Lilli Bubalotovitch of Les Coquettes, Daytona Betch from Reveal Me, and James & The Giant Pasty from Boylesque.
On to a highlight of some of the contestants…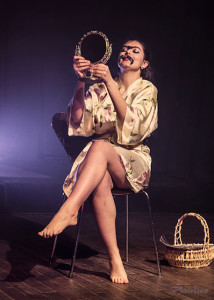 Beaver Galore was retro chic in her long black slinky gown and her hair pulled back in a ponytail. Her moves reminded me of the go-go dancing scenes in the Austin Powers movies, very sexy and fun and she looked great in her little black bikini set.
Lilla Koi brought some real sex and sensuality to the stage. The Hawaiian beauty kept it simple with just a robe, a chair, and long luscious hair which she made good use of, whipping it around. How many sexy ways can you sit in a chair? I counted at least 10 in Lilla's performance. Mrowr!
Lisbon Maginot, a student of Bombshell Betty, had one of the funniest routines of the evening. Sporting a unibrow and moustache, she came out in her bathrobe and bathing cap. After reading a beauty magazine she realized that hair on a lady is a no-no and proceeds to wax the facial hair away, with comedic results. Too bad she forgot the ginormous mass of hair trying to climb out of her bikini… great act!
Sam Antics…. now there's an awesome burlesque name. Another Toronto School of Burlesque student, her act was truly unique and haunting. Dressed in a white sheer dress with a red crucifix, she came on stage with a blinged out bible. Like a naughty Catholic school girl, she took her time teasing the audience with glimpses of her undergarments (red, of course), dropped to her knees to pray, and peeled off her clothes so slowly and coyly that you felt like you were watching something forbidden, a guilty pleasure. This was bad girl, in just the right ways.
I had a blast watching Muffin Top as she did her marionette routine, or perhaps it should be her unattached marionette routine. Pretty in pink with hair, corset, gloves, and stocking matching, this lovely gal spent her routine getting herself out of this marionette jam she was in. There was no keeping her tied down, she sloughed off the ropes as well as her clothing to be free as a bird–and free of clothing.
What is there to say about Kage Wolfe? Just as I was speechless when I watched Ray Gunn perform at Burlesque Hall of Fame, so was I speechless when I watched Kage Wolfe perform. A principal dancer and assistant choreographer with Love Letters Cabaret, he is all sinewy lines and sensuality. He moved slowly and with purpose, aware of each and every move he maked. His performance concept was so simple–a man takes off his shirt, belt, unties his shoes, takes them off, takes off his pants. That was it, but it wasn't. I've never seen a man take his clothes off like Kage did. It was art, dance, performance combined. I've never been turned on more by a man in argyle socks and boxers. I think we will see Kage Wolfe in a big competition soon.
Sly Maria – with a name like that you gotta wonder what she's hiding…. And how appropriate for her act which started with her wrapped in a cocoon of sheer fabric at the back of the stage, light shining through making us anticipate what we would see. She emerged with a costume of grey that looked cocoon-like and as she proceeded to tear off the drab greyness, wild colours were revealed. They were painted on her feet, beads and bling around her waist, her rainbow pasties, and all through her hair. A beautiful butterfly had emerged. She finished off with a set of huge shiny purple wings that she twirled around the stage, catching the colored spotlights.
I tend to love everything Zilly Lilly does and her competition act was no exception. She was a vision as Poison Ivy, albeit a lonely Poison Ivy. With a twist to the usual PI routine you've seen a hundred times, this one included an adorable puppet friend–a venus flytrap a la Little Shop of Horrors. Attached to her arm, her little friend kept trying to kiss her… or eat her… I couldn't really tell. It was a fabulous twist on the usual, usual and as always, a mention has to be made about how fabulous Zilly's costumes are.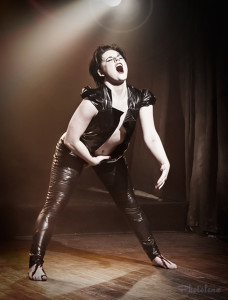 Regina Dentata is a powerhouse of a burlesque performer who knows how to engage the audience. Her performance was full of energy, fast, and oozed sensuality. She came out on stage in a big, oversized black suit that had you wondering what was underneath–it was so big, you could fit all sorts of costume under there. She knew how to work the crowd as she stripped out of the suit to reveal yet another part of her costume–a slinky black catsuit with a big slit up the back that was held somewhat closed.. okay, barely closed… with a red tie-up. Rockin' it out on a chair (which seemed to be a popular prop of the day,) she slowly stripped out of the catsuit to reveal herself wrapped, somewhat, barely, in red ribbon with matching red pasties. So hot!
Probably the most beautiful act of the evening came from ballerina Ruby Moon. I give her a big applause for doing almost her entire routine en pointe. Her Swan Lake burlesque/ballet costume was absolutely stunning, a mix of feathers, traditional ballet headpiece, gorgeous feather fans, golden blingy corset, and stockings that glittered and worked with a feathered garter. The mix worked beautifully and seemed like it belonged together. It was a true mashup–a ballet classic performed with the addition of stripping. I still dream of it. I might actually go see ballet more often if there was striptease involved.
A highlight of my evening was getting to see 3 amazing performances by past winners of Strip Search: DD Starr from 2008,  Trixi Jones from 2010 and Eve of Destruction from 2012, who had fabulous sets that hopefully inspired performers out there to compete in next year's competition.
So who were the winners?
People's Choice: Zilli Lilly
Runner Up: Regina Dentata
Winner: Ruby Moon
Congratulations to all the competitors who all performed professionally and brought to the stage unique, creative and engaging performances, including those that I did not have space to write about: Cinnamon Sage, Gracie Klutz, Paige La Pearl, Luckee 13, Sparkle Divine & Divva Deluxe, and Svetlana Konswallow.
Did you see the show? What did you think? Leave a comment below.
Olena Sullivan (Photolena) is a Toronto-based model and performance photographer who specializes in onstage burlesque photography and covers the Canada burlesque scene for Burlesque Beat. All photos ©Olena Sullivan-Photolena for Burlesque Beat. Performers may use shots for promotional purposes, but please credit properly with photographer's full name and a link to this piece.