Workin' the Tease: The Art of Baltimore Burlesque
by Kay Sera
April 22, 2014
Lyric Opera House, Baltimore, Maryland
On April 22, 2014, Baltimore's most venerated cultural performing arts venue–the Lyric Opera House–hosted its first burlesque performance in a storied 120 year history.
The show marked the opening night of the Maryland Institute College of Art's Exhibition Development Seminar's "Workin' the Tease: The Art of Baltimore Burlesque" and featured 17 of Charm City's most iconic performers.
Exhibition Development Seminar (EDS) is a sequenced, cross-disciplinary program of students from MICA's undergraduate, graduate, and continuing studies divisions as well as from other area colleges and universities. The program's focus is to examine the curatorial process and explore new ways to engage artists, students, museums, galleries, and the Baltimore community.
"Workin' the Tease" examined the vital role of burlesque in the Baltimore performing arts landscape, and over the course of several weeks offered events ranging from hands-on workshops to lectures on burlesque's history to panel discussions on its contemporary issues. The program culminated with the opening of an exhibition of burlesque costumes, photographs, posters and other ephemera, and that exhibition was launched with an Opening Night of Burlesque for an audience of nearly 1,000 patrons.
In keeping with its mission to expand the community's understanding of the art of burlesque, acts ranged from classic to comedic, from baggy pants to ballet, from reverse to perverse.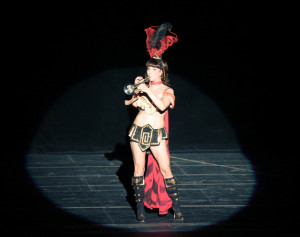 Some routines harkened back to elements of burlesque with which a general audience might be familiar. GiGi Holliday offered a sultry striptease to the classic "Night Train," with moves inspired by burlesque legend Toni Elling. Maria Bella brought together all three characters' signature flourishes from Gypsy's iconic "You Gotta Have a Gimmick."
Others combined the familiar with surprise twists, like Kay Sera's reverse strip in the Garden of Eden and Sunny Side and Bal'd Lightning's rendition of "Little Lamb," (also from Gypsy) which the chanteuse concluded with a rabbit–the vibrating kind.
And still others brought a dance focus to the evening's event. Tapitha Kix presented an entire tap number en pointe to an up-tempo take on "Vie en Rose", and Paco Fish shimmered in silver to Celebration's "Diamonds" in a flowing contemporary ballet influenced piece.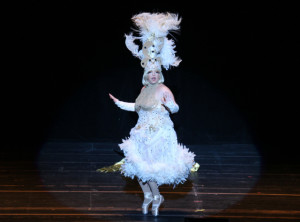 True to burlesque's heyday, the night also included variety acts. The baggy pants duo of Hot and Bothered played ukulele, kazoo and washtub bass while singing the delightfully off-color Moustache Song, and Valeria Voxx did a glass-walking sideshow routine, much to the delight of her cheering father, who was himself a variety performer at the Two O'Clock Club "back in the day."
The program also featured Doctor Ginger Snapz doing a snazzy stroll to Prince's "Baby I'm a Star;" Dolly Longlegs' rousing, rifle-twirling "Proud to be an American" raised more than one flagpole; Mourna Handful showed off her tuffett in a fun tale of revenge against a bullying spider; and true to her name, Short Staxx served up a tasty treat of diner delights with oversized pancake "fans." Trixie Little and the Evil Hate Monkey brought down the house with their crowd-pleasing "Total Eclipse of the Heart." And behind the scenes for it all, making sure that everyone's act was set up and taken down, was a like-clockwork Cherie Nuit.
Emcee Trixie Little felt it was important to present a full, uncensored burlesque experience for the audience. "Burlesque needs a little edge to it, some punk-rock bad-assery to off set the pretty-pretty packaging," she said.
Paco Fish noted, "The performance allowed a much broader audience to see burlesque for what it is: fun, rather than assuming the rumor of it being dirty."
Fun and dirty, pretty-pretty and bad-ass, the Workin' the Tease exhibition ran through May 7 at the Lyric Opera House in Baltimore.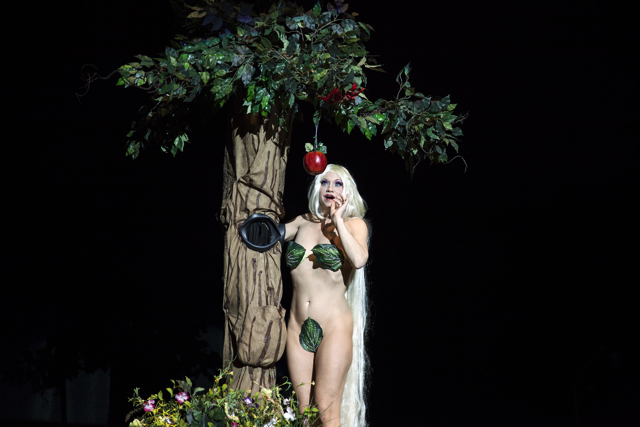 Kay Sera is an erudite ecdysiast specializing in bawdy burlesque and naughty narratives. www.KaySera.com 
Photos ©Richard Just unless otherwise noted, and all are used here with express permission. Please respect photography copyrights and do not use images without obtaining explicit permission.
Checked a burlesque show in Baltimore lately? What did you think?