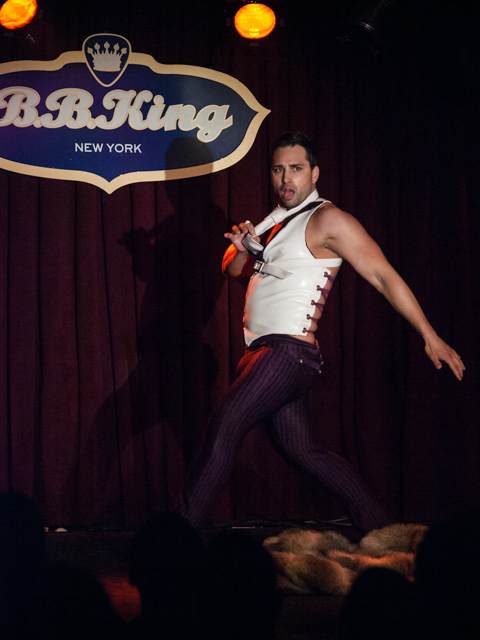 Third Annual New York Boylesque Festival, The Main Event
Saturday, April 26, 2014
BB Kings, New York
April 25th & 26th, 2014
Our favorite non-performing woman in burlesque, Jen Gapay of Thirsty Girl Productions, and NYC's "Best Gay Party Promoter" Daniel Nardicio, joined forces for The 3rd Annual New York Boylesque Festival, last month. And our man, Monty Leman, was there to shoot the main event on Saturday night at BB Kings. Yup, in midtown.
The weekend featured over 40 male performers from Japan, Finland, Chicago, Seattle, Los Angeles, Austria, Canada & more, and was headlined by The Stage Door Johnnie's own Jett Adore from Chicago. He's SO HOT.
The Main Event was hosted by NYC's drag legend Sweetie, and performers that evening included headliner Jett Adore (Chicago), Tigger! (NYC), Gilbert de Moccos (Tokyo),  2 to Fly (NYC)  Matt Fraser (London), Mr. Gorgeous (NYC), Boylesque TO (Toronto), Dew Lily (Toronto), Mahogany Storm (Toronto), Billy L'Amour (Montreal), Brewster (NYC), Jonny Porkpie (NYC), Brotherhood of Burlesque (Co), El Toro (Toronto), Tito Bonito (LA), Albert Cadabra (NYC), Manchego (NYC), Lewd Alfred Douglas (NYC) and The Gypsy Lane Cabaret Company (MASS), plus boylesque historian DJ Scott Ewalt!
Have a look…
Monty Leman is a New York City-based photographer, specializing on documenting the burlesque scene, with a particular emphasis on live performance photography. All photos ©Monty Leman for Burlesque Beat. Please respect photography copyrights and do not use images without obtaining explicit permission.
Did you catch this show? What did you think?