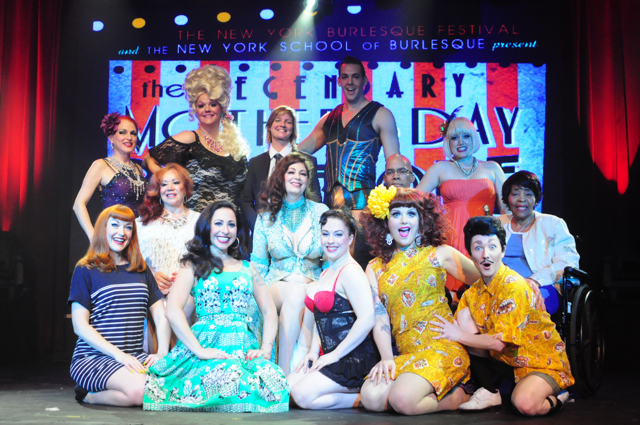 by J.D. Oxblood
Sunday, May 11, 2014
Highline Ballroom, New York
The 2014 Mother's Day Burlesque Brunch
First: World Famous *BOB*. Who is never more gracious, glamorous, and charming than when introducing our burlesque legends. A self-described "Granny-chaser" (I didn't know that was a thing), she's at home glorifying older women, and if that doesn't sound like much, try to remember the last time you heard anyone glorifying older women for anything. Now try to remember the last time that glorification was directed at anyone other than Meryl Streep. It's a serious hole in our society, and *BOB* wants to fill it.
It was mother's day, and we were all there for our burlesque legends, but that's not to say we weren't grateful to see some neo-burlesque performers, too. Also on hand were the new New York dolls Kitten & Lou, reprising their killer act seen at the 2013 New York Burlesque Festival, the suicide pact to "Last Dance." We'll see this again in competition at the Burlesque Hall of Fame in Vegas next week, and I can't complain—it's freaking hilarious, if you're the kind of sick individual who can find a dark humor in the topic of suicide. Their choreo is tight—despite their comically mis-matched body types—their moves are hot, and this is the most upbeat suicide piece ever.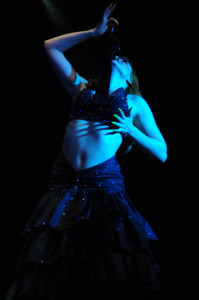 I'm still waiting for Gal Friday to become Beyonce-level famous. She's witty, has a mesmerizing voice, and is as sexy as the day is long, and in a room primed for the classics she knocked 'em dead with a verve and a vavoom. From standard sexy (bleating sax, shimmy for days) to comic tangents (the Gal taint slap, the "sniff & nose-wrinkle"), Gal brings a range of taste and mood to what looks like a nicely-packaged "classic" act but is meta enough to be self-deprecatingly more. And what a pro: she finds that downlight special stage right, perfectly bathing in it as she works it for the house left crowd. (Pro tip: learn what "find your light" means.)
I often find myself saying shit like "I'm in love with Jo Weldon," but that's only because I am. Her Gypsy Rose Lee tribute act is a special one for me—which is why I hired her to do it at a private party, and why I love seeing it every time she brings it out. As soon as she starts swinging her whips, I am done for. And kids, please watch the way Jo takes her hand OUT of her glove. The glove does not move; the hand is removed. The glove deflates like a CGI trick. I'll buy anyone a martini who can do this as well as Jo. Also, can we just agree that Jo now owns Henry Mancini's "Hubcaps and Taillights?" Ok, I know Dirty Martini uses it, too… but let's try to lay off that one, newbies.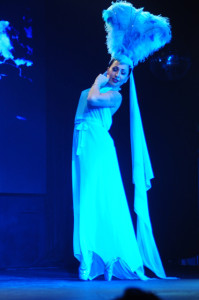 Co-producer Angie Pontani brought the pain—and it does hurt to watch, a little—with her blue gossamer see-through en pointe act to "La Vie en Rose," which sets up a flowing silhouette for her to press herself into. It's a mesmerizing, hypnotic act, which she performed here as well as she ever has—with a breathtaking, crazy back bend, a full body press into the flowing garment, and the clever reveal, sweeping the sails up and behind, and giving us a slow… turn. Such a fucking pro.
The crowd went ballistic for Legend Kitten Natividad, working it in a giant pink boa, a bounce in her strut. KC's "That's the Way" got her crazy, and she pulled her patented move—pushing her hair up, miming a blowjob. Hell's yeah.
In possibly the climax of the day…. In a pale blue lace negligee open from the navel, Shannon Doah swept the stage, displaying herself like a mirage. A master of the slow open, she teased us with garb as curtains and a devilish thigh raise to flash a garter. Just a dream.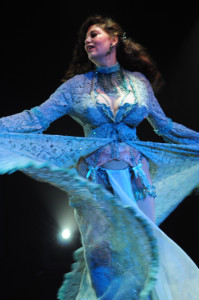 Afters, we got to see Jo Boobs in a stunning purple dress, leading the panel with Shannon, Kitten, and New York Legend Jean Idelle and her charming son Lamont. [Audio of the panel is at the end of this article.] Kitten nailed it when she said that she got "hooked on that drug of dancing and taking my clothes off."
After afters, I caught up with Shannon who had particularly enjoyed Mr. Gorgeous and his tiny… chair. She said to him, "It's just a matter of time," which is funny, because I've been saying that to Shannon for yeeears….
I asked Shannon Doah about the difference between North Beach clubs ("gentlemen's clubs") and burlesque shows, and she said, "I think we should all get together and love each other. They're just different versions of kind of the same thing. I think we should all get along. I think we should all respect each other. I've seen a lot of beautiful talent on stage at strip clubs." And, Shannon added, "I think being called a stripper is a compliment."
I also asked Kitten Natividad about Sean Penn and Madonna—she likes to say that she was at Penn's bachelor party. That marriage didn't work out. Did Kitten have anything to do with that?  "No, he was true blue. Unfortunately. I tried my best."
ONLY complaint about the Mother's Day Burlesque Brunch was the attendance. There weren't enough other performers in the house. How is it that every single person in the New York burlesque community wasn't lined up outside the Western Beef in the glorious sunshine of Mother's Day, clamoring for the sight of Legends taking it off?
This is not a rhetorical question. What happened, people? Were the tickets too expensive? Were you all out too late the night before? I realize not everyone is born and bled here–did you go wherever you come from to be with your moms? Dig. But I'd really like to know why the show didn't receive the support it deserved—because it may directly impede the likelihood of another such show, which we haven't had in New York in years. If  the burlesque community doesn't want to support the legends, I'm damn sure no one else does either.
Kiss kiss,
JDX
J.D. Oxblood is co-founder and Editor-in-Tease of BurlesqueBeat.com. His burlesque writing has also been seen in New York Magazine's Bedford + Bowery, Burlesque Magazine, 21st Century Burlesque, and Zelda. His academic work has been seen in Borrowers & Lenders. Follow J.D. Oxblood on twitter.
All photos ©2014 Melody Mudd for Burlesque Beat. Please respect copyrights and request permission for usage. Performers may use shots for promotional purposes, but please credit properly with photographer's full name and a link to this piece in all instances. Performers who would like hi-rez images, get in touch.
LISTEN to the Mother's Day Legend Panel